Banned pitcher Jenrry Mejia suing MLB alleging 'years of corrupt mob-like activity'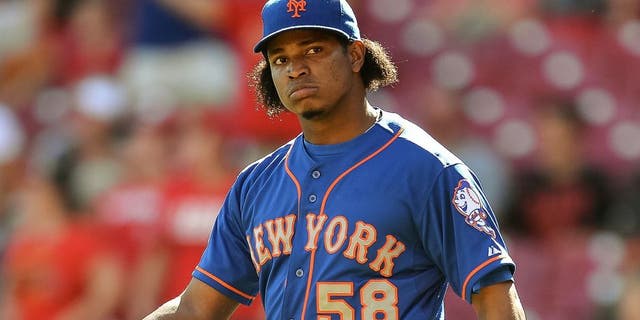 NEWYou can now listen to Fox News articles!
Jenrry Mejia was banned from Major League Baseball for life after his third failed PED test back in February, and now the former New York Mets pitcher is taking legal action against the league for what he claims to be "corrupt, mob-like activity."
Mejia's attorney released a statement on Monday announcing an upcoming press conference to reveal a lawsuit that he claims will "uncover years of corruption" inside MLB.
Mejia claims that a "detailed multi year investigation" revealed the league broke a number of laws that include extortion threats, obstruction ob justice and invasion of privacy, among other things.
Following the announcement of his lifetime ban in February, Mejia claimed he was the victim of a league witch hunt that conspired to bring him down.
Mejia, who was the first player in MLB to receive a lifetime ban under the league's drug agreement, had a 3.68 ERA and 28 saves during his five seasons with the Mets.