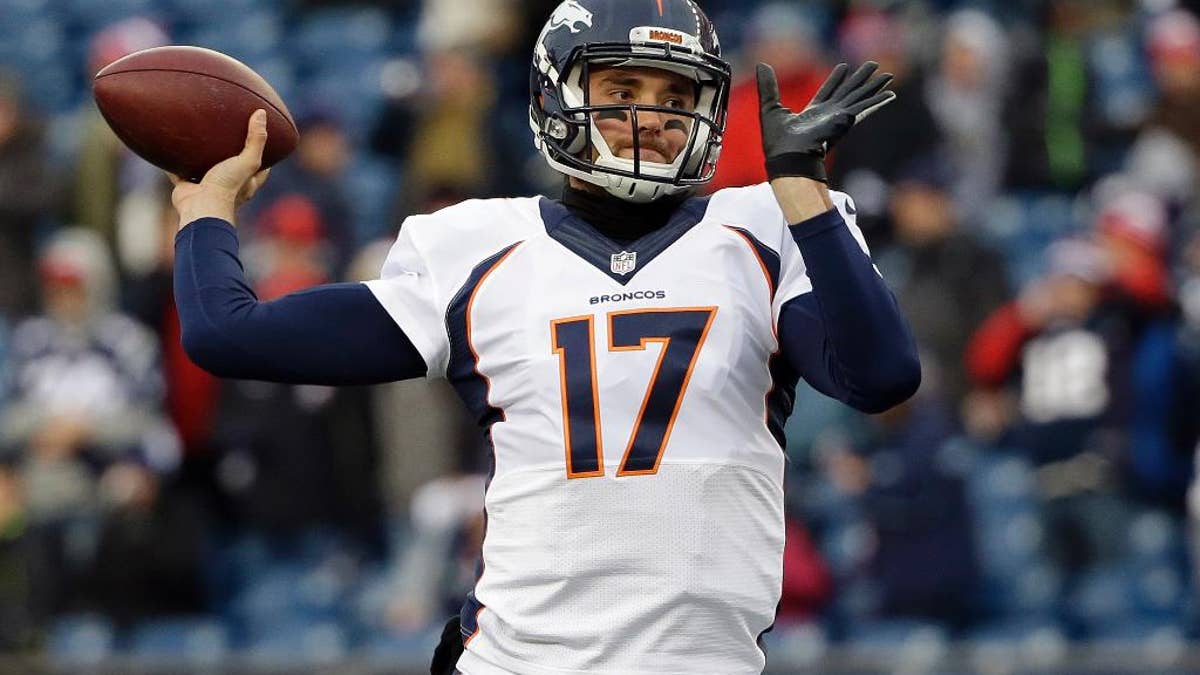 ENGLEWOOD, Colo. – Brock Osweiler has waited patiently as Peyton Manning's backup for 2 ½ years. He relishes any scrap of playing time he can get.
So, it's easy to see why he was so disappointed on Sunday when he was all warmed up and ready to go in the game only to see the five-time MVP trot back onto the field.
With the final seconds of the third quarter ticking away and Denver comfortably ahead 41-10, Osweiler excitedly removed his baseball cap, grabbed his helmet and spun around to run onto the field.
He saw Manning already buckling his chin strap and heading to the huddle.
Osweiler's smile vanished. Dejected, he threw his left hand into the air.
The moment was caught on camera and quickly made the social media rounds.
"It's a good laugh now," Osweiler said Monday. "There was just a little miscommunication: Am I going in? Am I not going in? But, no there's absolutely no hard feelings or anything like that. We're all just having a good laugh. It's funny that it got caught on tape."
Manning handed the ball to C.J. Anderson for a 1-yard run. The third quarter came to an end and so did Manning's day.
Osweiler went in and completed two of five passes for 13 yards and gained 4 yards on a keeper before doing the kneel-down in victory formation twice — something he rarely even gets to do in other games.
Coach John Fox took the blame for the mix-up Monday.
"That was really on me," Fox said. "What happened was we were contemplating it. There were 40 seconds left in the third quarter. I heard something about him warming up and in my brain I didn't think Brock was warmed up yet. I said, 'Let Peyton finish this off and then we'll bring him out.'"
Fox said it wasn't a big deal.
"It wasn't earth-shattering, just kind of humorous."
Osweiler said he's taken some good-natured ribbing from his teammates.
"Oh yeah, I think everyone's seen it," he said. "It's pretty comical. He went in for one play and then I went in. So, it's all funny now. "
___
AP NFL website: www.pro32.ap.org and www.twitter.com/AP_NFL
___
Follow AP Pro Football Writer Arnie Melendrez Stapleton on Twitter: http://twitter.com/arniestapleton