At 75, Roger Staubach think he can be the best -- at yoga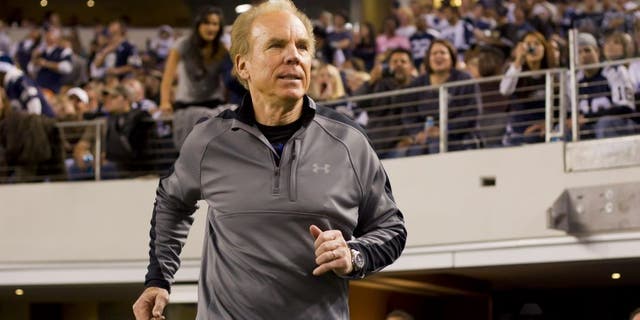 As a celebrated ex-military member, Roger Staubach spent part of his Veterans Day just like you would expect from a Pro Football Hall of Famer whose nickname is Captain America.
In a yoga class.
All kidding aside, the legendary Dallas Cowboys quarterback said he is exploring new ways to maintain his fitness at the age of 75. Staubach and his wife Marianne began yoga training last month and he is already noticing positive results from performing the ancient Indian art.
"I've always had a workout routine," Staubach said in an interview on SiriusXM NFL Radio. "I use elliptical machines and bike. But I think as you get older that stretching and balance and things that yoga teaches you become more important. I hope this makes a difference."
Staubach also is hoping the imminent return of injured quarterback Tony Romo makes a difference for the 2015 Cowboys. Dallas (2-6) has lost six straight games with Brandon Weeden and Matt Cassel under center since Romo suffered a fractured left collarbone in Week Three against Philadelphia.
Romo will miss Sunday's road game against Tampa Bay (3-5) but is slated to return Nov. 22 at Miami (3-5).
"Coming off a 12-4 season, there were really great expectations," Staubach said of the Cowboys. "I think it is a good team. You just can't afford to lose key players. Hopefully, Tony is going to be healthy at the end of the year and (wide receiver) Dez Bryant is back. In the division, nobody has taken charge so Dallas still has a shot but you need to get Tony back.
"I've always been a big Romo fan. I think he's fantastic. They miss him. It's not just the physical part of it. Weeden and Cassel have good arms. It's the confidence and the leadership. The team believes in Tony."
The same was true of Staubach when he played. He quarterbacked the Cowboys to two Super Bowl championships --€" winning MVP honors in Super Bowl VI – during the 1970s.
The 1963 Heisman Trophy winner at the Naval Academy, Staubach didn't join the Cowboys full-time until six years later after completing his military service that included a one-year tour of duty in Vietnam even though he could have petitioned to stay in the U.S.
"I was very fortunate to go to the Naval Academy," Staubach said. "It's a big part of the foundation of my life."
And in Staubach's golden years, yoga is becoming part of that foundation as well.