Astros' Yuli Gurriel suspended first five games of next season for racist gesture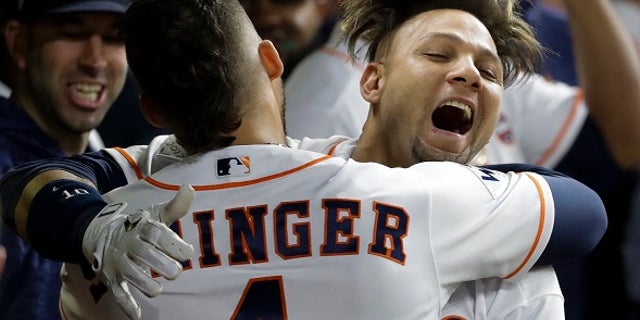 NEWYou can now listen to Fox News articles!
Houston Astros first baseman Yuli Gurriel will miss the first five games of next season for making a racist gesture toward Los Angeles Dodgers pitcher Yu Darvish during Friday night's World Series Game 3.
Major League Baseball Commissioner Rob Manfred announced the suspension Saturday, hours before Game 4 of the Fall Classic.
"I wanted the burden of this discipline to fall primarily on the wrongdoer," Manfred said. "I was impressed in my conversation with Yu Darvish by his desire to move forward, and I felt that moving the suspension to the beginning of the season would help in that regard."
After Gurriel homered off Darvish in the second inning Friday, he put his fingers to the side of his eyes and said "chinito" — a derogatory Spanish term that translates literally to "little Chinese."
Darvish was born in Japan to a Japanese mother and Iranian father. He played professionally in Japan from 2005-11 before joining the Texas Rangers in 2012.
Darvish, who was dealt to the Dodgers at the July 31 trade deadline this year, expressed anger about what happened.
"Acting like that, you just disrespect all the people around the world," he said in Japanese through a translator.
Gurriel, who was born in Cuba, apologized after the game. Speaking in Spanish through a translator, Gurriel said that he was "commenting to my family that I didn't have any luck against Japanese pitchers here in the United States."
On Saturday, Gurriel released a formal statement saying his gesture was "offensive" and "indefensible."
"I sincerely apologize to everyone that I offended with my actions," Gurriel said. "I deeply regret it."
"There is no place in our game for the behavior or any behavior like the behavior we witnessed last night," said Manfred, who later added, "There is no excuse or explanation that makes that type of behavior acceptable."
Astros general manager Jeff Luhnow said in a statement that the club was "surprised and disappointed" by Gurriel's actions.
"Yuli has always demonstrated respectful behavior and is extremely remorseful for his actions," Luhnow said. "He had no intention of offending anyone, but now recognizes the perceived offensiveness of his actions."
Gurriel's homer came as part of a four-run second inning, which chased Darvish from the game and propelled the Astros to a 5-3 victory. Houston leads the best-of-seven series 2-1.
The Associated Press contributed to this report.