As Mariano Rivera Approaches Retirement, The Yankees Star Reflects On His Legacy, Future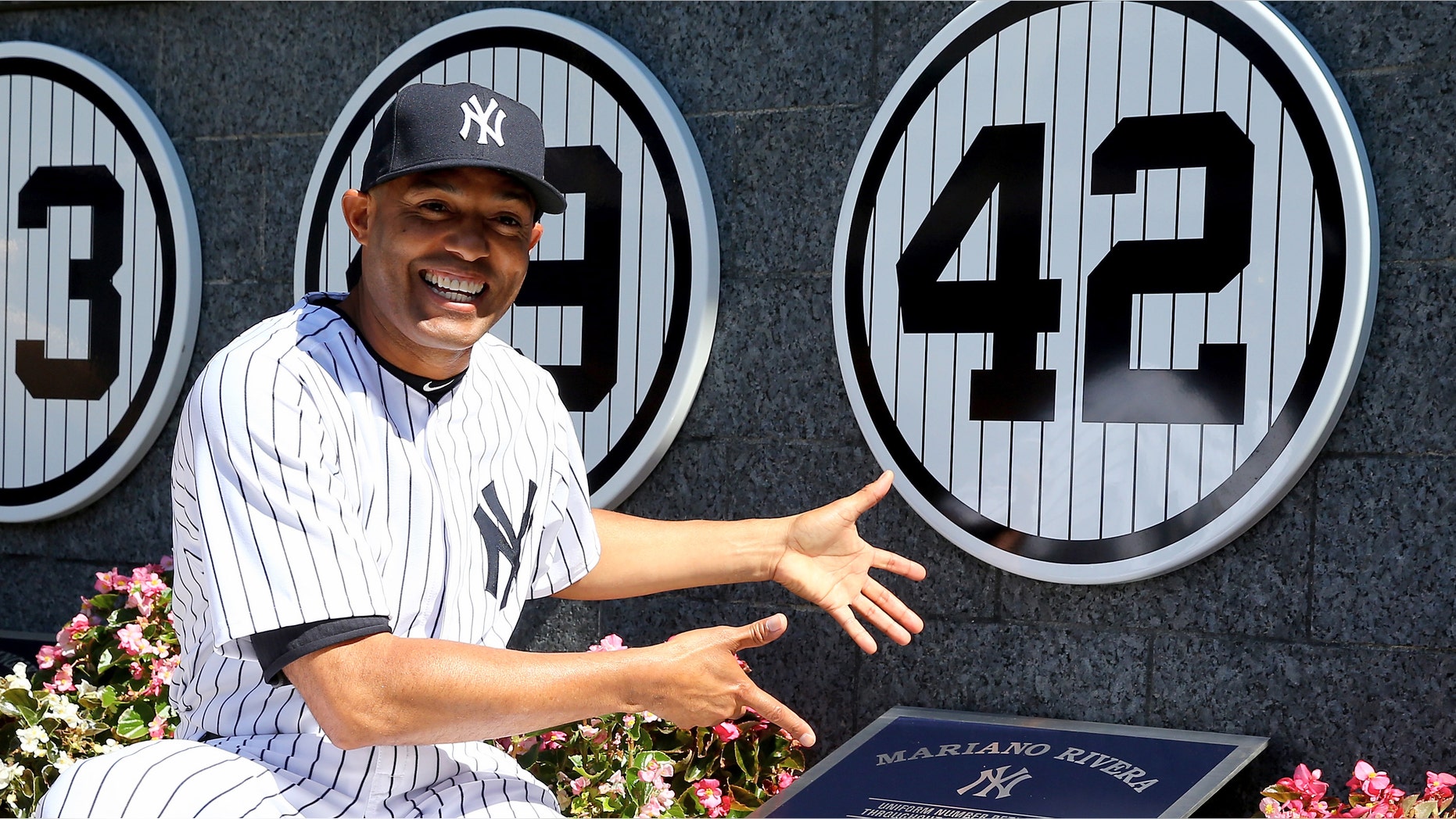 There are many things still up in the air about Mariano Rivera's future after he removes the pinstriped uniform he's worn with class during his 19-year Hall of Fame career with the New York Yankees.
But there is one thing that is certain, he said: he will not be returning to the Bronx as a player.
Unlike what Roger Clemens and Andy Pettitte have done in the past, there won't be a second go around next year or the year after or in the years coming.
Not even if New York Yankees brass come knocking on his doorstep.
"They Yankees already know. It doesn't have to be discussed. It doesn't have to be talked about. There's no going back or reversing. I've ran out of gas," Rivera said in Spanish during a press conference prior to Wednesday night's game in New York City.
"The number was even retired. Even if I wanted to, they've already closed the chapter," he joked.
The Panamanian wished to have thrown a few more cutters on the ballpark's mound during this week's regular season finale, but the chances of doing so vanished once the Cleveland Indians won their game Wednesday night, eliminating the Yankees from contention in the American League Wild Card race.
Widely recognized as the game's greatest closer, with 642 regular season saves under his belt and another 42 in the postseason, Rivera humbly discarded the notion that he was better than anyone else.
But somehow that same humbleness was what paved his way to five championships, four of which came during his first six years in the majors, the peak days of a Yankees dynasty.
"That humility has been maintained because it comes from God. You recognize where it comes from. Not because you have a little bit more than others does it mean that you're better than the next one," he argued. "I've always recognized that and I give thanks to God for taking me out where I was and where I came from. I've always kept those roots."
It's been so long ago, but in the middle of his season in the minors, three years before he made his debut for the Yankees as a starter, Rivera underwent Tommy John surgery. Some careers have been derailed because of it, but his was kept afloat. He was able to bounce back and return stronger than before, all based on his inner faith.
He turned a positive into a negative, with an optimistic outlook on the hand he was dealt, rebounding like he has done so many times after blowing a save.
"When I was operated on ...the thought of, 'Wow maybe my career is over' didn't run through my head," Rivera recalled. "Instead (I was thinking) what do I have to do to get better. What do I have to do go get back on the field."
"I took everything positively. That's what's helped me in my career ... Even when things seemed or came out bad."
While it was hard for him to answer a reporter's question regarding his top three moments of a stellar career, he said among the most memorable was the 1999 World Series in which he won the MVP award, the 2000 Fall Classic victory over the crosstown rival Mets and the appreciation he was showered with during the All-Star Game this past July at CitiField.
Despite keeping his composure as he addressed the crowd during his ceremony Sunday afternoon, he finally teared up during the game.
After losing in the American League Championship Series last October to the Detroit Tigers, a trip to the postseason seemed likely but injuries up and down the lineup and to the pitching staff and Alex Rodriguez missing the first four month of the season have the Yankees looking from the outside.
Rivera was one of Rodriguez's biggest supporters. But he's been very critical of the performance-enhancing drug scandal that has tainted the sport.
"If I could change something in Major League Baseball, the only thing I would change would be everything that's happened with steroids. I'd change that," he said. "If I could do something, I'd changed it from its roots. Right away. It would be the only thing that I would do, that I'd like to. Not to stain baseball, a game that's beautiful ...."
Baseball's greatest closer will walk away from Yankee Stadium Thursday, the team's last seasonal game in the stadium, and for good Sunday in Houston. The Yankees will surely miss him when the ninth inning arrives, especially at home when it's time for Rivera's warm-up song Metallica's "Enter Sandman" to reverberate through the ballpark.
All he'll want to be remembered as someone who gave it his all, even against the opposition.