Aroldis Chapman is further proof that you will have suitors if you have talent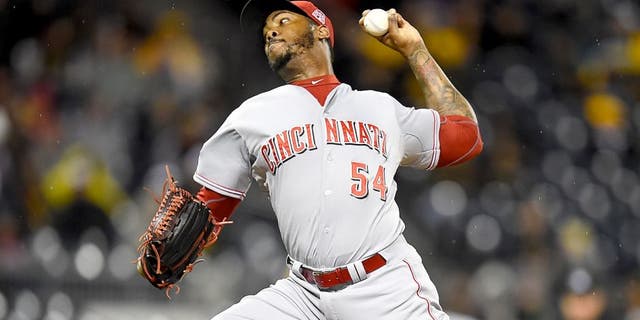 First, let's get this one out of the way: The New York Yankees' acquisition of Aroldis Chapman was not some sort of steal.
One, baseball teams are not typically administered by foolish people. If there was a better offer out there for Chapman, the Reds probably would have accepted it. By the same token, if there was a great case for better offers being made, some other teams probably would have made them.
Granted, that's largely a theoretical argument. If you think the Yankees are smarter than everybody else or the Reds stupider, you might not buy it. Fair enough.
So let's focus for a moment on the players involved.
The Yankees received Chapman, a tremendously talented pitcher who might well pitch 50 innings for the Yankees. Ever. Fifty.
The Reds received four minor leaguers. Granted, one of them probably won't ever play in the majors and another looks like a replacement-level relief pitcher.
But pitcher Rookie Davis is considered a real prospect. He throws hard, he throws strikes and is only 22. Really, the only caveats are that he wasn't great in his brief Double-A stint last summer, and he was just a 14th-round draft pick. But he seems likely to pitch in the majors, probably (but hardly necessarily) as a reliever, and perhaps soon.
Meanwhile, third baseman Eric Jagielo was a first-round draft pick just two-and-a-half years ago. But he's had real problems staying healthy, playing only 92 games in 2014 and 58 in '15. He hurt his knee last summer and was slated for the Arizona Fall League until the Yankees thought better of it. When Jagielo has played, he's been good but not great. He'll turn 24 in a few months and will probably open the season in Class AA. So he needs to get busy and (obviously) stay healthy.
Brian Cashman's been hailed for getting Chapman without giving up any of his best prospects. And that is what happened. But there's also a non-zero chance that Cashman traded 12 to 15 years of major leaguers -- assuming, of course, that both Davis and Jagielo make it and that replacement-level reliever sticks around for a while -- for 50 innings and (roughly, of course) two Wins Above Replacement, which might wind up seeming like a pretty good deal for the Reds.
There's probably just as good a chance that the Reds don't really wind up getting anything for Chapman. Again, if they could have gotten more from another team than the Yankees offered, they probably would have. If you're going to fault management, it should probably be for not dealing Chapman last July, when he a) had less time on his service clock and b) didn't have a domestic-violence allegation hanging over his head.
There it is. The ugly elephant in the room, and no, we can't ignore it.
Nobody knows exactly what happened on Oct. 30, except the people who were there, and if we know anything about memory, we know that even they'll have different memories. By all accounts, though, it was ugly, considering the non-disputed facts that include physical violence, multiple gunshots and an infant daughter.
Four days after the "incident," a Florida state's attorney reportedly said: "Due to conflicting stories, no cooperating witnesses, and no physical injuries, there is insufficient evidence to charge Mr. Chapman with simple battery."
Or apparently with a firearms-related charge, even though one of the eight bullets he fired in anger or frustration exited through a window and wound up in an open field, where it might have hit God knows what.
Maybe this was an isolated incident. We don't know. If judged by our worst moments, none of us would fare well. For the sake of Chapman and the people around him and especially his young daughter, we can only hope this was his worst moment, with many better ones in their future.
Of course, all this explains why the Reds couldn't get more for Chapman. It's one thing to trade for someone who's staring a suspension in the face, pursuant to Major League Baseball's new domestic-abuse policy. It's another thing to trade a Grade A prospect for that someone.
To the first of those, the typical reaction is: "Well, at least we didn't give up much for him."
To the second, it's, "We gave up him for that guy?"
We can assume the Reds would have gotten more for Chapman last summer, and we can assume the Reds would have gotten more for Chapman from the Dodgers just a few weeks ago, before the domestic-abuse allegation scotched the deal. How much more, though? Hard to say, but with guys who throw 95 to 100 falling out of trees, maybe the market for such relievers isn't what it once was. The Reds probably did about as well as they could do, at this moment.
And what of the Yankees? What sort of message are they sending? They're sending the same message that probably 90 percent of sports teams send every year: We don't care about what the guy does, as long as he performs well and doesn't particularly annoy his teammates. And that second one's negotiable.
Remember, in 2006 Brett Myers punched his wife. In public. And made his scheduled start the next day. In the face of tremendous criticism in the media, Myers did take a three-week "leave of absence," but he wasn't officially suspended and pitched for another seven seasons. Last spring, he released an album titled "Backwoods Rebel," which included the hit tracks "Kegerator," "Chasing Tail," "I Need a Drink" and "Yoga Pants."
OK, maybe they weren't hits. I'm not even sure why I mentioned "Backwoods Rebel." Except it occurs to me that people are often allowed to continue their lives as they like, especially if they're wealthy, even after committing or being accused of what might seem like awful crimes.
Many feel that this is wrong. That it's unseemly. That it sends the wrong message for a team like the Yankees to take advantage of such a situation. But if not the Yankees or some other team, then the Reds would have enjoyed the fruits of those same innings from Chapman. One way or another, Chapman's going to pitch somewhere in 2016 and beyond. I just don't see any way around that. And rather than bemoan the real world in which we live, I will take some solace in the real world making some progress, however halting and unsatisfying, toward less violence.
Oh, and also in not being a Yankees fan at this particular moment. Because if I were, I would have a rough time seeing my fellow bugs in their Chapman jerseys.