Arlovski vs. Mir: A fight more than 10 years in the making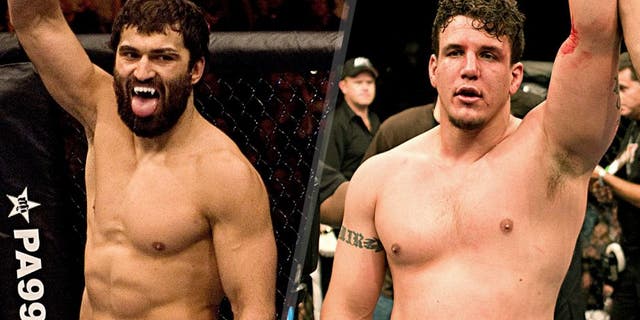 In June 2004 when Frank Mir stepped into the Octagon against Tim Sylvia in the main event of UFC 48 in Las Vegas, he did so as a decided underdog in his first shot at the heavyweight title.
Mir was well known as a submission specialist, but at the time Sylvia was a hulking giant with power in both hands and an imposing 6-8 frame that dispatched Brazilian jiu-jitsu black belt Ricco Rodriguez with relative ease.
Many believed Sylvia would do the same to Mir when they finally met in the cage -- except he didn't.
Mir latched onto Sylvia's arm after the fight hit the ground early in round one and as he kicked his hips into position to try and finish the hold, the incumbent champion nearly slipped free until there was a snap, crackle and pop. Referee Herb Dean rushed in to stop the fight, screaming at Sylvia that his arm was broken and the bout was over.
Slow motion replays confirmed what Dean saw in an instant, which was Sylvia's forearm snapping into pieces as Mir locked on the armbar, and a new champion was crowned.
Three months prior to Mir winning the heavyweight title, a Belarus native named Andrei Arlovski was picking up his third straight victory after knocking out concrete chinned Hawaiian Wesley "Cabbage" Correira while moving into position as the No. 1 contender in the division. Arlovski knocked out three opponents in a row including a win over Ian Freeman, who was responsible for the only loss on Mir's record at the time.
The stage was set -- Mir would defend his belt against Arlovski in the latter half of 2004 in what was expected to be a huge heavyweight fight for the UFC.
Then disaster struck.
Mir was driving his motorcycle in Las Vegas when a motorist ran through a light and smashed into the UFC heavyweight champion, breaking his femur and not only knocking him out of the title fight but potentially putting an end to his entire career.
While Mir was absent, the UFC introduced an interim heavyweight title and Arlovski finally made his claim to the gold with a quick first-round submission over Sylvia to win the title. For the remainder of 2005, Arlovski patiently waited for Mir to get the green light to return, but it never came.
Despite never actually facing him at the time, Mir remembers just how fierce Arlovski was during his first UFC title reign. The imposing fighter known as "The Pitbull" had some of the fastest and deadliest hands in the entire division. During that stretch from 2002 until 2005, he was definitely one of the most feared athletes on the UFC roster.
"I think Andrei was the most menacing fighter and such a force," Mir told FOX Sports. "I think that would have been a great opportunity to fight and really would have been career defining."
Arlovski knew back in 2004 that Mir was equally as dangerous whenever his fights hit the ground. Through nine career fights, Mir had finished six of them by submission and Arlovski was well aware that giving him even the slightest opening could mean a loss and maybe even a broken bone or two.
"At that time, and I still have a lot of respect for Frank, and at that time he was just dangerous on the ground because he is a black belt," Arlovski said recently.
Now more than a decade later, Arlovski and Mir will finally face off in the co-main event at UFC 191 this weekend. The two fighters have more than 30 bouts between them since that fated day that never came to pass in 2004, but Arlovski and Mir are both just as relevant today as they were back then.
Arlovski has enjoyed new life since returning to the UFC a year ago as he's reeled off three wins in a row including two knockouts, one over Antonio "Bigfoot" Silva and the other vs. Travis Browne. Arlovski's career rejuvenation comes just a few years after he was seemingly on the verge of irrelevancy after four straight losses, three of which came by first-round knockouts.
Mir says there are still plenty of similarities to the Arlovski from a decade ago to the person he'll face in the Octagon on Saturday night. But like all veteran fighters, he had to learn to adapt and grow if he wanted to thrive instead of get put out to pasture.
"Andrei's still a very good fighter, he's always been a very good fighter," Mir said. "I think there was a while there where he was just so far ahead of everyone in the heavyweight division in boxing and striking that he was just able to walk through guys much more convincingly. I think the sport caught up to him a little bit and that happens to all of us that have been around as long as we have.
"We start out with a lot of abilities and ahead of the game and then eventually the game catches up to us. Now, we went back to the drawing board and Andrei and I pushed forward to that next level and that's what you're seeing now."
The same can be said for Mir, who has been defined as possibly the best submission fighter in the history of the UFC heavyweight division, but still fell on hard times that had him contemplating retirement before finally taking a much-needed break from the sport.
Mired in the middle of his own four-fight losing streak, Mir wasn't sure if he wanted to fight anymore, but time gave him perspective -- not to mention allowing his beaten-up body the chance to heal for the first time in years. When he returned to the UFC earlier this year, Mir came in with a healthy mind and a healthy body, not to mention some world class boxing skills honed under coach Angelo Reyes.
The result has been two straight knockout wins including his last victory where Mir planted Todd Duffee face first on the canvas with a devastating first round finish.
"He fights very dangerous standing, so I have to keep in mind also he is not only black belt (in jiu-jitsu) and also has the power to knock people out," Arlovski said about Mir. "So I have to be ready for this as well."
The fight at UFC 191 between Arlovski and Mir not only holds historical significance, but also represents something special to both fighters after a long and winding road finally led them back to this fight 11 years after it was originally conceived.
Arlovski and Mir have experienced the highest highs and suffered through the lowest lows, but they will meet this weekend with both of them enjoying a second wind in the latter half of two legendary careers.
If there's one bad part about these two fighters finally coming together for this matchup at UFC 191 it's that either Arlovski or Mir will walk out of the MGM Grand Garden Arena with a loss.
Mir says no matter who wins, he's just glad the fight is happening at a stage in their careers where both men can hold their head up high and know that they faced each other while still in peak condition.
"I'm really just happy this opportunity has occurred now with us both not at what looks like the end of our career," Mir stated. "Right now both of us being on resurgences -- we're both in great positions, we both have great momentum moving forward, talk of maybe fighting for a title afterwards, and so at least we can fight and no one can say 'oh but they were broken and at the end of their careers'. Right now both of us are back on the upswing."
Arlovski agrees and promises that while one man will likely move into title contention with a win and the other will have to suffer through another tough loss, the real winners will be the fans in attendance at UFC 191 because the two veterans are going to put on a show.
"We are old-school fighters," Arlovski said. "And I'm sure we're going to surprise lot of people.