Arizona's defense no match for No. 18 Stanford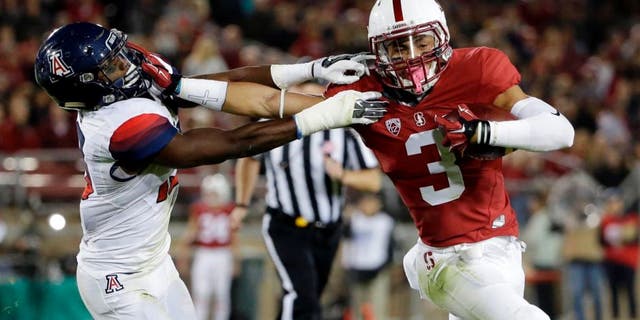 NEWYou can now listen to Fox News articles!
STANFORD, Calif. -- Arizona's high-scoring offense wasn't nearly as effective as it has been this season. That was to be expected with starting quarterback Anu Solomon home recovering from a concussion.
The Wildcats' defense was also predictable -- not necessarily a good thing for coach Rich Rodriguez's team.
Jerrard Randall led three scoring drives and accounted for 245 yards of offense in his first career start for Arizona but the Wildcats gave up 570 yards and six touchdowns in a 55-17 loss to No. 18 Stanford on Saturday night.
"We're undersized certainly and that wasn't a good matchup but that's an excuse," Rodriguez said. "We didn't stop anything they wanted to do. They wanted to throw, they threw. They wanted to run, they ran it."
Randall passed for 178 yards and a touchdown and rushed for another 67 yards for Arizona (3-2, 0-2) despite being bothered by a sore hamstring that limited his scrambling ability.
A backup to Solomon who went into the game averaging an FBS-leading 15.3 yards per carry, Randall was held to less than half that (7.4) by Stanford's swarming defense.
"It's not an excuse for the loss," Randall said. "I just didn't do enough to win. I don't think I played that well. I'm very explosive. I just couldn't explode like I wanted to. As a team we just didn't play well."
Nick Wilson, who entered the game as the conference's leading rusher, was held to 46 yards, though he had a touchdown.
It wasn't enough against Stanford.
Christian McCaffrey ran for 156 yards and a touchdown, Remound Wright scored three times and Kevin Hogan threw for 217 yards and two touchdowns to help the Cardinal (4-1, 3-0 Pac-12) win their fourth straight after an opening loss to Northwestern.
Barry Sanders added a 65-yard touchdown run for Stanford, which scored 40 or more points in third straight games for the first time in 14 years. The Cardinal have scored at least 37 points in five straight against the Wildcats.
Stanford's brute force along the offensive line and McCaffrey's nimbleness, proved too much for the Wildcats, who were without All-America linebacker Scooby Wright. The Cardinal gained over 300 yards on the ground and over 500 in total offense.
McCaffrey, who rushed for a career-high 206 yards and ended up with 303 all-purpose yards last week at Oregon State, became the first Stanford runner to have three consecutive 100-plus yards in over two years.
Hogan completed 17 of 19 passes, including scoring tosses of 16 yards to Wright and 18 yards to Michael Rector. Conrad Okropina connected on a pair of field goals. Backup Keller Chryst completed all four of his passes, including his first career touchdown strike, a 6-yarder to Rollins Stallworth.
Solomon did not make the trip after sustaining a concussion against UCLA. Randall opened the game in Solomon's absence and never got untracked in the first half, leading the Wildcats on one scoring drive, a 26-yard field goal by Casey Skowron.
Brandon Dawkins took over in the fourth quarter without much success and the Wildcats dropped their fourth straight to Stanford and 10th in 13 overall.
Randall guided the Wildcats on an eight-play, 75-yard drive to open the second half. Arizona faced a second-and-25 play early in the drive, but Randall completed a 21-yard pass to Johnny Jackson and ran for another 28 to help set up his 15-yard scoring toss to Jackson.
"Jarrard held his own," Jackson said. "It wasn't just him. It was us as an offense collectively. Nobody was clicking."
McCaffrey, the son of former NFL star Ed McCaffrey, returned the ensuing kickoff 67 yards and Stanford's scoring spree continued.