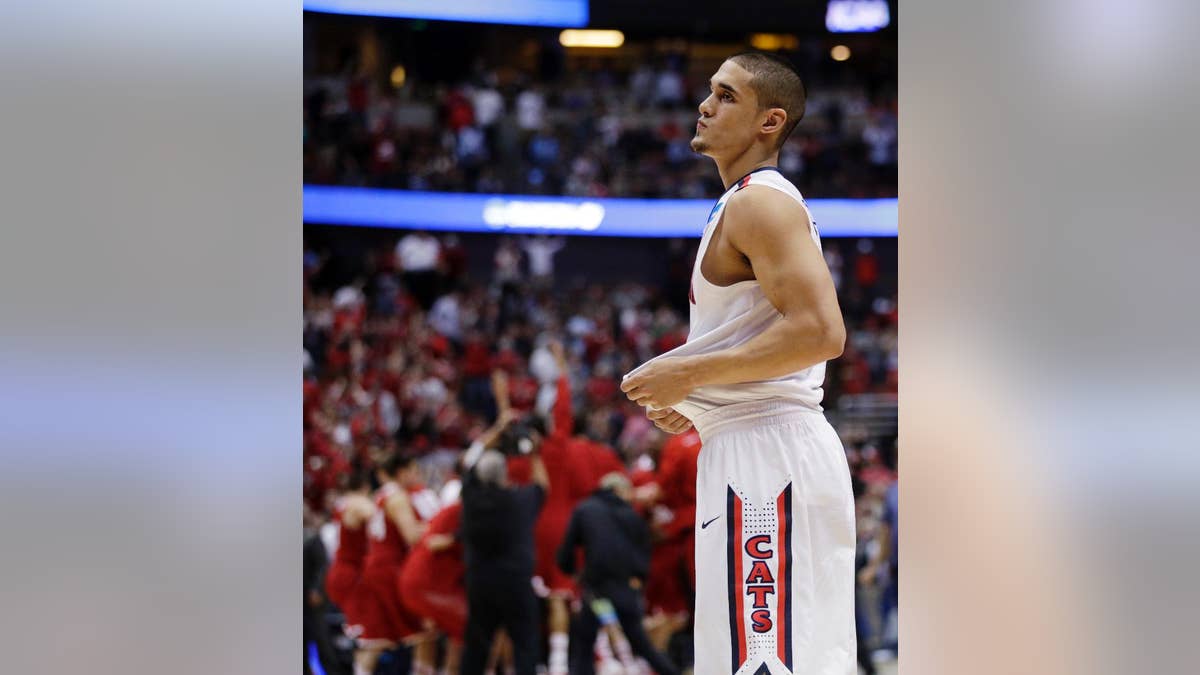 ANAHEIM, Calif. – Arizona spent eight weeks as the nation's top-ranked team and ran off 21 straight victories.
The Wildcats just couldn't close out the win they wanted the most, losing 64-63 on the final play in overtime to Wisconsin in the West Region final on Saturday night.
Nick Johnson had the ball with a chance to win, but he missed a shot that launched just after the buzzer for Arizona (33-5), the top-seeded team that has yet to win a West Region final in Anaheim in four tries. Johnson led the Wildcats with 16 points, and Aaron Gordon had 18 rebounds in the relentlessly physical game.
"If I had to go back and do it, I probably would have taken one dribble less and try to pull up and get the shot off," Johnson said. "But they made it tough."
Johnson stood with his hands on his hips, staring straight ahead, while Frank Kaminsky and the rest of the Badgers rushed to celebrate. Kaminsky had 28 points, including six in overtime, and 11 rebounds for the second-seeded Badgers (30-7).
"This one hurts," guard T.J. McConnell said. "We fought and fought and fought. Wisconsin made one more play at the end, and that was the difference."
Kaleb Tarczewski scored 12 points and Rondae Hollis-Jefferson had 10 points for the Wildcats, who were trying to get coach Sean Miller to the Final Four for his first time. Instead, Miller was sent to the sidelines on the same day his younger brother Archie's Dayton Flyers lost to Florida in the South Region final.
"It just hurts because I think everybody in here knows that that could have gone either way eight times over," Miller said.
It's Wisconsin's first Final Four appearance since 2000, and first for 69-year-old coach Bo Ryan, who earned his 704th career victory.
"You go against these teams that have been really good from start to finish, and Wisconsin is a great team," Miller said. "They can win the national championship, close to being a 1 seed."
Traevon Jackson added 10 points for the Badgers, and Kaminsky was chosen as most outstanding player of the West Region.
The first 40 minutes were a back-and-forth struggle between the only 1-2 seeds remaining in the regionals, with neither team leading by more than three points over the final 12:09 of regulation.
Overtime was even more dramatic, with Arizona having an answer for just about everything Wisconsin did.
"All throughout the game we made their job tough," Johnson said. "It just came down to one final play."
Ben Brust hit a 3-pointer to put the Badgers up at the start of the extra session; Gordon answered with a 3 to tie it up again at 57. Kaminsky scored inside and Gordon dunked at the other end for another tie.
Kaminsky's jumper and a free throw by Josh Gasser gave Wisconsin a 62-59 lead. Tarczewski's two free throws and Jordin Mayes' tip-in drew the Wildcats to 64-63 with 58 seconds left.
McConnell's jumper missed, but Arizona got the offensive rebound and found Johnson, who missed and got called for the push-off on Gasser with 3 seconds left.
"I thought it was a really, really tough call," Miller said. "I'm going to stop there. I've already been fined."
Wisconsin inbounded on the baseline, and a scramble ensued in front of Arizona's bench with 2 seconds left. The initial call gave the ball to the Badgers. The referees viewed replays for several minutes before deciding Wisconsin touched the ball last.
That call set up the final play, with Pac-12 player of the year Johnson unable to bail out the Wildcats one last time.