Arizona Cardinals President Michael Bidwill talks up Brett Kavanaugh, rips kneelers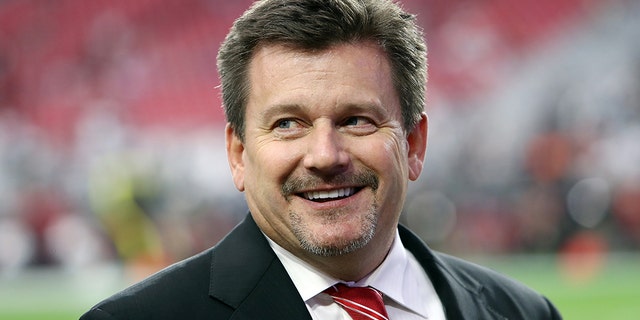 Arizona Cardinals President Michael Bidwill is attempting to rally support behind his high school classmate, Supreme Court nominee Brett Kavanaugh.
Bidwill, who attended Georgetown Prep outside Washington with Kavanaugh and graduated in 1983, organized a group of more than 150 classmates to send a letter of support for Kavanaugh to Senate leaders.
"We earnestly ask you to rise above the passions and examine who Brett Kavanaugh is and whether his juridical ability, extensive experience and many accomplishments in public service qualify him to the position of an Associate Justice," part of the letter read. "[W]e are united in the belief that Brett will discharge his duty in the same manner he always has: impartially, justly and with intellectual honesty and consistency."
In addition to Bidwill, the letter is signed by another Georgetown Prep alum with prominence in the sports world: New York Yankees General Manager Brian Cashman.
"The purpose of the letter is to talk about Brett as a person," Bidwill told the Cardinals' official website. "We have known him and known what a brilliant mind he has. He's eminently qualified."
During an appearance on Mike Broomhead's radio show Tuesday morning, Bidwill also discussed the NFL's new national anthem policy. The policy, which was approved at the league's May owner's meetings, allows players to protest during the national anthem by staying in the locker room, but forbids them from sitting or taking a knee if they're on the field or the sidelines.
"People are saying stick to sports? You know what?" Bidwill asked rhetorically. "We ask our players 20 days a year — game days — to restrict their statements. The rest of the days, we want our players to get engaged in the community."
The NFL Players Association filed a grievance with the league over the policy Tuesday, saying it is inconsistent with the collective bargaining agreement and infringes on players' rights.
Michael Bidwill, a former federal prosecutor, has served as Cardinals team president since 2007. He is the son of principal owner Bill Bidwill, whose family has owned the team since 1933, when it was based in Chicago.
The Associated Press contributed to this report.