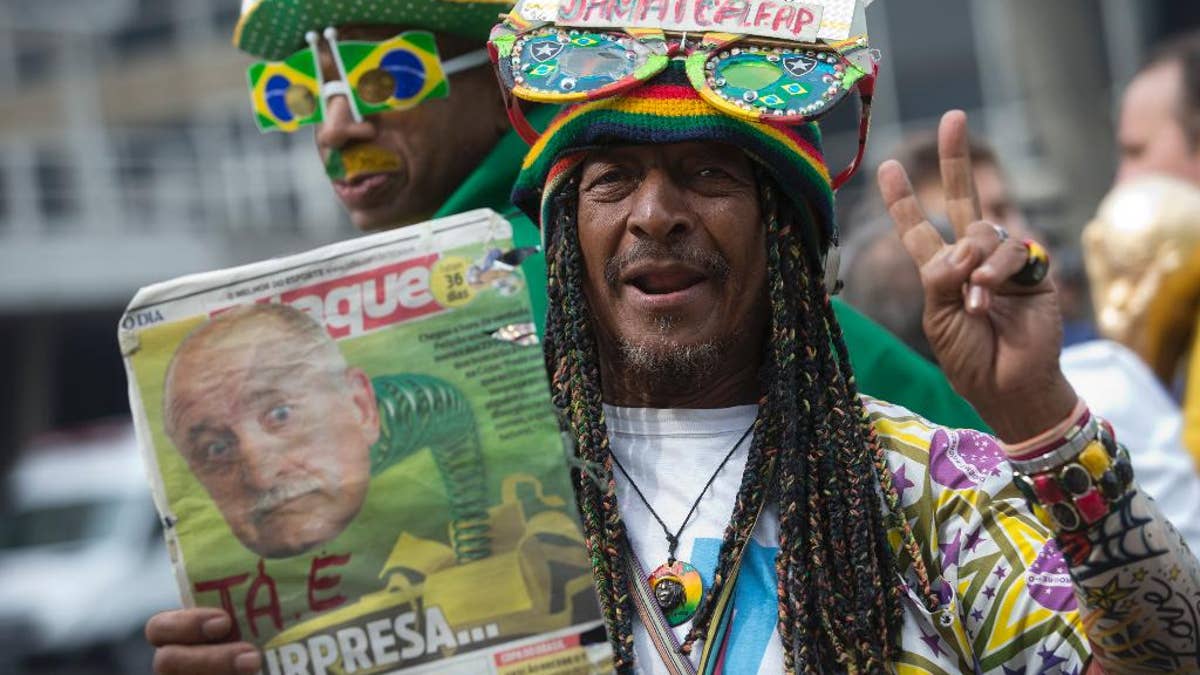 LONDON – Behind the megawatt smile and mop of curly hair, David Luiz is aware of his duty to Brazil after being included in a World Cup squad for the first time.
It's not just any World Cup, of course, but the first in the South American nation since 1950.
"Of course I feel the pressure," Luiz said at The Associated Press offices in London, where he watched Wednesday's squad announcement.
"Now is the moment to keep working hard because there will be a big pressure for us because we need to win," the Chelsea defender added. "That is the truth. ... That is our life. All the Brazilian people (are) waiting for that. It is a big pressure but makes us alive, and you want that. You want to win."
At the same time, the 27-year-old doesn't want his cheery outlook to be repressed by the size of the task facing the team when it opens the World Cup against Croatia in Sao Paulo on June 12.
"It is an amazing feeling, I'm so happy," Luiz said of his selection. "It's my dream come true since I was a young kid. My dream was about playing in the national team, and I'm lucky because I can play in a World Cup at home. ... We are a lucky generation, and we need to enjoy it."
People in Brazil have staged protests, some about the billions of dollars spent on the World Cup at a time of social hardship, but soccer can be a unifying force.
"Brazil has people in some places with so difficult situations," Luiz said. "They prefer to smile than cry because they love life. They love to be happy. That's Brazilian style."
If there's one player without a sense of self-importance, it's Luiz, knowing he is paid to do what his compatriots would love to.
"Everyone there loves football — 200 million people want to be in the squad," Luiz said. "Everyone dreams to see someone from the family in the squad. ... I have the best job in the world."
There is heartbreak elsewhere, though, with Ronaldinho, Kaka and Robinho left off the roster by coach Luiz Felipe Scolari.
"Scolari is a fantastic coach, a fantastic man, and he is so transparent," Luiz said. "It's natural when you have big names out like Kaka. They only played one or two games with Scolari."
Although just five of the 23 players were on Brazil's 2010 World Cup roster, Luiz recalls how they won the Confederations Cup last year and regularly perform for top clubs.
"I think (it is) inexperienced," Luiz said of the squad. "But if I ask you about the World Cup, I think you know the competition. You know that football pressure. So as players we know the history about World Cups. Everyone knows Brazil has five titles.
"It's the same pressure like you play every friendly game, because you need to see it like that. ... I played many of the big games in this season, against all the big teams."
Yet for Luiz, his Chelsea season will end in disappointment, with the team eliminated by Atletico Madrid in the Champions League semifinals last week and the Premier League trophy out of reach.
"I wish," he sighed. "I wish, because this is a big club and big clubs need to win titles. It's natural and when you cannot win, of course, you are a bit sad. Some frustration, but that's natural. ... If you don't have ambition, you cannot play sport."
Luiz's own future has been in doubt, with the center back consistently linked with a move to Barcelona. But, with just one game left this season for Chelsea, the focus is on the World Cup.
"I don't speak about the future," he said.
___
Rob Harris can be followed at www.twitter.com/RobHarris