Antonio Brown explains why he ducked out of bounds on the final play vs. Cowboys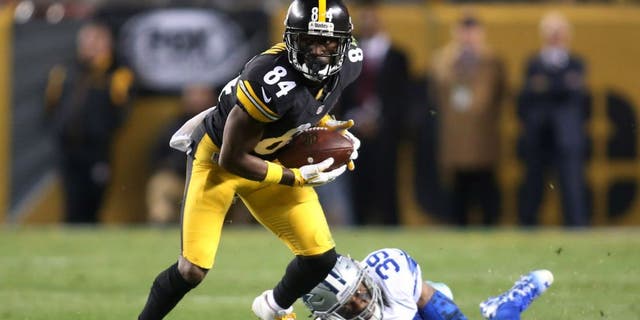 The Pittsburgh Steelers had one last shot to pull off a remarkable comeback against the Dallas Cowboys on Sunday. With a few seconds remaining, Ben Roethlisberger hit Antonio Brown on a crossing route over the middle. Brown carried it into Cowboys territory for a 44-yard gain as time expired, but the play ended when he ran out of bounds.
Brown opted to flee to the sideline instead of attempting a lateral, or reversing field and running the other way to extend the play. Why? He gave an explanation this week as to why he didn't stay in bounds.
"In that situation, there was nowhere to go," Brown said, via the Observer-Reporter. "I'm running at full speed. We had one guy (in front of him) and three guys to the other side of the field. We lose a game and everyone finds a reason to say that one play was the reason we lost.
"What should I do, just fall down in bounds or get tackled in bounds?"
Brown has a point. Staying in bounds wouldn't have helped the Steelers win the game, or given them a chance to run another play. Time had expired and the game would have been over whether he got tackled by Byron Jones in bounds or ducked out on the sideline.
"It's not like we had a lateral play or were running a play that would give us a chance to score," Brown continued. "In that situation, I was singularly focused on trying to get into the end zone.
"Even if I fall down in bounds, the game is over."
However, there's one problem with that: Mike Tomlin had told him previously what to do -- just as he does every week.
"I give A.B. specific instructions in terms of how he's to approach the return game week-to-week. Or even within game, situationally, to account for those circumstances in terms of what he needs to provide us and what the depth is behind him, or what the depth is not behind him. Whether it's at wide receiver or at punt returner," Tomlin said.
Tomlin would have liked to see his star receiver fight for every yard and extend the play as much as possible, which Brown clearly didn't do.
"At the end of the game, I'd like to see us stay in bounds and fight and claw for every scratch, every yard, every blade of grass and any opportunity that we can have to win the game. That's a different discussion than maybe some of the other discussions in terms of some of the plays in game."
Tomlin said he talked to Brown about it after the game but wouldn't reveal what was said. Both sides have a point, but let's be real: The Steelers weren't going to lateral their way to victory with the number of guys Dallas had back at the goal line.
Ben Roethlisberger even understands that.
"They had eight, nine guys way back," Roethlisberger said, via the Pittsburgh Post-Gazette. "There is no real play call designed for that other than a Hail Mary, and I couldn't throw it that far I don't think. You kind of just get the ball to someone, and really, whatever happens, happens. It turns into a free-for-all. Sometimes good things happen. Sometimes bad things happen."