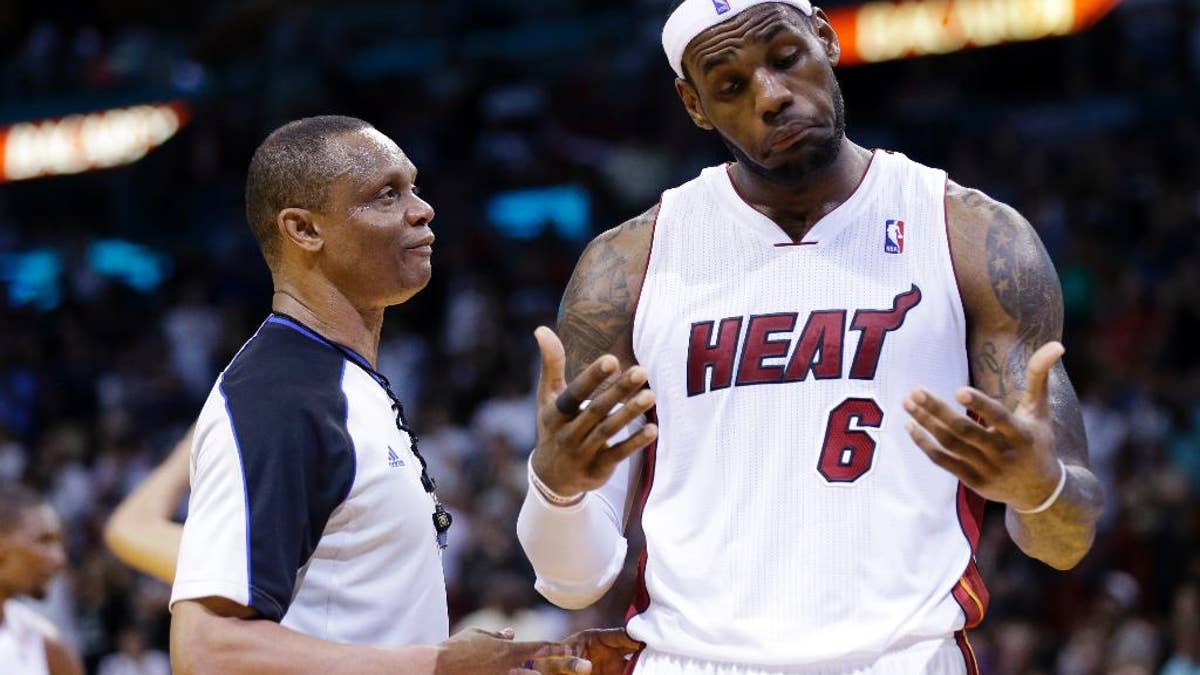 A look at where things stand in the NBA playoff picture, with five days remaining in the regular season:
___
EAST UPDATE
Friday was a wild night, where six of the top seven seeds changed.
Miami beat Indiana to move back on top of the Eastern Conference, a half-game ahead of the Pacers. If Miami (54-25) wins its three remaining games, the Heat will be the top seed in the East bracket — but the Pacers (54-26) would win any tiebreakers.
Chicago rallied from 18 down to top Detroit and that, combined with Toronto's loss to New York, moved the Bulls up to No. 3 and Toronto down to No. 4. But the Raptors clinched the Atlantic Division title when Atlanta beat Brooklyn. Also, Washington won and Charlotte lost, so the Wizards are up to No. 6, while the Bobcats slip to No. 7.
Atlanta's magic number to eliminate the Knicks and clinch the final spot is one.
___
WEST UPDATE
San Antonio wrapped up the No. 1 seed throughout the NBA playoffs, coming from 21 down to beat Phoenix for its 62nd win of the season.
Golden State got a triple-double from Stephen Curry in beating the Los Angeles Lakers, clinching a second straight postseason trip for the Warriors. Houston continued being defense-challenged — giving up 51 by Corey Brewer — and saw its lead in the race for No. 4 trimmed to a half-game over Portland; the Rockets lost to Minnesota, and the Trail Blazers won in Utah.
Memphis beat Philadelphia and that, combined with the Suns' collapse at San Antonio, moved the Grizzlies into No. 8 and dropped Phoenix to No. 9.
___
SATURDAY'S GAMES
Sacramento at L.A. Clippers: Clips could still finish ahead of Miami and Indiana, might mean something come Finals-time.
Milwaukee at Washington: Wizards control destiny in race to finish No. 6 in East, and avoid Heat or Pacers in first round.
Philadelphia at Charlotte: Bobcats let a chance slip away Friday in Boston. Can't do it again if they want to reclaim No. 6 in East.
Miami at Atlanta: Hawks could clinch playoff berth. Heat looking for repeat of intensity they brought Friday against Indiana.
Boston at Cleveland: No playoff impact here. Cavs need to go 1-1 in final two to avoid 50-loss season.
New Orleans at Houston: Rockets still haven't wrapped up home-court for first round. Pelicans have lost seven straight.
Phoenix at Dallas: Game of the night. Dallas starts night No. 7 in West, Phoenix at No. 9 — and they're separated by a half-game.
Utah at Denver: Two clubs playing out the string, though Nuggets are clearly still playing like things matter to them.
___
CURRENT BRACKET
First-round matchups if the season ended Friday...
East: Miami-Atlanta, Indiana-Charlotte, Chicago-Washington, Toronto-Brooklyn.
West: San Antonio-Memphis, Oklahoma City-Dallas, L.A. Clippers-Golden State, Houston-Portland.
___
QUOTE OF THE DAY
"We remember how nobody was on our bandwagon at the beginning of the year." — Chicago's Taj Gibson, whose team is now holding the East's No. 3 seed.
___
Follow Tim Reynolds on Twitter at http://www.twitter.com/ByTimReynolds