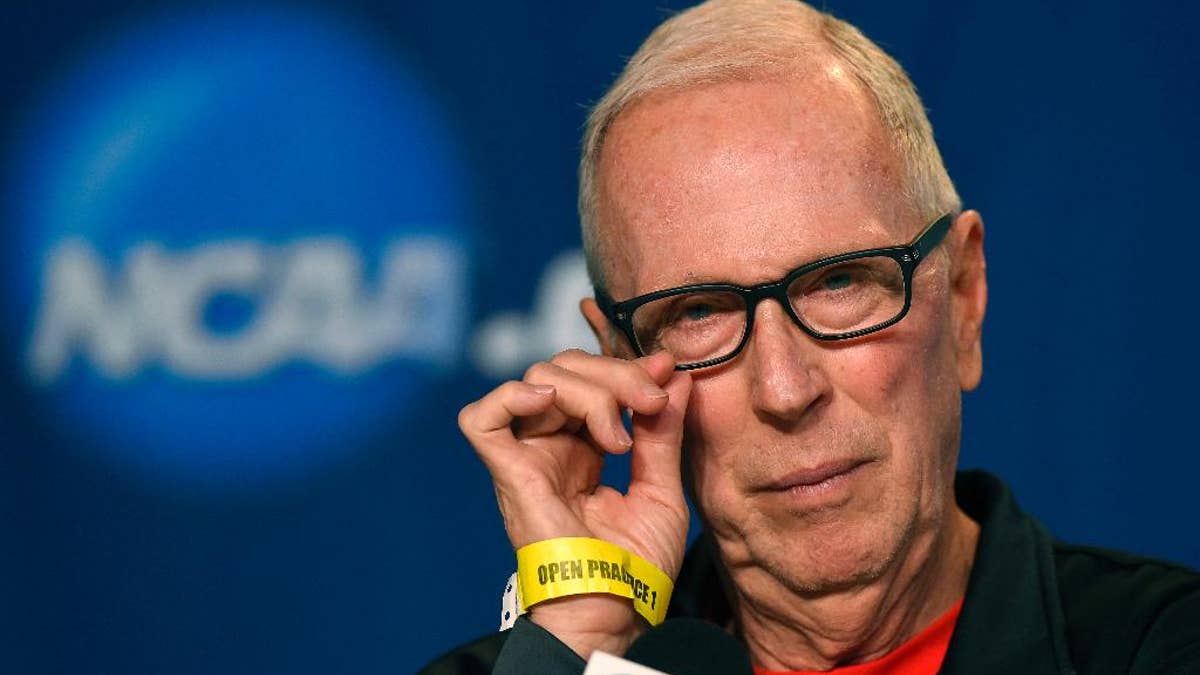 Welcome back to a revenge-themed edition of BracketRacket, the one-stop shopping place for all your offbeat NCAA tournament needs. In today's edition, we attend a reunion, watch now-you-see-him, now-you-don't Michigan star Chris Webber wolf down lunch, celebrate Miller Time — sort of — and follow Dickie V. as he takes the bull by the horns.
So without further ado:
___
GO WEST, NOT SO-YOUNG MEN
What's the first thing that comes to mind when you hear Bill Frieder and Steve Fisher are having a reunion?
Awk-ward!
But not for the reason you're thinking.
Twenty-five years ago, Frieder was coaching Michigan and Fisher was his close pal and top lieutenant. On the eve of the NCAA tournament, the former accepted a job at Arizona State and was famously relieved of his duties on the spot by athletic director Bo Schembechler, who tersely explained, "A Michigan man will coach Michigan." The latter took over and won the whole shebang.
They'll meet again Thursday in Anaheim, Calif., when Frieder calls the game for Westwood One radio between Arizona and Fisher's San Diego State Aztecs.
"If I had it to do all over again, I probably wouldn't have told the truth and maybe something else would have happened," Frieder told Associated Press sports writer Bernie Wilson. "But I'm always positive about it and never look back. My assistant went on and won the national championship. That was a goal of ours and a culmination of hard work."
If anything, the two might be even tighter now, maybe because the sailing hasn't been smooth for either since.
After the 1989 championship, Fisher was derided as "The Accidental Coach," a knock reinforced when Michigan's anarchic "Fab Five" reached back-to-back title games and left both empty-handed (remember Chris Webber's phantom timeout?). Fisher was run out of Ann Arbor in 1997, a week before practice began, after investigators learned he was leaving comp tickets for Ed Martin, a retired electrician who'd been paying several players under the table.
Frieder lasted eight seasons at Arizona State, but made the tournament only twice before resigning in 1997. He never quite shook his reputation, either, as a kind of absent-minded professor. As one story goes, Frieder was recruiting a high school player when another college coach in the stands turned to him and said, "If Bo Derek was a 10, this kid's a 9." To which Frieder replied, "Forget this kid. Where's the Bo Derek kid play?"
Both eventually wound up back on their feet. Frieder, now 72, was a Michigan man through and through — born, raised, bachelor's and master's degrees from Michigan — but learned to love life out west and is the lead analyst for Westwood One. Fisher, 69, became an NBA assistant in Sacramento for a season and returned to the college game with San Diego State in 1999. He's strung together nine 20-win seasons since, and taken the Aztecs to the tournament the last five.
Frieder was behind the mic when San Diego State made it to the Sweet 16 the last time, in 2011. The few uncomfortable moments between them are usually limited to postgame interviews.
"I do my job," Frieder said. "But also, when I interview him, I preface it by saying, 'I'm interviewing my very good friend.'"
___
NO NEED FOR 'AIR QUOTES.' IT'S HIM, ALL RIGHT.
Speaking of Chris Webber, BracketRacket loves his new tournament-themed ad for Burger King.
Not because of the plot (nonexistent) or the acting (barely) or even the happy ending (poppycock) — but for the sheer chutzpah making it entailed. Watch it if you must (via YouTube.com: http://bit.ly/1huZJuB ), but either way, follow us here for a minute.
Webber, you might recall, turned out to be the biggest beneficiary of Martin's glad-handing (since eighth grade, in fact). After NCAA gumshoes — and the feds — caught up to Martin's scheme, all the titles, awards and honors Webber helped bring the school were vacated and he was banned from any affiliation with Michigan until 2013. It's been an uneasy truce since.
Webber, who played 15 years in the NBA and now works as a TV analyst, watched the Wolverines lose to Louisville in last year's title game from a private suite. You'll also notice that while he wears a No. 4 maize-and-blue jersey in the commercial — with his name on the back — the words "Michigan" and "Wolverines" are nowhere to be found.
So, yeah, no matter how you view Webber, it's a shameless cash grab. Yet compared to some of the other scoundrels cashing in these last few weeks, he's a rank amateur.
There's the NCAA and its member schools, who continue pocketing a fortune and paying stratospheric salaries to coaches and athletic department administrators thanks to the efforts of its unpaid labor force, aka "student-athletes." In one of the more egregious examples earlier this week, Ohio State athletic director Gene Smith, who already makes $940,000 a year in salary, pocketed an $18,000 bonus when Buckeye wrestler Logan Stieber won an NCAA championship in the 141-pound class.
The contract renewal Smith signed in January has a clause rewarding him for "exceptional athletic achievements" by any student-athlete at Ohio State. Considering the way Ohio State's basketball team bombed out of the tournament, though, you have to wonder whether school officials are kicking themselves for not inserting a "clawback" clause or two as well.
But back to Webber. He once told author Mitch Albom for a book about the Fab Five that while enrolled at Michigan, he couldn't afford to buy a burger for lunch; this even as the two of them were looking at Webber's No. 4 jersey being sold in a bookstore window.
But now, in a nice bit of serendipity, just like the folks at the NCAA, Webber is finally getting paid for pretending.
___
IT'S MILLER TIME. WE GET THAT. BUT WHICH ONE ARE YOU AGAIN?
Dayton is the darling of the tournament so far, an 11th-seeded mid-major squad that knee-capped big-timers Ohio State and Syracuse in succession to reach Thursday night's Sweet 16 date with Stanford. That earned third-year coach Archie Miller a hefty new contract, but not quite his own identity.
His older brother, by 10 years, is Arizona coach Sean Miller, and plenty of media people apparently still get them mixed up. CBS studio host Greg Gumbel made that mistake last week during an interview that began uncomfortably and ended abruptly. A reporter made the same mistake Wednesday during an interview at the South Region in Memphis, and was correcting himself when Archie interrupted him.
"You don't have to worry about that," Miller said grinning. "Everybody calls me Sean."
Archie. Archie. Archie. Archie. Archie. Archie. Archie. Archie. Archie. Archie.
Can we be excused now?
___
'NEVER WORK WITH ANIMALS AND CHILDREN'
Always-upbeat ESPN analyst Dickie V. laughed when we reminded him of W.C. Fields' memorable Hollywood dictum above.
"Part of coaching is dealing with the mind of your competitor, so you had to be there to see it. But I really played with his mind," Vitale chuckled, "steering him toward teams that didn't have a chance."
In this case, Vitale's competition was a one-ton Texas longhorn named "Joel." But to be fair, the steer started Allstate's "March Mayhem Challenge" strong — despite Vitale's help — nailing the North Dakota St. upset over Oklahoma, plus Dayton over both Ohio State and Syracuse.
A win by Vitale means a donation to one of his favorite charities — The V Foundation for Cancer Research, the legacy of his close pal and former coach, the late Jim Valvano — among others. A loss means he has to muck Joel's stall at the Fort Worth stockyard and — how to put this? — clean up after him for days.
"I looked at his final picks, Manhattan and VCU," Vitale said, "so I don't have to be that guy. I went up against dolphins last year, and to be honest, they were sharper. They were able to hang on a little longer."
When we asked about his formula on filling out a bracket, Vitale began, "Gut feeling. Eye test. ... " and added a handful of others.
"Let's face reality," he said finally. "It's nothing but a guessing game."
So who ya got?
"Michigan State and Louisville. And I'll be calling the game internationally ... (coaches Tom) Izzo, (Rick) Pitino and Vitale," he laughed one more time. "Sounds like an Italian construction company or something."
___
IS THIS GOING TO HURT?
Fans of Kentucky basketball are the absolute best.
Remember when fans of rivals Louisville and UK got into row at a dialysis clinic two years ago (courtesy of Yahoo Sports) here: http://yhoo.it/1j6KZpW
Well, now there's this (courtesy of Louisville Courier-Journal): http://bit.ly/OWCUcl
Tyler Austin Black, a 22-year-old machinist from Berea, Ky., got inked right after the Wildcats lost three of their final four regular-season games, completing a skid that saw them fall from preseason No. 1 to out of the polls.
Well, everybody knows how things have gone for Kentucky since.
"Even though you have a gut feeling ... it's like a dream come true. It blew my mind and it's really made me happy. The best part," he told the newspaper, "is being able to look at people and say, 'I told you it was going to happen.'
"I went from the crazy idiot, the delusional stupid guy, to, 'Well, this team is actually playing good.' "
Check back with us for an update Friday, after the Cardinals and Wildcats meet in Indianapolis, by which time Black could be back to being that ... well, you know, and maybe for the rest of his life.
___
STAT OF THE DAY
It happens so rarely that STATS says history provides no guidance. When No. 11 Dayton and No. 10 Stanford do battle in their regional semifinal Thursday, it will mark just the third time since NCAA tournament seeding began in 1979 that a game played as late as the Sweet 16 will pair up double-digit seeds. The other two occasions: a regional semi in 1997, when No. 10 Providence downed No. 14 Chattanooga, and 2011, when No. 11 VCU defeated No. 10 Florida State in that same round.
___
QUOTE OF THE DAY
"It's a part of me now. It's here to stay." — UK fan Tyler Austin Black on his "2014 National Champions UK" tattoo.
___
THURSDAY'S GAMES
Regional Semifinals
South Regional
At Memphis, Tenn.
Dayton (25-10) vs. Stanford (23-12)
Florida (34-2) vs. UCLA (28-8)
West Regional
At Anaheim, Calif.
Wisconsin (28-7) vs. Baylor (26-11)
San Diego State (31-4) vs. Arizona (32-4)