An appreciation of Bum Phillips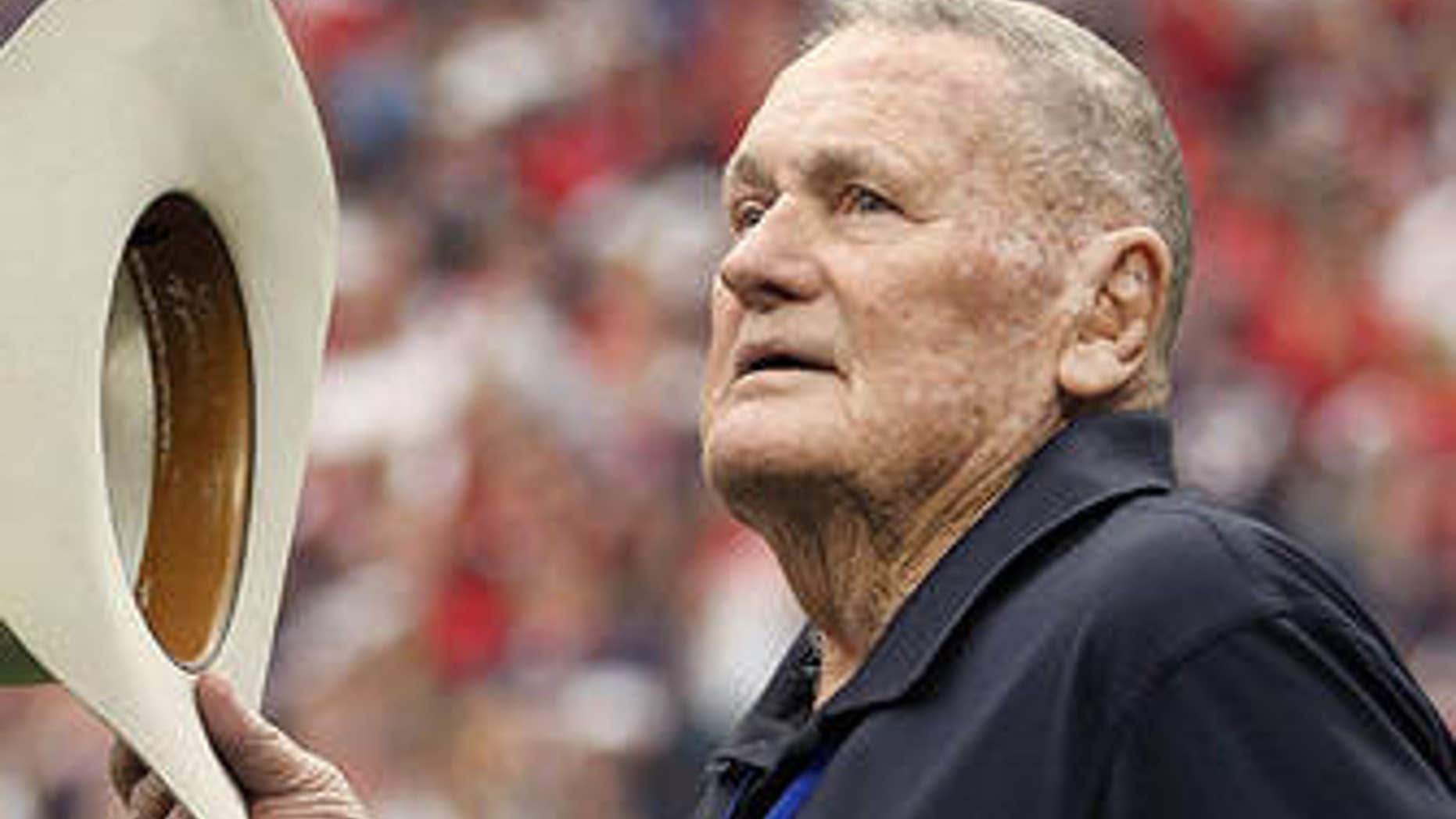 Imagine Bill Belichick showing up Sunday wearing a cowboy hat and boots. Then cracking jokes in his post-game press conference.
You don't see that stuff with Belichick or any other coach these days. That's why we should all bow our heads, place an imaginary Stetson over our hearts and honor the memory of Bum Phillips.
"Beloved Bum has been ill a long, long time," his wife, Debbie, wrote on the family's Facebook page. "We were praying for God to take him home and perform the greatest healing of all. He answered our prayers last night and took Bum to the greenest pastures where he is riding a handsome grey horse and laughing joyfully with all of his loved ones who have gone on before him."
Phillips died Friday, three weeks after his 90th birthday. That makes this weekend sad enough. Then you start thinking about how NFL coaching has changed since Phillips whipped Houston into a Luv Ya Blue frenzy.
The coaches are probably smarter and more consumed with their craft. They are also about as flamboyant as a pack of armadillos.
Then there was Phillips.
"I don't mind being called Bum," he once said. "Just as long as you don't put a 'You' in front of it."
No worries there. Phillips is being remembered for his class, personality and being as genuine as they come. If you don't remember him, names like McKay, Stram, Allen, Wyche, Glanville and even Madden (pre-video game) probably escape you.
They were characters, back when such things were allowed. Now the average American couldn't tell a Philbin from a Marrone from a Bradley from a Frazier from a McCoy from a Smith from a Chudzinski.
Even the best like Belichick, Payton, McCarthy and the Harbaughs probably study film on how not to act like Rex Ryan. And the NFL is The Improv compared to college, where Nick Saban droids have seized the sidelines.
Coaches are paid to win, not entertain. They are products of their time, just as Oail A. Phillips acted like a guy born on a Texas ranch in 1923.
He signed up for the Marines when the Japanese attacked Pearl Harbor. When he got out, he stopped to watch football practice one day at Lamar and the coach asked if he wanted to try out.
"I really wasn't that interested," Phillips said. "But I realized I could go to school on the GI Bill and (football) would be something I could do until I got a good job."
That probably wasn't Jason Garrett's master plan. Phillips never found that good job. He did become a high school coach, an assistant under Bear Bryant at Texas A&M and destiny eventually took him to Houston.
The team, a city and coach were made each other. Urban Cowboys were everywhere, and there was good ol' Bum, chewing tobacco and spouting Bum-isms. That image obscured how shrewd he was with X's and O's. What Phillips did best was make people want to play.
"Every team better have good morale," he said. "The team feels like, 'Boy, this is a great place to be,' is the team that's gonna win."
Phillips would order pizza for players after practices. He'd sit with them on flights, singing country songs and drinking beer. When he drafted Earl Campbell in 1978, and Luv Ya Blue was on.
The Oilers made it to two AFC title games against the great Steelers. Forty-thousand people showed up at the Astrodome after both games to love on their team. Imagine the reaction if the Oilers had actually won.
"One year ago we knocked on the door," Phillips famously proclaimed in 1979. "This year we beat on the door. Next year we're gonna kick the sumbitch in."
The sumbitch didn't cooperate. Oakland beat Houston in the playoffs and the impulsive Bud Adams told Phillips to take his big silver belt buckle somewhere else.
Phillips put in five years with the Saints then he retired to his ranch. That spawned another great Bum-ism when Phillips was asked what he did all day.
"Nothing," he said. "And I don't start doing until noon."
He was more than happy just being Bum and raising money for charity. The towns of Nederland and Port Neches named streets after him in 2011. The only other pro coach so honored in southeast Texas was Jimmy Johnson in Port Arthur.
"My street is much prettier than Jimmy's," Phillips said at the dedication ceremony.
No, they don't make 'em like they used to. If Belichick really did show up in a Stetson and boots, the NFL would probably fine him for violating the league dress code.
Today it's all about control, conformity and never letting your shields down.
You can certainly win that way, but you'll never be loved like Bum.
The original article can be found at FOXSports.com: An appreciation of Bum Phillips.