American Pharoah wins Kentucky Derby with Mexican jockey Victor Espinoza on the reigns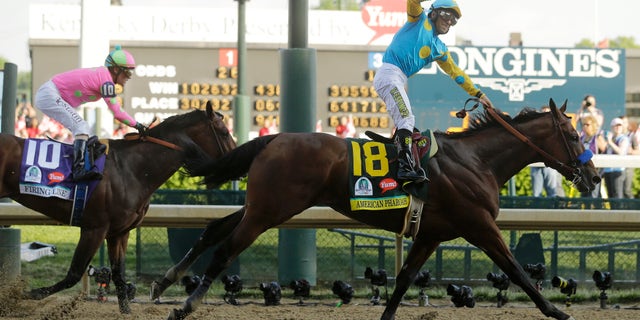 LOUISVILLE, Ky. – Mexican jockey Victor Espinoza rode American Pharoah to victory at the Churchill Downs race track for his second consecutive Kentucky Derby.
"He's been a special horse since I first rode him," said Espinoza, who won last year aboard California Chrome – only the fourth jockey to get consecutive wins. "I feel like the luckiest Mexican on Earth."
The 42-year-old Espinoza kept American Pharoah, the favorite in Saturday's 141st running of the Kentucky Derby, near the front of the pack from the start of the race.
Sent off as the 5-2 favorite by the record crowd of 170,513, American Pharoah rallied in the stretch to beat Firing Line by a length and deliver Hall of Fame trainer Bob Baffert's first Derby since 2002.
"When you get beat like that, all these seconds, you get to a point in your life, maybe it's not just going to happen for me," said Baffert, 62, who suffered a heart attack in Dubai three years ago. "And then they sent me this horse. And I thought, 'Wow, here's my chance. Don't mess it up, Bob.'"
He got it all — and then some — with a horse that even rival trainers suspect could be a threat to win racing's first Triple Crown in 37 years.
"There's a certain aura about him, and he has caught everybody's attention," said a joyous Baffert, surrounded by three older sons from a first marriage and his youngest, 10-year-old Bode, who jumped up and down and waved his arms in celebration.
Owner Ahmed Zayat grabbed the gold winner's trophy — his first after a trio of second-place finishes in the $2.1 million race.
"Finally, no more seconds," he said, laughing.
Baffert trained two of Zayat's runners-up: Pioneerof the Nile in 2009, the sire of American Pharoah; and Bodemeister, named for Baffert's son, three years ago.
"This is for the Zayats, who have suffered so much running these seconds," Baffert said. "We know what it is to just get punched right in the face."
Baffert also saddled third-place Dortmund, the other part of his lethal 1-2 punch in the 141st Derby. Firing Line finished second.
"We were ready to rumble," said Baffert, who went 1-3 in 1998, when Real Quiet won and Indian Charlie was third. "I just love what I saw today from both of my boys."
Dortmund set a leisurely pace with Firing Line tracking him closely in second. American Pharoah sat comfortably in third down the backstretch.
That trio made it a three-horse race in the stretch, with none of the closers able to make up ground. American Pharoah angled outside and fought off a persistent Firing Line as Dortmund tired along the rail, his six-race winning streak about to end.
"Coming for home I thought I might get there, but it wasn't to be," said Gary Stevens, who rode Firing Line.
Now, the moment of truth. Could American Pharoah justify Baffert's belief that he was an exceptional colt?
"I was on pins and needles all week," the white-haired trainer said. "I know I was coming in here with the best horse."
American Pharoah proved him right.
Based on reporting by The Associated Press; EFE contributed to this report.
Like us on Facebook
Follow us on Twitter & Instagram