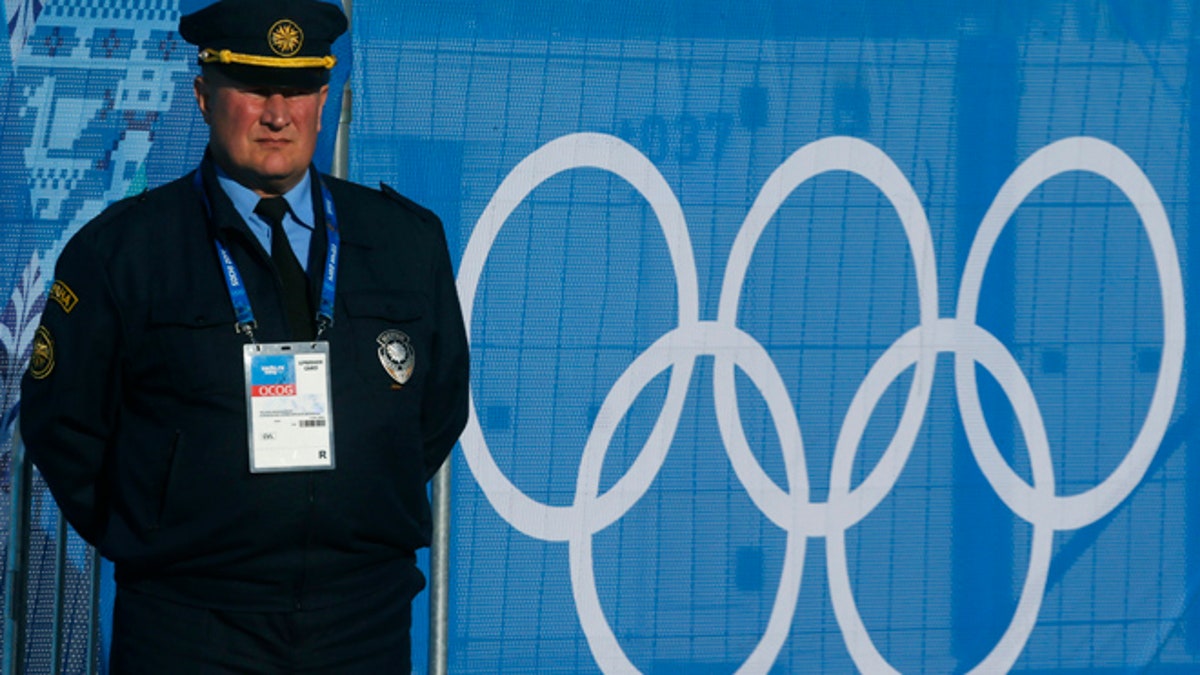 SOCHI, Russia – Nothing to fear.
That's how a few of the first U.S. athletes to arrive at the Sochi Games feel after getting their first look at an unprecedented security presence ringing the Olympics.
With militant groups threatening to attack during the next few weeks, security and the safety of competitors and visitors to the coastal area and in the nearby mountains that will host the events has become both heightened and inescapable.
Although the overwhelming forces — an estimated 100,000 police, agents and army troops are on hand — don't ensure there won't be any problems, the sheer numbers of security personnel have put some athletes at ease.
"As far as safety over here, I'm looking at it from the standpoint of a soldier," said U.S. bobsled member Dallas Robinson, who is also a sergeant in the Kentucky National Guard. "A lot of our soldiers are in combat zones where there's hundreds of thousands of people who don't want them there, people that are headhunting. We're in an area where there's hundreds of thousands of people protecting us.
"I feel pretty safe."
So secure, in fact, that on Sunday Robinson and teammate Johnny Quinn ventured outside the athlete's village on bicycles and rode to the media center to get a better grasp of the immense security detail.
"We rode to the front door and circled around before four or five guards looked at us and finally said, 'Hey, you can't be here,'" Robinson said. "But they've been great. They've been respectful and very professional.
"We've had a lot of fun and I don't anticipate us being in any more harm's way than going down the mountain in a bobsled at 85 miles per hour."
In recent weeks, The U.S. State Department warned Americans about traveling to Sochi and advised U.S. athletes not to wear any team-issued uniform gear outside the venues, contending it could make them targets. While American skeleton athlete John Daly is mindful of the advice and will be careful of his surroundings, the two-time Olympian is not going to hide his American pedigree.
He intends to dress in the red, white and blue.
"I'm planning on wearing it out around here," said Daly, from Smithtown, N.Y. "Everyone back home kept saying, 'Oh, be careful and it's too bad you can't wear it.' But if they were here, they would realize how safe it is.
"It (security) is top notch. I don't think there's going to be an incident at all and if I didn't feel confident I wouldn't have my family come over. I'm glad they're here. I know they're safe and I've got full trust in Russia."
For many athletes, these early days in Russia are a chance to get acclimated to the change in climate and culture. There are new foods to sample at the 24-hour buffet, and it's a chance to make new friends from around the globe.
But early Monday morning was devoted to a truly American tradition: watching the Super Bowl.
Despite a nine-hour time difference, some members of the U.S. contingent gathered in front of the TV to watch the Seattle Seahawks and Denver Broncos kick off at 3:30 a.m. local time.
Well, not everyone.
"I didn't wake up (until) 6 o'clock to watch the last quarter and I was a little disappointed to come down and see the score," said USA-1 bobsled driver Steven Holcomb, alluding to the Seahawks 43-8 blowout win. "It was a little surprising."
Holcomb, a three-time Olympian and the defending gold medalist in four-man, hopes getting to Sochi early will put he and his teammates ahead of the field before they get to the track.
"I think right now we're at an advantage," Holcomb said. "We're getting used to the situation."
The U.S. moguls team also deviated from past scripts, staying in the athletes village for the games, and reigning Olympic moguls champion Hannah Kearney said that's another advantage. From there, it's just a short trip for the skiers to the mountain and they can avoid an additional security check since they're already inside a secure area.
Any way to be more relaxed helps, Kearney said.
"It's actually a little less stressful here. ... It's been wonderful," Kearney said. "Clearly, there have been a lot of questions about security, a lot of focus on it. I think with that it came in with some expectations that it would be different or more stressful, and it has not, which is great."