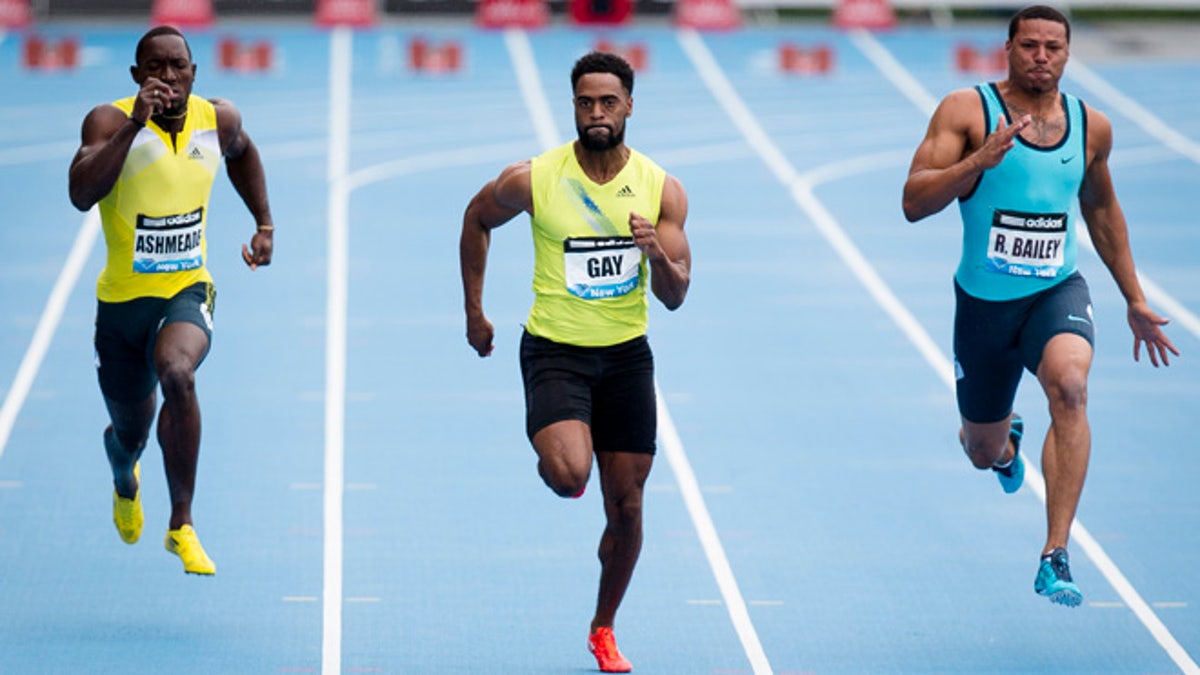 American 100-meter record holder Tyson Gay, who had promoted himself as a clean athlete, tested positive for a banned substance and said he will pull out of the world championships next month in Moscow.
Gay wouldn't reveal the substance in a phone conversation from Amsterdam on Sunday, but he said he was notified by the U.S. Anti-Doping Agency late last week that a sample came back positive from a May 16 out-of-competition test. He said he will have his "B'' sample tested soon, possibly as early as this week.
"I don't have a sabotage story. I don't have any lies. I don't have anything to say to make this seem like it was a mistake or it was on USADA's hands, someone playing games," said Gay, who fought back sobs as he spoke. "I don't have any of those stories. I basically put my trust in someone and I was let down."
Asked who that person was, Gay replied: "I can't really say it. Sometimes a human being naturally, generally trusts somebody. That's what people do."
USATF CEO Max Siegel said in a statement: "It is not the news anyone wanted to hear, at any time, about any athlete."
Siegel added: "We do not know the facts of this case and look to USADA to adjudicate it and handle it appropriately."
A triple world champion in 2007, Gay was healthy again this season after being constantly plagued by hamstring and groin ailments, along with a surgically repaired hip. He won the 100 and 200 at nationals last month, setting up an anticipated showdown with Usain Bolt at worlds.
But that's been scrubbed. Gay, who has the fastest 100 time in the world this season, also said he will pull out of a meet in Monaco and fly back to the headquarters of USADA in Colorado Springs, Colo., to be on hand when his "B'' sample is tested.
The anti-doping organization said in a statement it "appreciates his approach to handling this situation and his choice to voluntarily remove himself from competition while the full facts surrounding his test are evaluated."
"The 'B' sample will be processed shortly," the statement went on, "and as in all cases all athletes are innocent unless or until proven otherwise through the established legal process, and any attempt to sensationalize or speculate is a disservice to due process, fair play, and to those who love clean sport."
Gay is the second high-profile track athlete to makes headlines for doping in the last few weeks. Jamaica's Veronica Campbell-Brown, the reigning 200-meter world champion and three-time Olympic gold medalist, was suspended by her national federation last month pending an investigation into a positive drug test. Jamaican officials said Campbell-Brown, the 2004 and 2008 Olympic champion in the 200, tested positive for a banned diuretic at a meet on the island in May.
Gay is good friends with Campbell-Brown and said at the time: "We're all accountable for what goes in our system or what goes in our body. But at the same time, sometimes mistakes do happen."
A few years ago, Gay was part of USADA's program called "My Victory," where athletes pledge to compete clean. In his testimonial on the website, Gay said, "I compete clean because I really believe in fairness, and besides that, my mom would kill me! Just being honest."
The Twitter accounts of many track and field athletes expressed their thoughts soon after news broke on Gay:
— Distance runner Kara Goucher: "I am heartbroken over the news of Tyson Gay. Always liked him. Keep cleaning up the sport USADA, there are many more cheats out there."
— Sprinter Wallace Spearmon: " ... much respect is all I can say. I wish you well. We started together and I got your back."
— Hurdler David Oliver: "ATHLETES!! There are TOO many resources at our disposal to check against what supplements/creams etc you are using! Smarten up!"
— Olympic gold medalist Angelo Taylor: "It's a valuable lesson to be learned #tracknation. Young and old athletes. You and only you are responsible for what goes in your body!!"
— Sprinter Bianca Knight: "The people who know YOU are riding w/you."
Gay has spoken with his teammates, friends and family, including his mother and daughter.
"They already know it is some type of accident, or some type of — I don't want to use certain words, to make it seem like an accident, because I know exactly what went on, but I can't discuss it right now," he said. "My career and my name have always been better than medals or records or anything like that. I've always wanted a clean name with anything. Unfortunately, I have to break this news, that I have a positive 'A' sample."
Gay wouldn't go into specifics about the case, saying he couldn't "discuss it" when asked if what he tested positive for was a steroid.
"I have to go over everything with USADA first," said Gay, who finished fourth at the London Games last summer. "I will take whatever punishment I get like a man. I do realize and respect what I put in my body and it is my responsibility.
"I'm going to be honest with USADA, about everything, everybody I've been with, every supplement I've ever taken, every company I've ever dealt with, everything."