Alvarez vs. Smith: Can Canelo teach an undefeated fighter how to lose?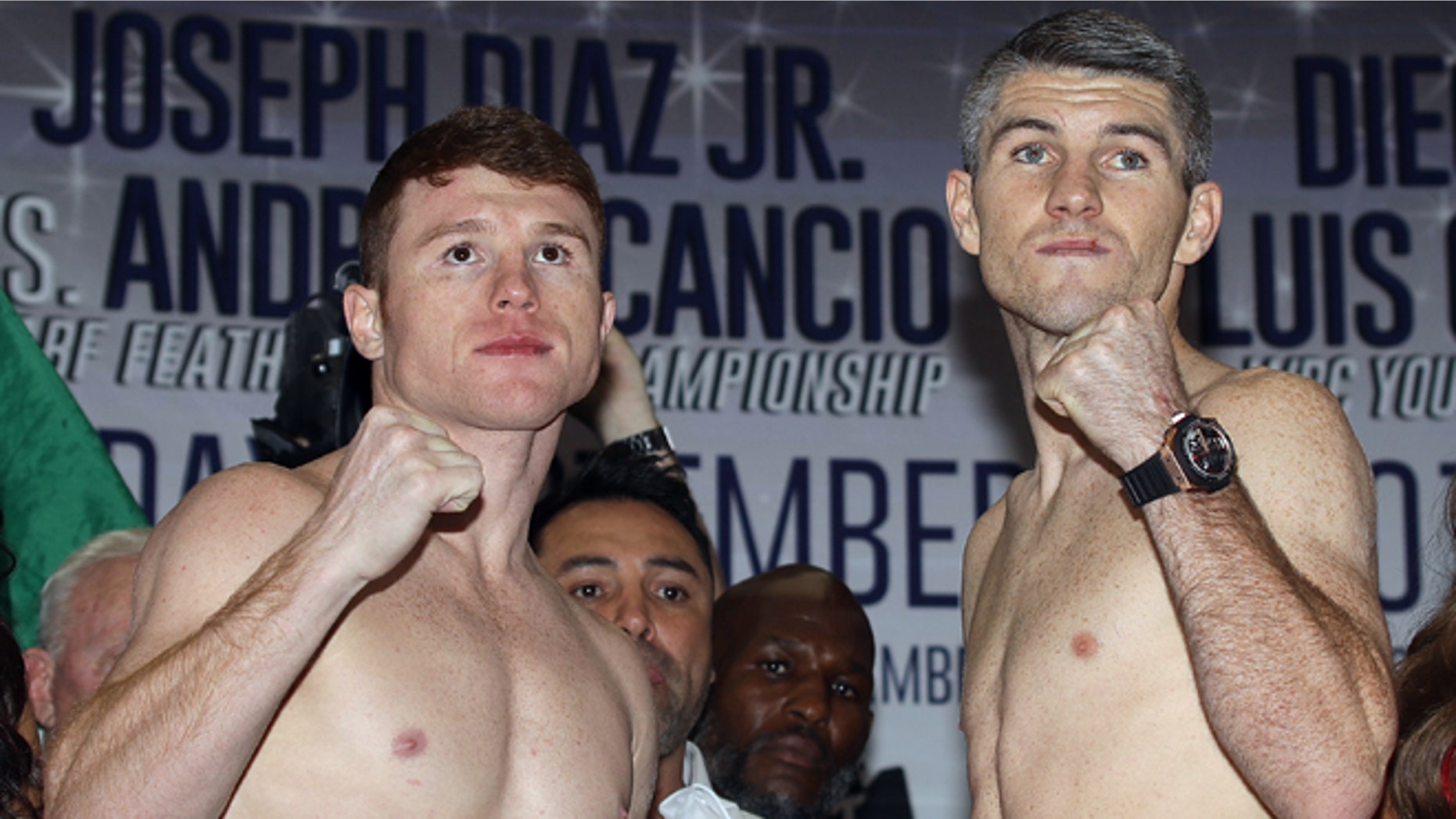 Denver, Colorado – To paraphrase the popular Mexican boxer at the heart of this weekend's big fight, "Mexicans don't mess around."
Saúl "Canelo" Alvarez (47-1-1) said that, only he used more colorful language, after disposing of British welterweight Amir Khan in the sixth round of his previous fight. Now faced with another British fighter, this time a lesser-known, but undefeated junior middleweight champion in Liam Smith, the oddsmakers seem to agree with Alvarez.
The redhead from Guadalajara as a heavy favorite to win in Dallas.
Sporting odds websites such as Bovada and Bet Online have Alvarez down as a -1300 favorite. That means that in order to win $100, you would have to put $1,300 down.
To put that in perspective, earlier this year Alvarez was just a -500 favorite against Khan.
Does that mean Smith has less of a chance? Actually, he has a much better chance than Khan of actually winning. What these odds really speak to is Smith's relative obscurity to most of the boxing public outside his native U.K.
In fact, Smith has a surprisingly similar style to Alvarez. Both like to fight in spurts. Both rarely go backward. Both are constantly looking for big counterpunching opportunities. Both have a pretty tough set of whiskers as well – something Khan, sadly, did not have.
If a stoppage does happen in this bout, it is likelier to come from an accumulation of punishment rather than a single shot.
What sets Alvarez apart from his opponent is his proven power and speed against elite competition. Smith hasn't faced Hall of Famers like Miguel Cotto, Shane Mosley and Floyd Mayweather. He hasn't even faced the top tier talent of his own division, such as former junior middleweight champ Austin Trout or current WBA junior middleweight champ Erislandy Lara.
Alvarez has faced all of the above mentioned boxers and succeeded against all but one of them.
But like the now-retired American who gave Alvarez his first and only loss, Smith is an undefeated boxer, 23-0-1 with 13 wins coming by way of knockout, including eight in his last eight fights.
This can't be understated. An undefeated fighter just doesn't know how to lose, and an undefeated champion has a lot to lose.
Last weekend, current consensus pound-for-pound king and Román González moved up to try to wrestle the WBC junior flyweight world title away from Carlos Cuadras only to find the undefeated Mexican much tougher than he expected.
González won, but he looked more swollen and beaten up than after any of his other fights. He openly admitted in a post-fight interview that Cuadras was the toughest fight of his career.
Regardless of who wins, Alvarez-Smith promises to be competitive. Despite that, there seems to be only passing interest in the fight. Headlines in the run-up often have more to do with current middleweight kingpin and potential Alvarez opponent, Gennady Golovkin.
Golovkin, looked sloppy in a fifth-round-knockout victory over previously undefeated British welterweight Kell Brook. Brook managed to tag Golovkin with fast combinations, including a highlight-worthy uppercut in Round 2. Golovkin personally rated his performance a three out of 10, considering far from his best.
But the Kazakh fighter is still the 160-pound gorilla in the Alvarez-Smith ring.
If Alvarez wins, the question of when he will climb into the ring with Golovkin will continue to dominate boxing chatter.
And if Smith has his way, that question will be firmly erased from the minds of the boxing audience and replaced with, "When will Smith take on the heavy-handed middleweight?"