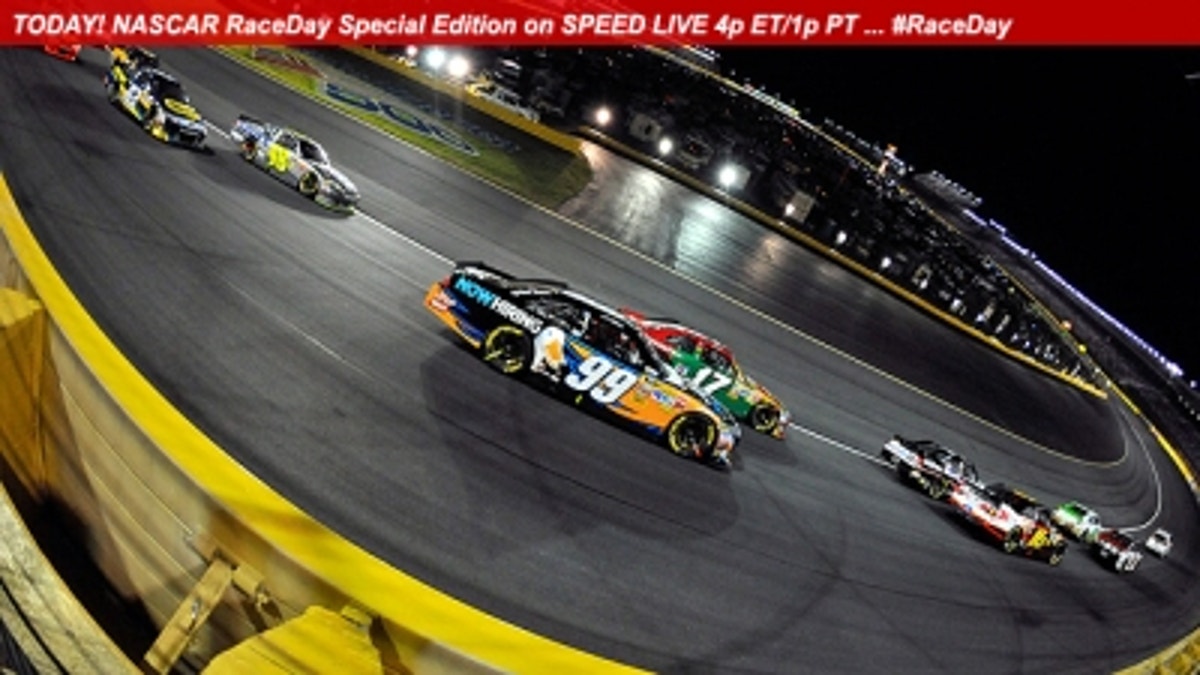 The history of the Sprint All-Star Race is full of aggression. Darrell Waltrip, Rusty Wallace, Dale Earnhardt Sr., Kyle Petty, Davey Allison, Bill Elliott, Geoff Bodine, the Busch brothers – all, plus more, have been involved in tense moments in the rich, prestigious race.
The line between what's OK and what's not often is blurred in this race, essentially because no championship points are involved and big money is at stake, and the rules of engagement are somewhat different than the standard weekly race.
The challenges of toying with that sometimes mobile line will be front and center again Saturday night as the 28th race in the All-Star series begins at 9 p.m. at Charlotte Motor Speedway. SPEED will televise the event live. Coverage will begin at 4 p.m. with the race preview and also will include the Sprint Showdown (7:30 p.m.), which will send its first two finishers on to the All-Star race.
"You've got to push hard," said Jeff Gordon, who has won the race three times. "You look at the highlights of this race, and I'm glad that we're back to this 10-lap shootout at the end because the highlights of this race will always show you two cars running side-by-side trying to get the edge through (turns) one and two or three and four. One slides up and – boom, hits the other one.
"There's a lot of contact because people are putting everything out there on the line because they want to win this race. And that was back before it paid a million dollars. Now it pays a lot more. There's more on the line. There's more prestige. The sport has grown. So, yeah, you'll do pretty much anything."
Asked how far he'd be willing to go to win the race, Carl Edwards said, "Pretty far. This is the All-Star race. … You don't want to be an idiot or anything, but there would be less patience – if your car is fast there will be less patience, and I think there will be less patience expected from all of us.
"You never know what's going to happen. Last year, Kyle (Busch) and I got spread out enough so there was really no opportunity for something like that to happen. I can tell you, and maybe I strategically shouldn't say this, but I think I can speak for most of the drivers and be completely honest and say that if a driver's car is faster than the guy in front of him, and it's for $1 million bucks, there's not going to be a lot of patience."
The format of the All-Star race has been changed often, and this year is no exception.
The 90-lap event will be run in segments of 20, 20, 20, 20 and 10 laps. The leaders of each segment will earn spots one through four at the front of the field as drivers pit for final pit stops before the 10-lap shootout at night's end.
This will put them in the best positions to gamble on quicker pit stops with the hope of returning to the track with good track position for the final 10 laps.
Kyle Busch won the pole Friday and will be among the favorites Saturday night. He has never won the race.
Also starting up front will be Ryan Newman, Denny Hamlin and Greg Biffle.
In addition to the top two finishers from the Showdown advancing to the feature, a third addition will be the driver who wins a fan vote. Dale Earnhardt Jr. did not qualify for the race but is expected to advance either through the Showdown or the fan vote.
Mike Hembree is NASCAR Editor for SPEED.com and has been covering motorsports for 30 years. He is a six-time winner of the National Motorsports Press Association Writer of the Year Award.