All for one or one for all? Teams differ on Chase survival approach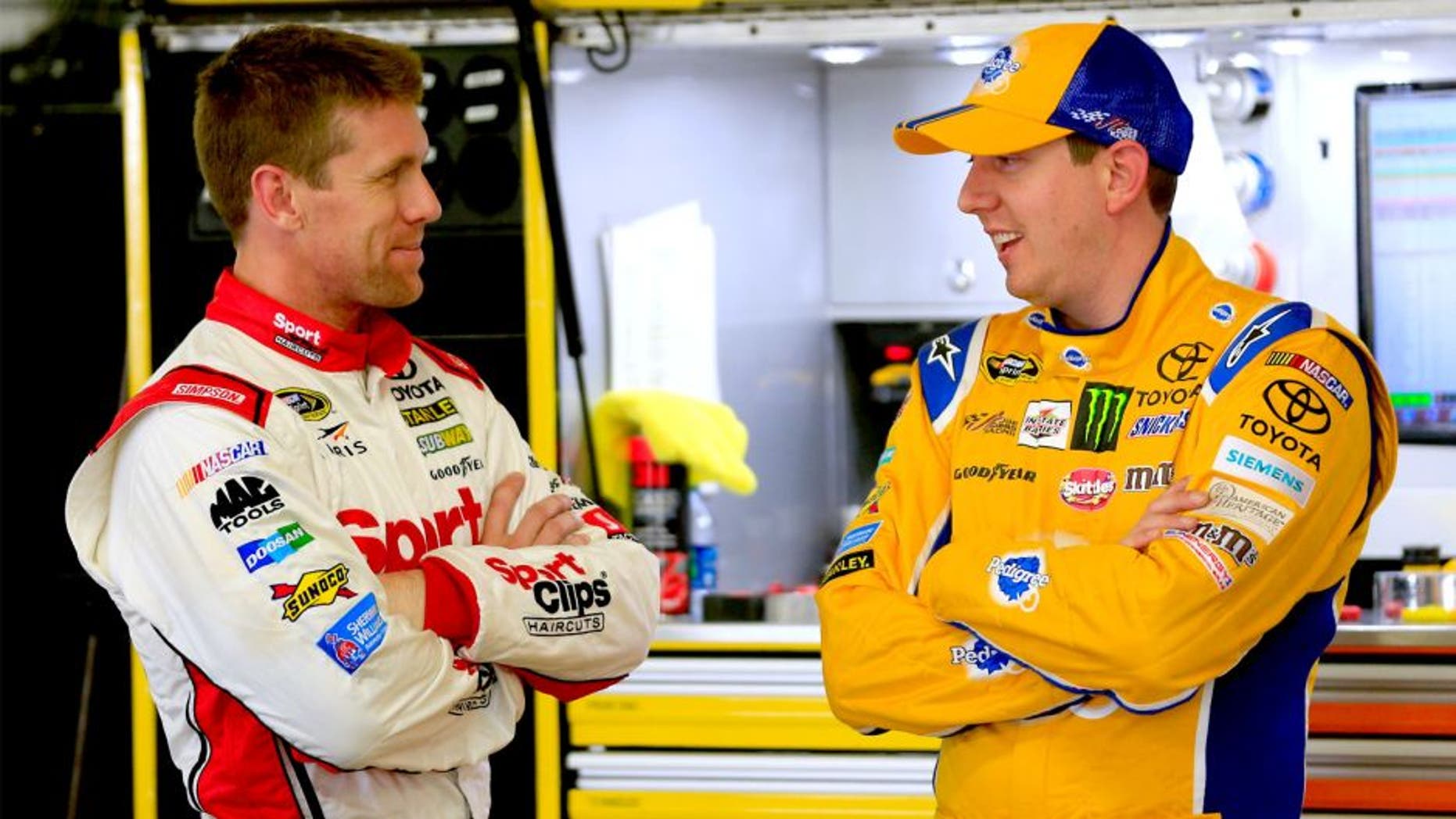 With Jeff Gordon scoring the victory last weekend at Martinsville Speedway and earning the first spot in the Championship 4, three spots remain for the championship battle that will take place at Homestead-Miami Speedway.
The seven other drivers in Chase contention hope to score a victory either this weekend at Texas Motor Speedway or next at Phoenix International Raceway to guarantee a spot in that battle as well.
However, of those seven Chase drivers there are three sets of teammates still in contention: Joe Gibbs Racing's Kyle Busch and Carl Edwards; Stewart-Haas Racing's Kurt Busch and Kevin Harvick; and Team Penske's Brad Keselowski and Joey Logano.
With Keselowski, Kurt Busch and Logano all more than 24 points out of the final transfer spot and Harvick so strong at Phoenix, could there possibly be any more pressure on all the drivers and teams to ensure both of their respective team cars make it into the Championship 4?
"It's no more pressure than what we've had on ourselves all year long," Busch's crew chief Tony Gibson told FOXSports.com. "The goal is to go out, lead laps and try to win every race --no matter what race it is -- and just get maximum points."
Gibson was quick to point out his driver was very competitive at Phoenix in the April race and there is no guarantee Harvick will win there -- even though it is a track where he has four straight victories, has won five of the last six and seven overall.
The veteran crew chief knows Harvick will be tough to beat, but he expects Busch to go out there and do just that.
"We race them just like we do any other competitor," said Gibson. "Right now it's about us getting in. Harvick and those guys have the same approach. You have to take care of yourself at this point. It's every man for himself. We're going to race them just as hard as everybody else, and that's our job.
"Both of us can get in. We can win and get in and he can run top five and get in. There are other scenarios that can go on. There's no guarantee that Harvick is going to win that race."
While the team works closely throughout the week, Gibson said once the green flag drops Busch is focused on beating each of the 42 other drivers -- teammates included.
"We communicate really strong together and make a plan going into the weekend," he said. "At the end of the day we want both of us to be in, but it might not happen. It's like Kurt says, Monday through Saturday (teammates) are your friends, come Sunday you have to race everybody as a competitor and that's how we're going to approach it."
The Penske bunch has a slightly different approach to overcoming the points deficit and getting both of their cars in the championship battle at Homestead.
All season the two-car organization has worked extremely close at the shop, in the garage and on the racetrack. According to crew chiefs Todd Gordon and Paul Wolfe, that approach will not change with just two races left before the Championship 4 is set.
Gordon said it would be "phenomenal" if Team Penske were able to put both cars in the Championship 4, but said their approach to the weekend would not change.
"You can't deviate from what's made you successful," he said. "We don't thrive unless we work together. That's a great position to be in. We would have to do what all day long and we would approach the weekend the same way we always have and let the two guys fight it out on the racetrack."
Wolfe agreed, saying if they change what has made them successful now, both teams will suffer.
"We'll continue to work together like we always have," the crew chief of the No. 2 team said. "Our cars, when they come to the racetrack each weekend they're all pretty much built the same. We share notes. We get together to debrief and share notes after practice sessions and races. That's really what's made both cars strong and competitive and to be in this position we are is how well we work together and how it's structured to do that. To change that up now is only going to make both of us weaker.
"Obviously we both want to be in (the Championship 4), but at the end of the day if we can at least have one car in the fight there when we come down to Homestead, that's a goal as you look at Team Penske as a whole," Wolfe added. "Each team definitely wants to be there, but at the end of the day if we change up how we work together it's only going to make us both weaker and less likely that either one of us get in."
Much like Gibson and the No. 41 bunch, Wolfe said there is no guarantee Harvick will win at Phoenix and his team is really looking forward to that race, especially after taking part in the recent test at the one-mile track.
"That track is obviously one of his strengths," Wolfe said of Harvick's record at Phoenix. "But as I look back at our history there, we're very strong there. We don't have the results that he does, but I feel like we have just as good of a shot next weekend as we do this weekend, honestly.
"Our short track program this year with Brad has probably been our strength. We were fortunate to have the test at Phoenix a few weeks back. I feel like we made some small gains there. As you look ahead to Phoenix, Brad is just as excited to get to Phoenix as much as he is this weekend here at Texas. We all know Harvick is strong there, but we feel like we still have just as good a chance there as we do here."
Obviously there is a lot of racing left before the other Championship 4 is officially set, but all three crew chiefs explained the ultimate goal is to score max points both this weekend and next.
"You've got to maximize points," said Gordon. "If you maximize points here, you put yourself in a better position at Phoenix if you don't win. There are scenarios that could play this back into a points race."
Wolfe said with their poor finish at Martinsville, the conservative approach would no longer work.
"It's not a time that we can just lay back and say we've just got to finish. That's out the window now," he said. "We've got to put it all out there and if we end up having an issue, then oh well, at least we were swinging going down. That's kind of how we'll approach our setup, our race strategy and the way we're building our cars."
While the conservative approach is "out the window," according to Wolfe, working closely as a group is what Team Penske hopes will get both cars in the championship battle at Homestead.
"There's two ways of looking at it, you can look at your personal goals, but then you have to look at the team as a whole and what got us there," said Wolfe. "We'll continue to work together. We share notes during the race every weekend. We know what changes they make and they know what changes we make. We're honest and open about that and that would never change.
"As it comes down to the final run of the race and what the drivers are doing out there, we'll leave that up to them and hope we gave them good enough cars where they can battle at the end of the race."