All eyes on American Pharoah jockey's hand – and whip – at Preakness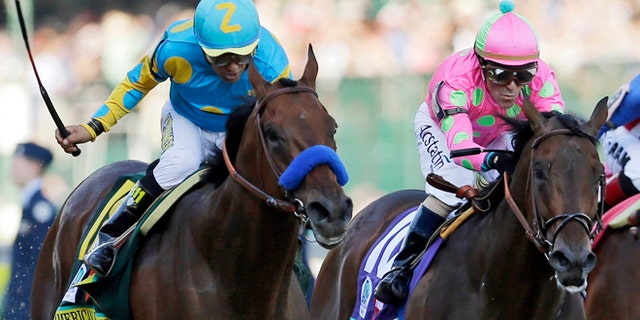 Some people will be watching jockey Victor Espinoza at the Preakness Stakes on Saturday very, very closely. But not for reasons having to do with which horse wins the race or a possible Triple Crown for American Pharoah.
Instead, they will be counting the number of times that he uses his riding crop to strike American Pharoah's flank.
The 42-year-old Mexican-born jockey on May 2 won his third Kentucky Derby, and his second in a row, aboard American Pharoah. Down the homestretch, while the horse passed Firing Line and Dortmund, Espinoza whipped the horse 32 times.
In contrast, Yahoo Sports estimated that Gary Stevens and Martin García struck Firing Line and Dortmund nine and 11 times, respectively.
The horse's trainer, Bob Baffert, defended Espinoza's use of the riding crop, saying that the veteran rider was trying to keep his mount focused.
"He was flogging him and hitting him, but he hits him on the saddle towel, and he doesn't really hit that hard," Baffert said during a national conference call this week, according to the Associated Press. "It was to keep him busy. The horse wasn't responding on the turn for home."
"The whip is very humane now," Hall of Fame trainer Wayne Lukas told the New York Daily News. "It's like hitting a dog with a folded up newspaper. It's just pop, pop. The whip, I can hit you hard with it, and you would say that's no big deal."
Lighter padded crops have replaced harsher ones in much of North America over the last five years, and jockeys say that they work by making a louder sound rather than causing the horses pain.
Derby organizers reviewed the race and determined that the jockey's actions did not violate the state's racing rules, but the horse racing industry is notoriously closed to criticism on topics such as the doping of horses and the extreme measures that jockeys go to in order to make weight.
In France and the U.K., reviews and sanctions kick in if a jockey strikes a horse more than eight times.
Under new rules that go into effect in July in California that prohibit striking a horse more than three times without a pause, Espinoza's Derby ride would have likely resulted in a fine, according to Yahoo Sports.
This isn't the first time that the jockey has been charged with over-relying on the whip. He was fined $300 the week after the Derby for allegedly "causing a break in the skin" of a horse named Stellar Wind at the Santa Anita Oaks in California on April 4.
Like us on Facebook