Alex Rodriguez Bombs In Minor Leagues After Return From Hip Surgery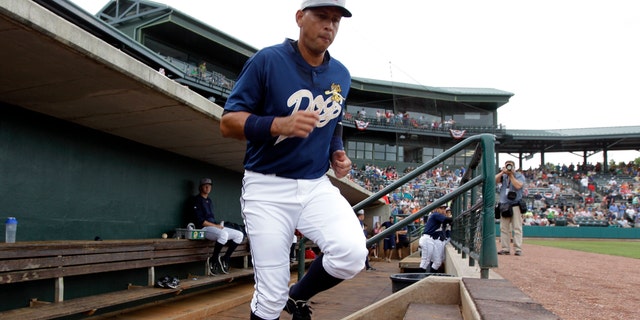 Alex Rodriguez is back on the field and, as expected, it's not looking good.
The New York Yankees player returned to his first game since a miserable October and went hitless in two at-bats for the Charleston Riverdogs on Tuesday night. He grounded into a double play his first time up then struck out looking against 23-year-old Williams Perez to end the third before being removed from the game.
It was Rodriguez's first game since undergoing left hip surgery in January.
"For me, it's just a great blessing to be back out there," he said. "It's been a long fight, a hard climb and I was just pretty excited to get a couple of at-bats and get in the mix."
Make no mistake, though, Rodriguez is far from the form that won him three AL MVP awards and led the Yankees to their last World Series title in 2009. He couldn't make the play when Rome center fielder Kyle Wren bunted on the game's first pitch and appeared out of synch on his strikeout.
"Timing is the least of my concerns, it's really about the overall body," he said. "Getting the body in shape, getting your legs under you."
And that's still a work in progress. Rodriguez, who will turn 38 on July 27, said earlier he'd likely need all 20 days of rehab games allowed to prepare for a big league return. This, though, was a major step in that journey.
"I'm just happy to be back playing," he said. "I feel like a kid again."
Rodriguez was tested quickly when Wren, the son of Atlanta Braves general manager Frank Wren, laid down a sweet bunt and beat the throw. Wren talked with his brother, Colby, on Monday night when he learned he'd go against Rodriguez.
"Maybe it's something 10 or 15 years down the road I can tell my kids about that I played on the same field for three innings with one of the greatest players of all time and the first inning I bunted and got a hit off him," Wren said. "That's what I was thinking."
Rodriguez was focused on the bigger picture. He said a benchmark would come tomorrow morning when he sees how his body feels after this game. Rodriguez still planned to play Wednesday night before working out on Thursday.
"Look, I am as curious as you guys are to see how I am going to react. It's been a while since I was in competition," he said before the game.
Rome shortstop Jose Peraza also bunted down the third base line in the second inning, but Rodriguez was too far back to make a play. The RiverDogs finished a 4-2 victory over Rome about 90 minutes after Rodriguez left the game.
A-Rod has been working out at the Yankees' minor league complex in Tampa, Fla., since May.
He looked healthy and enthusiastic to begin his season. His swing in the batting cage was the same simple flick that's helped him to 647 career home runs. He took grounders at third next to Yankees teammate Eduardo Nuñez, who's recovering from a left oblique strain. Nuñez played shortstop and went 2 for 3.
Nuñez was winded as he sat in front of his locker. He played four innings before coming out.
"The oblique is OK. The timing is coming. It'll be a couple more games," he said.
Rodriguez and Nuñez enjoyed lunch Tuesday before arriving at the ballpark.
"It's my first time" in South Carolina, Rodriguez said. "Great Southern hospitality so far."
Players from the RiverDogs and the Rome Braves lined the dugouts to watch Rodriguez work. It's the third straight season Rodriguez has spent time in the minors coming back from injuries, and he would not comment about Major League Baseball's investigation into the now-closed Biogenesis of America anti-aging clinic.
Rodriguez looked smooth in the field during warm-ups, grabbing everything hit his way. His throws to first were strong and on target. When he was done with grounders, Rodriguez signed autographs for fans gathered next to the RiverDogs dugout.
"Good luck to you, Alex," said Charleston resident Blanche Lloyd after getting a signed baseball.
There were 8,255 who turned out at Riley Park, less than 200 from the record attendance of 8,426 set on opening night 2007.
Rodriguez and Nuñez were in Charleston with Pat Roessler, the Yankees' director of player development based in Tampa.
A-Rod hopes he can start having a positive impact on the Yankees after last year's disappointing season and his benching during the AL championship series.
"I've got to tell you," Rodriguez said. "I'm really, really excited. This probably has to be the hardest injury I've tried to overcome. It has to be the longest."
Based on reporting by The Associated Press.
Follow us on twitter.com/foxnewslatino
Like us at facebook.com/foxnewslatino