Alabama wins SEC, clinches berth in BCS title game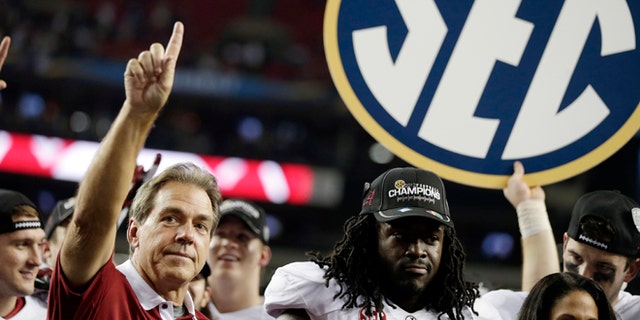 Atlanta, GA – Alabama earned its way into the BCS title game this year.
AJ McCarron's go-ahead 45-yard touchdown pass to Amari Cooper with 3:15 remaining lifted No. 2 Alabama to a 32-28 victory over No. 3 Georgia in a back-and-forth SEC Championship Game thriller.
The Crimson Tide, who are looking for their second straight national title and third in four years, will play No. 1 and undefeated Notre Dame in the BCS title game on Jan. 7, 2013.
Alabama shut out LSU, 21-0, in last season's BCS Championship tilt, despite not playing for the SEC crown after finishing second in the West Division.
"This group has been fantastic," Alabama coach Nick Saban said of his squad. "They were able to accomplish something of significance, and something that last year's team didn't accomplish, which is win the SEC championship."
Crimson Tide defensive back Dee Milliner appeared to seal the win following his diving attempt for a potential game-clinching interception, but the play was overturned following a review.
With 45 seconds on the clock and the ball at Georgia's own 28-yard line, Aaron Murray hit Arthur Lynch for a 15-yard gain and completed a 23-yard pass to Tavarres King before firing another strike to Lynch, this one for 26 yards down to the Alabama 8-yard line as the time continued to wind down.
Georgia had no timeouts at its disposal.
The Bulldogs elected to not spike the ball and Murray snapped it with nine ticks to play. It appeared that Murray attempted to lob a pass for Malcolm Mitchell at the back-right corner of the end zone, but the ball was tipped at the line of scrimmage and landed into the arms of Chris Conley in the right flat.
He fell down at the 5-yard line and time expired.
"We just ran out of time," Georgia coach Mark Richt lamented. "I told the guys I was disappointed, but I'm not disappointed in them. They're warriors."
Eddie Lacy carried the ball 20 times for 181 yards and two scores, while T.J. Yeldon added 153 yards and a touchdown on 25 rushes for the Crimson Tide (12-1, 7-1 SEC), who ran for an SEC Championship-record 350 yards in the triumph.
Alabama, though, used its passing attack to go ahead late.
McCarron, who threw for 162 yards with a touchdown and an interception on 13- of-21 efficiency, fooled the Bulldogs using the play action and lofted a pass to Cooper, who ran by cornerback Damian Swann along the left sideline.
Georgia then had to punt following a three-and-out and Alabama regained possession with 2:17 to play.
But the Bulldogs defense made a stand and Georgia got the ball back at its own 15 with 1:08 left.
Murray finished 18-of-33 for 265 yards with a touchdown and interception for Georgia (11-2, 7-1), which hasn't won the national title since 1980 and lost to LSU, 42-10, in last year's SEC Championship Game.
With the loss, the Bulldogs will most likely lose out on a BCS bid to idle No. 5 Florida.
Todd Gurley had 122 yards rushing and two scores on 23 carries and King concluded the day with 142 yards receiving on five catches in defeat.
The pendulum swung back and forth in a wild second half.
Georgia trailed, 10-7, at the break, but took its opening possession of the third quarter 75 yards in nine plays and Gurley capped the march with a 3-yard TD plunge.
Alabama countered and drove to the Georgia 32, but Cade Foster's 49-yard field-goal attempt was blocked and scooped up by Alec Ogletree, who scampered 55 yards to other way for the score and a 21-10 Bulldogs advantage with 6:31 remaining in the third.
The tide turned in Alabama's favor as it tallied the next 15 points.
Yeldon carried the ball three straight times on the Crimson Tide's ensuing drive before concluding the 5-play, 62-yard trek with a 10-yard TD run. He also ran in the two-point conversion.
Following a Georgia three-and-out, Lacy rushed for gains of 32, 15 and 14 yards prior to his 1-yard TD plunge four plays later for a 25-21 Alabama edge early in the fourth.
It took just five offensive snaps for the Bulldogs to regain the lead.
Murray hit King for a 45-yard completion and Gurley ran it in from 10 yards out two plays later to cap the march and make it 28-25 in favor of Georgia with 12:54 to go.
The first 30 minutes was a defensive struggle.
Jarvis Jones strip-sacked McCarron from behind on Alabama's second touch, but Marshall Morgan's 50-yard field-goal attempt sailed wide to the right.
Georgia head coach Mark Richt called a fake punt on a 4th-and-10 at the Crimson Tide 36 and the up man Lynch wobbled a 16-yard completion to Sanders Commings. Murray fired a 19-yard TD strike to Jay Rome two plays later to make it 7-0.
Two drives later, Alabama marched to the Georgia 1-yard line, but Lacy fumbled as McCarron alertly fell on the ball at the five. McCarron, though, was intercepted by Commings just one snap later.
The Crimson Tide then forced a punt and Lacy broke off a 41-yard TD run down the right sideline on their ensuing touch to knot the score at 7-7 with 1:59 to go in the half.
Murray was picked off by Ha'Sean Clinton-Dix on Georgia's next drive, which led to a Jeremy Shelley 22-yard field goal right before the first-half clock expired, which gave Alabama its three-point halftime cushion.
Game Notes
Alabama will attempt to give the SEC conference its seventh straight national title ... Lacy won the game's MVP award ... Alabama outgained Georgia, 512-394 ... Both teams were 4-of-12 on third down ... This was the Crimson Tide's eighth time in the SEC title game, but the first Alabama has squared off with someone other than Florida.