AIK scores monumental playoff upset over HV 71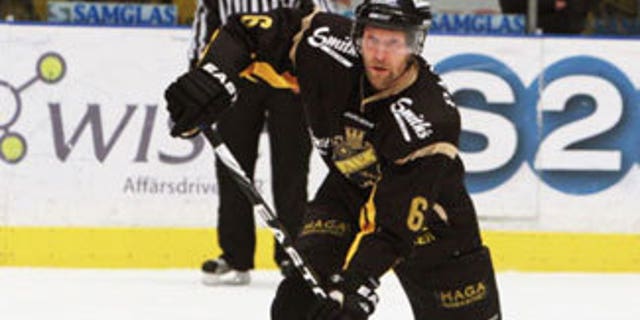 In one of the most shocking outcomes since Elitserien was created in 1975, lightly regarded AIK Stockholm completed a four-game sweep of top-seeded defending champion HV71 Jonkoping in the first round of the 2011 Swedish Elite League playoffs. Tied with Skelleftea AIK as the highest-scoring team in the league during the regular season, HV71 ran into a hot goalie in AIK's Viktor Fasth and scored just four goals for the entire series.
Before the series began, one Swedish writer likened the matchup to a Rolls Royce against a Skoda. Loaded with veteran talent and big-salaried players (by Elitserien standards), HV71 won two of the three most recent Swedish championships and shook off several key injuries this season to finish first during the regular season. Three HV71 players ranked in the league's top 15 in scoring -- Martin Thornberg (25 goals, 44 points), Kamil Piros (12 goals, 39 points) and team captain Johan Davidsson (11 goals, 37 points in just 40 games).
By comparison, AIK did not have a single player in the league's top 25 in scoring. The club's most widely recognized player is its captain, former NHL defenseman Dick Tarnstrom. Other former NHL players on the club include one-time Columbus Blue Jackets forward Kent McDonell, while Richard Zednik played 18 regular-season games with the team. Apart from McDonell (10 goals, 24 points), AIK's leading scorers were diminutive ex-Modo center Oscar Steen (10 goals, 28 points) and last season's second-leading goal scorer in Allsvenskan, left wing Richard Gynge (12 goals, 23 points).
AIK entered the 2010-11 regular season with former Montreal Canadiens prospect Christopher Heino-Lindberg and veteran Bjorn Bjurling as its goaltenders. But when injuries limited Heino-Lindberg (3.45 goals-against average, .902 save percentage) to four starts and Bjurling (3.38 GAA, .885 save percentage in 10 starts) failed to provide high-caliber play, the club turned to the 28-year-old Fasth.
A career minor leaguer until this season, Fasth signed with AIK after three seasons with Vaxjo Lakers in Allsvenskan. Before that he played four seasons at the Division I level. When he finally got his chance in Elitserien, Fasth proved to be AIK's most valuable player. Despite missing several weeks with a concussion, Fasth's consistency was remarkable. In 42 starts, he posted a 2.26 GAA, .925 save percentage and a pair of shutouts.
"Viktor has been tremendous for us all season," AIK coach Roger Melin said. "He has given the team a lot of confidence, and the team has helped him out, too."
Even with Fasth's stellar play in net, AIK had a rough road to reach the playoffs. The team scored just 131 goals (third-fewest in the league), which put huge pressure on Fasth and the defense to keep the score down at the other end of the ice. AIK was five points out of a playoff spot with 10 games left in the regular season and in danger of having to play in the annual qualification tournament (kvalserien) that pits the bottom two Elitserien teams in a double round-robin competition with the top four Allsvenskan clubs for two spots in the elite league the next season.
AIK got hot at the right time, jumping three clubs in the final three weeks of the season and winning four of its final six games to take the eighth and final playoff spot. Despite the Stockholm club's strong finish, no one was surprised when HV71 selected AIK as its first-round opponent. In Swedish hockey, there is a nationally-televised event in which the top three seeds choose the team they will play in the quarterfinals, with the fourth-place team automatically playing whichever team is left.
For understandable reasons, most of the coaches on the top teams in the league detest having to publically choose a first-round opponent. It gives the underdog team more motivation while setting up the higher-ranked team for further humiliation if they fail to beat their hand-picked opponent. As the series with AIK approached, HV71 coach Janne Karlsson talked up the talents of the eighth-seeded club, as a way to warn his own players against overconfidence and to tell the public that no disrespect was intended.
"By no means is this going to be easy," Karlsson told a television reporter. "AIK is a good team. If you look at how they've played this season, they've kept games close. They've been pretty solid on the road (sixth-best in the league), too, and they gave us a real tough game the last time we played against them (a 2-1 win by HV71 on Feb. 19)."
The public wasn't buying it, nor were the media or oddsmakers. Most print and TV commentators predicted a sweep for HV71, or at most a five-game series. The defending champions were installed as such prohibitive favorites in the series that booking shops (which are legal in Sweden) had difficulty getting anyone to put money on AIK to win.
Given the disparity between the clubs this season, as well as AIK's dismal recent history, it would be hard to blame anyone for expecting HV71 to make quick work of the first round. AIK once was among the most prestigious teams in Swedish hockey. Founded in 1921, the franchise has won seven Swedish championships (most recently in 1984). The archrival of crosstown club Djurgardens IF, AIK was a mainstay in Elitserien until hitting the skids in the 1990s. In the 2000-01 Elitserien season, the team reached the playoffs for the last time until the current season, getting eliminated in five games by DIF in the first round. The next season, AIK dropped to 11th and was relegated to Allsvenskan, Sweden's top minor league.
After nearly a decade's absence, which included a one-year relegation to the country's third-tier league, known as Division I, AIK finally made its return to Elitserien for the 2010-11 season. Prior to the season, most pundits predicted the team would finish either last or next-to-last in the 12-team league and many opined that the club was destined to be relegated to Allsvenskan. As it turned out, AIK's strong late-season run not only guaranteed their continued presence in the elite league next season, it also put them in position to play against HV71 in the playoffs with absolutely no pressure on them but the self-imposed variety.
The first game of the series took place in Jonkoping's Kinnarps Arena. AIK scored three goals in the opening six minutes of the second period and Fasth made 16 of his 33 saves in the third to preserve a 4-2 win. Fasth made 34 saves two nights later at the storied Hovet on the outskirts of Stockholm to give AIK a 3-0 victory.
He made 40 saves in a 3-1 victory in Game 3 back at Jonkoping, and completed the sweep with a 36-save performance four days later at Hovet in a 4-1 win.
"There are no excuses to make," said a glum Davidsson after the final game. "Give them credit. Their goalie played great and we just didn't execute when we had to."
AIK now awaits the conclusion of the other first-round series, where second-seeded Skelleftea AIK and Linkopings HC are tied 2-2 in their series. In other matchups, Lulea HF enjoys a 3-1 series lead on Djurgarden, and Farjestads BK has a 3-1 lead on Brynas.
"We know that we'll be an underdog no matter who we play against next, but that doesn't matter to us," said Tarnstrom. "No one believed we could beat HV71, but we believe in ourselves and that's all that matters."