After Olympic silver medal with Spain, FSU star Leticia Romero back for final season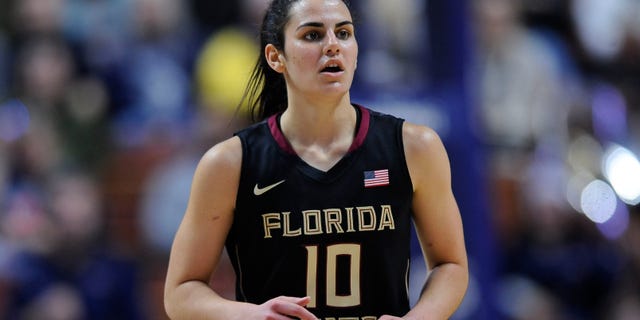 NEWYou can now listen to Fox News articles!
BRISTOL, Conn. (AP) – Leticia Romero couldn't believe the celebrity status she achieved at home in the Canary Islands.
The Spanish guard got to spend a few days there after the Olympics this summer before heading back to the U.S. for her senior season with Florida State.
People would stop her on the street or in stores offering their congratulations on Spain's silver medal at the Rio Games. It was the first medal in women's basketball for the country.
"It really was something special," Romero said. "It wasn't just in my hometown, but also in a nearby city. People recognized me and were so happy for what we had accomplished."
Romero wasn't happy just for the newfound fame, but also because Spain's success has created a buzz for the women's basketball world championship being held there in 2018.
"It's going to be great to play at home in a few years," she said. "Hopefully we can pick up where we left off."
Now, with the Olympics in the rear-view mirror, the 5-foot-9 guard is ready to try to help 12th-ranked Florida State reach new heights.
It won't take long for the Seminoles to see where they stand as they host No. 3 UConn on Nov. 14. The Huskies are led by junior guard Kia Nurse, who played for Canada in Rio de Janeiro.
The pair were the only current college players in women's basketball at the Olympics. They joined a handful of other college basketball players over the past 30 years who competed in the Olympics while still in school.
Romero became the first to win a medal since Vicky Bullett (Maryland) and Bridgette Gordon (Tennessee) helped the U.S. win gold in 1988. The Spanish guard just isn't sure exactly where her medal is.
"I know my dad took it and put it somewhere," she said. "I'm sure it's in a safe place."
Nurse and Romero were given some time off by their coaches to let them recover after the busy summer.
"I know she had a busy summer and told her to take as much time as she needed," UConn coach Geno Auriemma said.
Nurse was still working her way back following hernia surgery before she went to Rio.
"The timetable was moved up this summer because of the Olympics," she said. "So I didn't really get much time off, as I was rehabbing before I started playing again. Coach Auriemma wasn't worried about my conditioning, he just wanted me to be ready for the upcoming season."
The two guards played against each other in the Olympics, with Romero's Spanish squad coming away with the victory in pool play. The two could be matched up a lot when they play next week.
"I don't know her that well, but we sure played against her enough," Nurse said. "It's neat that we can share that common bond of having played in the Olympics this past summer."
Both guards said they learned a lot from their veteran teammates in the Olympics. With UConn losing Breanna Stewart, Morgan Tuck and Moriah Jefferson to graduation, Nurse will be called on more to be a leader — a role that she played for Canada.
"One of the biggest things I took away was how to handle a game," said Nurse, who averaged a team-best 11 points for Canada. "We had three veterans who were playing in their last games for Canada at the Olympics and you could see the passion they played with on nearly every possession."
Romero also tried to be a sponge, soaking up as much as she could from her Spanish teammates.
"I learned that I need to be more vocal on the court with my teammates," Romero said.
Like us on Facebook
Follow us on Twitter & Instagram