Adrián González pushes for trend among MLB Latinos after getting accent on jersey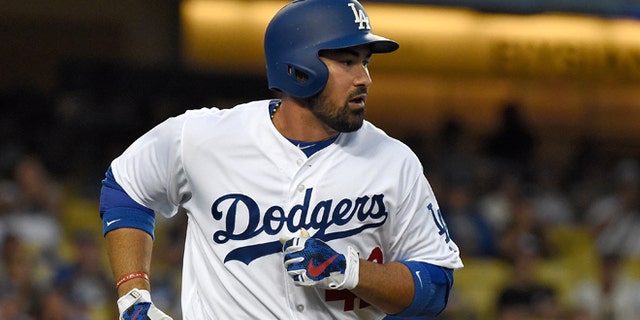 After 12 years in Major League Baseball and four more in the minor leagues, the name on Adrián González's back had been missing one thing important to any Latino player: the accent mark.
However, before a recent game, the Mexican-American slugger debuted his new Los Angeles Dodgers jersey with the fully correct spelling of his name.
"After 16 years in baseball, there was only one thing I needed to put an accent on," he wrote on Instagram, before challenging teammate Enrique Hernández do the same. He added the hashtag #PonleAcento.
Hernández, who is from Puerto Rico, accepted González's challenge and shared his own jersey photo.
"Look how pretty Hernández looks with its accent. I already got it @adrian_eltitan, so now I invite all my Latino brothers to get their accent," he captioned an Instagram post of his jersey.
The two Dodgers join second baseman Robinson Canó, who has had the accent on the 'O' on his uniform since joining the Seattle Mariners before the 2014 season. (His previous team, the New York Yankees, has no names on its jerseys.)
Fox News Latino reached out to González's camp for comment.
According to ESPN, the #PonleAcento campaign goes hand-in-hand with a MLB initiative to highlight the "unique style and energy that Hispanic players bring to the game."
Like us on Facebook
Follow us on Twitter & Instagram