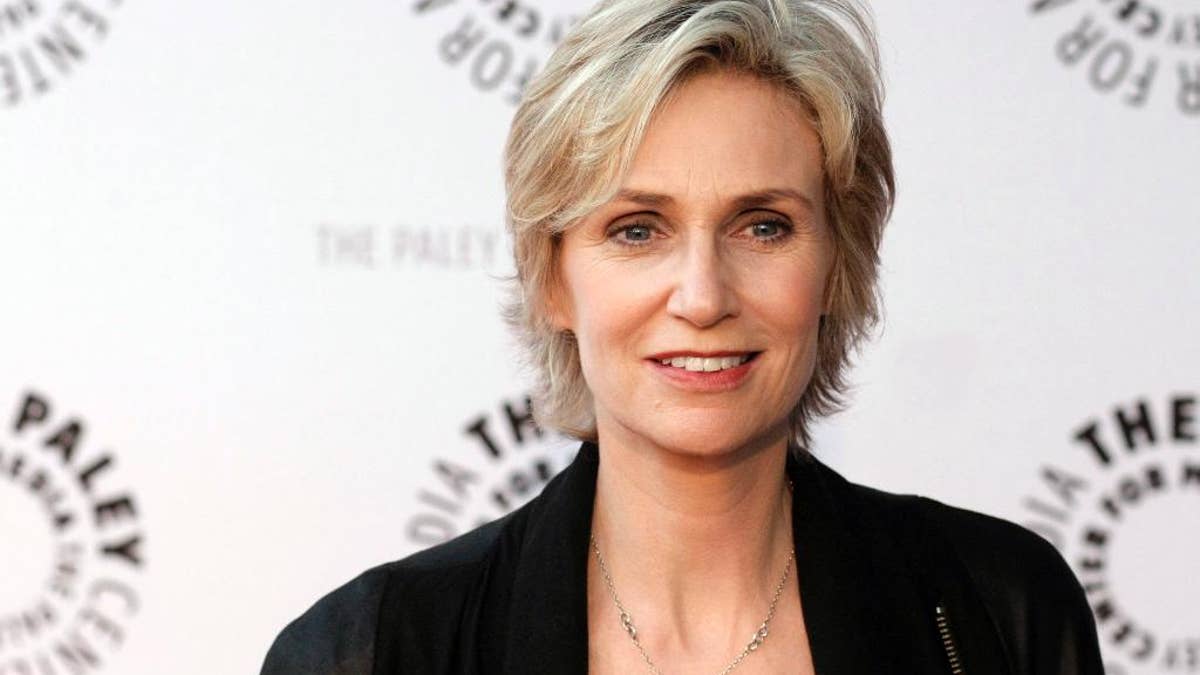 NEW YORK – The Cheerios coach from "Glee" is leading the rally for Special Olympians.
Jane Lynch will attend the opening ceremony of the Special Olympics USA Games on Sunday — possibly with her signature tracksuit and bullhorn — whipping up the expected crowd of 18,000 at the Prudential Center in Newark, New Jersey.
Her character Sue Sylvester on Fox's "Glee" is a cheerleading coach who encourages a girl with Down syndrome to participate with the cheer squad. Sylvester's sister and baby on the show also have Down syndrome.
"I've gotten to know people who have developmental disabilities and their wonderful families since being on Glee," said Lynch of actress Lauren Potter, who has Down syndrome, and plays her closest friend on the show. "The folks in the community of support for people with developmental disabilities are so awesome and heart-centered.
"Lauren is a huge bright light. She's very focused and professional and yet loves to have fun and goof around."
Six Special Olympians started the torch run this week in Manhattan, and the "Flame of Hope" will arrive for the lighting of the cauldron at the opening ceremony on Father's Day.
"All the fathers at the Prudential Center will have a tear in their eye," said T.J. Nelligan, official chairman of the Special Olympics USA Games. "You really don't see the disability. You see what they can do and can achieve."
The opening ceremony, with a theme of inclusion, will be hosted by model and actress Brooklyn Decker and Philadelphia 76ers guard Michael Carter Williams. New Jersey Gov. Chris Christie, the honorary chair of the event, is expected to attend.
Some 3,500 athletes from 50 states are arriving in New Jersey for the weeklong event, and Cessna donated the use of planes to fly in 800 athletes and deliver their luggage to campuses at Rider and The College of New Jersey.
They'll participate in 16 sports, competing at Princeton and other college venues. New sports of triathlon and baseball have been added to the program, and a youth summit will highlight acceptance and inclusion at schools.
Nelligan, whose 24-year-old son Sean has intellectual and developmental disabilities, helped convince corporations to pledge $20 million and land the games in 2011. The numerous sponsors increased the budget from $8 million at past games. He compared the event with the recent Super Bowl held in nearby East Rutherford.
"In all the meetings, not a single person told us no, just what level they'd be involved," said Nelligan, a sports marketing executive. "(It) shows it's as meaningful and maybe more inspiring than the little game they had there in February."
Sean seemed fine until he started having seizures at 6 months and didn't talk. He's been involved in the Special Olympics New Jersey Games for 13 years, playing basketball, soccer and bocce. He holds a job at his dad's restaurant and is "the happiest person you've ever met."
"He gets to go to the games in his home state with all his friends," Nelligan said. "Twelve years ago, he didn't have any friends and went to a special needs school. He's built so much confidence."
About 15 percent of children ages 3 through 17 have a developmental disability in the U.S., according to research quoted by the Center for Disease Control and Prevention. Those disabilities can involve difficulties in learning, language or behavior. The international Special Olympics were founded in 1968 by Eunice Kennedy Shriver, whose sister Rosemary had an intellectual disability.
The Special Olympics USA Games is an offshoot for American athletes that began in 2006. The international version will be held in Los Angeles in 2015.
Promotion and marketing of the 2014 games has included traditional methods and social media.
Special Olympian Michael Reed has been featured on commemorative Wheaties boxes. The 26-year-old basketball player from Somerset, New Jersey, won gold at the 2010 Special Olympics USA Games in Lincoln, Nebraska. Another 10 athletes are shown on back of the boxes sold in ShopRite stores in the state.
Derek Jeter helped spread the word about the games with a PSA on the YES Network, which helped promote the event during New York Yankees games. Fox showed the torch run, while WWE created a promotional video with John Cena and enlisted its personalities to retweet about the games and mention it on Facebook and Instagram. The opening ceremony will be streamed live on 2014SpecialOlympics.org.
"We're getting our message outside the special Olympics bubble," said Rachel Gary, communications director for the games. "So many people are aware."
Among the founding partners for the games is Barnabas Health, which signed up 1,200 volunteers and will conduct wellness education through the "As the Doc" program. Other partners include Toys "R'' Us, New Jersey Sports & Exposition Authority, PSE&G, Prudential, HESS and KPMG.
The Unified Sports Festival on Friday is open to athletes and the community in Ewing, New Jersey, with participation from WWE stars and members of NFL's Play 60/Punt, Pass & Kick programs.
The closing ceremony on June 20 will focus on the theme of friendship at Sun National Bank Center in Trenton. A "Celebrating Champions" wrap-up show will air at 7 p.m. June 30 on FOX Sports 1.
____
Online: www.2014SpecialOlympics.org