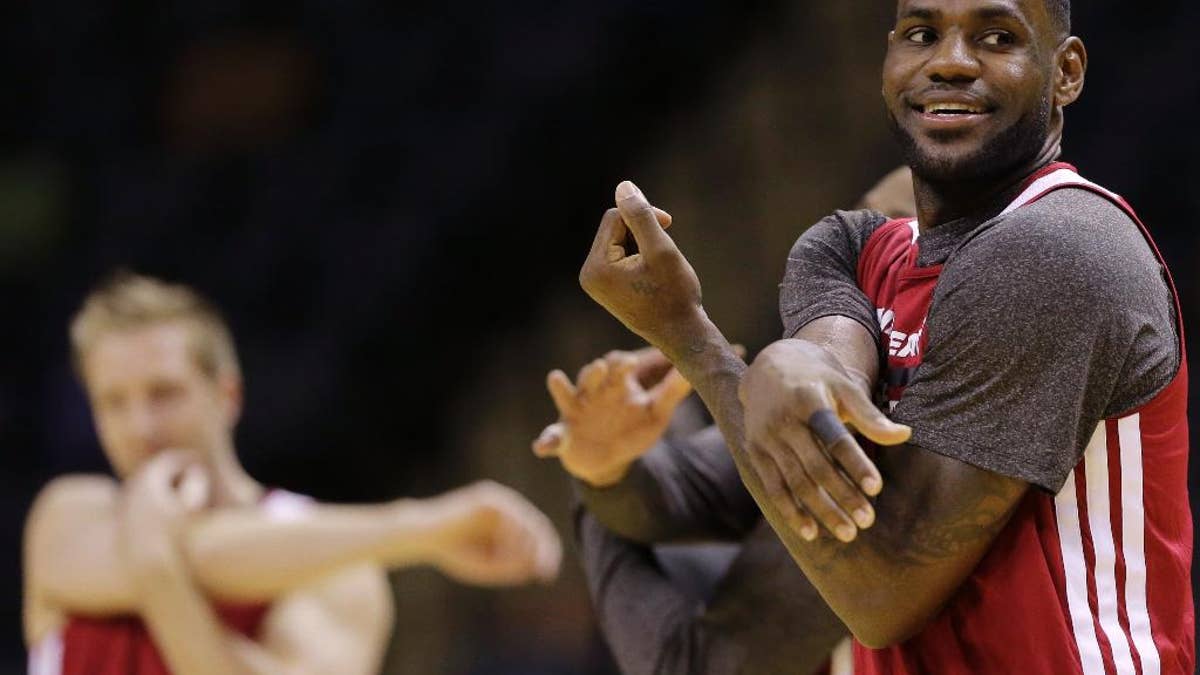 SAN ANTONIO – They talked legacies and dynasties, recalled the past and looked toward the future.
The San Antonio Spurs and Miami Heat met with the media Wednesday in their final practices before Game 1 of the NBA Finals on Thursday night. Here are five things that came up along the way.
___
DUNCAN'S LAST RODEO? Tim Duncan is 38 years old and has been in the NBA for 17 years, so he probably knew the question was coming.
He just doesn't know the answer.
Duncan's very first question Wednesday was about retirement, and what could make him consider it. Whenever he does walk away, he will end up in the Hall of Fame five years later, but he's not sure yet when that clock will start.
"I don't know when I'm going to retire. I don't know what the factors are going to be," he said. "I don't know any of that and I don't care about any of that stuff right in now. I'm not thinking about that in that respect. It will happen when it happens. I'll feel it and I'll know it and I'll call it a day."
___
FINALS FAILURE: LeBron James lost his first two NBA Finals, but that's nothing compared to Jerry West.
Despite playing on some powerful Lakers teams, West lost in his first seven finals appearances before winning his only championship in 1972.
So James said a conversation with West, and Isiah Thomas, another Hall of Famer, after Miami lost in 2011 helped him deal with his early failures.
"Obviously, I don't know if you guys know the story of Jerry West, the multiple times that it took for him to get over the hump and also Isiah, and they gave me some great pointers, that I like to keep in my Rolodex, until I decide to write a book when I'm done," James said. "But those guys were very helpful."
___
SECOND SHOT: Chris Bosh and the Heat would have liked the same chance the Spurs have now.
Beaten by Dallas in 2011 in their first NBA Finals after LeBron James and Bosh joined Dwyane Wade in Miami, the Heat never got a chance to avenge that loss. Mavericks owner Mark Cuban decided not to keep the team together in an attempt to have financial flexibility the following summer.
So the Heat understand what the Spurs are feeling in their rematch with Miami.
"We can draw on those feelings, because we'd give anything to play the Mavericks again, but we can't," Bosh said. "They didn't bring that team back and it's disappointing because you always want some get-back for the team that put you out. We can draw off those feelings because we understand, man, if we would have had the chance. Not saying we would have won or lost, we just wanted the chance to compete again and just prove to ourselves that we're a better team."
___
GOING GREEN: Danny Green would have been the NBA Finals MVP last year if the series ended in five games, having already shattered the series record with 25 3-pointers.
The last two games couldn't have gone much worse. He was 1 of 5 behind the arc in Game 6 and 1 of 6 in Game 7, part of a 1-for-12 finale. He said the biggest lesson he learned from his first finals was not to fear the pressure of the big stage.
"At the end of the day, you're not going to die from it or you're not going to go to jail for it," he said. "There are a lot worse things going on in the world. You can't play scared; you've got to be aggressive. Just lose yourself in the game."
___
"FROZEN" HEAT: He plays in Miami, but the cold doesn't bother Shane Battier anyway.
The Heat forward played along when Guillermo Rodriguez from "Jimmy Kimmel Live" came over to do a segment. Rodriguez asked Battier if he had seen the Disney movie "Frozen," then asked Battier which of the two main characters he considered himself, an Elsa or an Anna.
"I'm an Elsa. I'm an Elsa kind of guy," Battier said. "Just let it go. Just let it go. Let it go."
The two then sang "Let It Go," the Academy Award-winning smash that Idina Menzel, the actress who plays Elsa, sings in the animated film.
___
AP freelance writer Raul Dominguez contributed to this report.
___
Follow Brian Mahoney on Twitter: http://www.twitter.com/Briancmahoney