5 Reasons to watch UFC Fight Night: Rothwell vs. dos Santos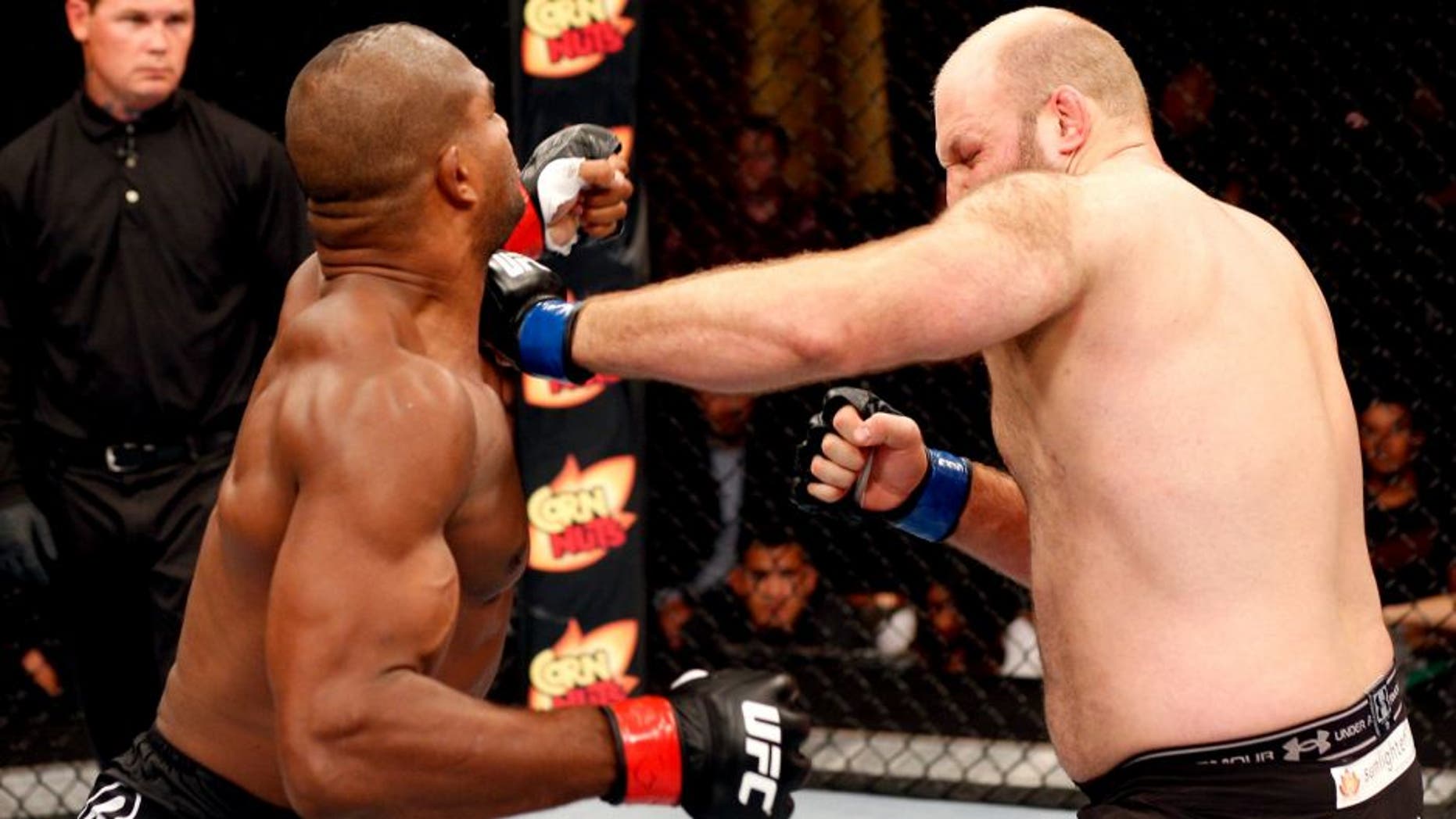 This Sunday, the UFC hits Zagreb in the form of a solid FS1 card headlined by Ben Rothwell vs. Junior dos Santos. There are lots of reasons to watch, but here are our top five.
Ben Rothwell has been a scary man to fight for the past few years. He's on a four-fight win streak and this Sunday has the biggest fight of his career.
A win for "Big Ben" will mean he deserves a title shot next. Perhaps more important, it will also prove that he has what it takes to take home the heavyweight world title.
The Kenosha killer has already beaten some fearsome foes, including Alistair Overeem and former champion Josh Barnett. If he beats Junior dos Santos, Rothwell will make a bigger statement than ever.
Sure, JDS was one-shotted in his last outing against Overeem. Still, he was champion more recently than Barnett and seemed for some time to be the clear No. 2 guy in the division.
Dos Santos has fantastic takedown defense and is probably the best boxer at heavyweight -- and maybe the hardest hitter, punch-for-punch. Moreover, he has more heart than a hundred lions and stays in a fight until he's forced out, with no in-between or chance of his surrounding.
All of that means he will be the biggest test of Rothwell's long and illustrious career. I think that Rothwell has what it takes to get it done, but it will unquestionably be fascinating to see him try to prove it.
On the flip-side, if JDS can beat the division's hottest contender, he'll show that he may have another title run left in him. After all, he does own a knockout win over the current champion, Fabricio Werdum. Dos Santos says that he has visually looked to be in worse shape than he actually was, after recent losses to the likes of Cain Velasquez, where he was thoroughly beaten and left with a swollen head.
He's wrong, of course. A man who starts to take more and more shots, leaving him lumpy and slower, going down easier than he used to, has experienced too much.
Like most long-time fighters, that is the case for dos Santos. Whatever consequences he may face in his later years, it is entirely possible that dos Santos has enough quickness and slugging power to make another run at the big show.
At his best, he's a thrilling and inspiring pleasure to watch. He fights hard, goes for the finish and never says die.
Junior dos Santos will certainly bring his guts with him to the cage Sunday, and I hope he's got plenty of his mind and body left to make a competitive fight out of it.
Timothy Johnson and Derrick Lewis fight like wrecking balls. They don't necessarily hit you in volume, but they don't have to, considering the power and velocity they bring to the table.
These two heavyweights aren't fighting one another Sunday, but I won't blink during either of their bouts. Lewis fights former title-challenger Gabriel Gonzaga and Johnson takes on the Bond-villain name-sounding Marcin Tybura (who isn't one to mess with, either, by the way).
Look for big hooks, overhand punches off of quick distance-cutting, from both fast heavyweights. If they come out throwing, things could get exciting right away.
Maryna Moroz may very well end up being the future of the strawweight division. The brash contender thought she was ready for a title belt last year.
She wasn't, but she was close. Moroz lost her last bout, to title-challenger Valerie Letourneau.
Hopefully the 24-year-old has had time enough to heal and learn. If she gets better between each fight, she'll be a sight to see not only this Sunday when she fights Cristina Stanciu, but also for years to come.
It is always exciting to see how fight fans who are experiencing a live UFC event for the first time react to the incredible spectacle. Usually, they are quite amped-up.
The UFC hits Croatia and Zagreb for the first time Sunday, and I can't wait to hear how well-attended the prelims are, who they cheer, and how well the Eastern European fans understand and react to the nuances of the contests they'll be watching.
So far, Dublin and Rio fans are supposed to have the honors for most raucous UFC audience. Can Zagreb bring the thunder with them to be considered in that conversation?