49ers' Bowman bounces back from missed season to lead NFL in tackles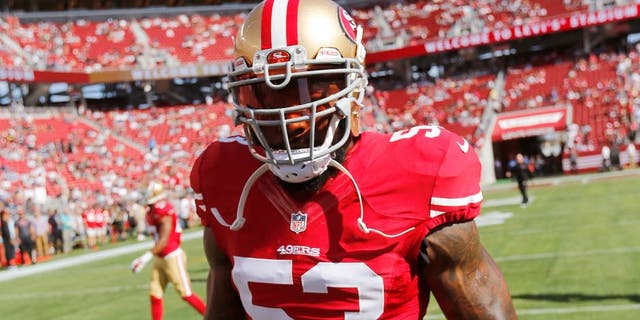 San Francisco 49ers linebacker NaVorro Bowman's career appeared in jeopardy after suffering a severe knee injury that caused him to miss the entire 2014 season.
Bowman not only managed to bounce back from the injury, but he capped a stellar comeback season with nine tackles in Sunday's 19-16 overtime win over the St. Louis Rams.
That gave Bowman a league-best 154 tackles - four more than Indianapolis linebacker D'Qwell Jackson - and placed him among the top contenders for the NFL Comeback Player of the Year award.
"It meant a lot to get out there and move the way I was moving prior to the injury," Bowman told reporters Sunday. "To receive the respect I received from the players throughout the league continued to motivate me and drive me."
Bowman struggled to reclaim his form early in the season and needed to take every Wednesday off from practice to allow his knee time to recover from the previous game. He came on strong over the second half of the season to earn his third Pro Bowl berth.
"I didn't get down on the missed tackles that I had. I had several missed tackles this year where I felt I could have made them but I didn't," Bowman said. "Guys were still pushing me and saying that I was doing a good job. All of those things continue to drive me to fight throughout the year."