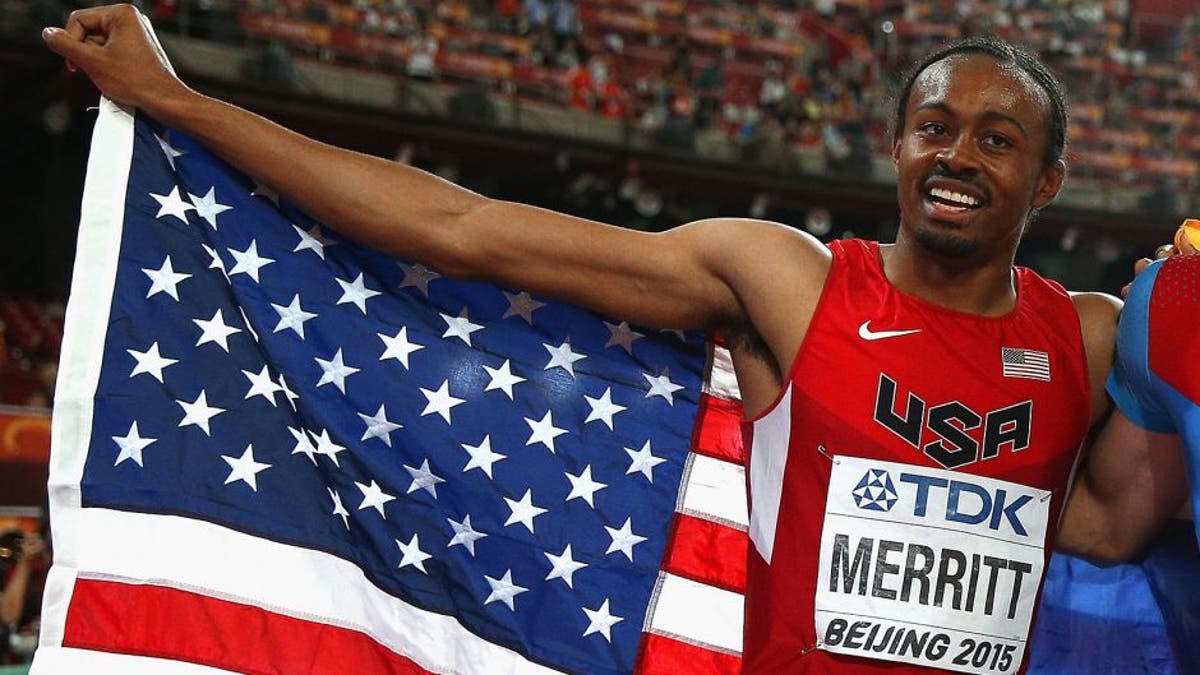 BEIJING -- When the doctors hooked Aries Merritt onto the dialysis machine two years ago, they told him his running days were over.
The doctors were focused on his kidneys.
They never looked at his heart.
The American won a bronze medal in the 110-meter hurdles Friday night at the world championships -- a victory he'll have less than four days to celebrate. Next Tuesday, he'll be on the operating table for a kidney transplant.
"This bronze medal means more to me than my Olympic gold," said the 2012 Olympic champion, who also set the world record later that year. "If I was a normal human being, we might have seen a record, who knows? But the reality is, I'm not a normal human being."
No arguing that.
Merritt's bronze, won with his season-best time of 13.04 seconds, was one of only three high points for the U.S. team on a day when there could have been more.
The others were Tianna Bartoletta's gold in the long jump -- a victory that comes 10 years after she won her other world title in that event. And Ashton Eaton's first day in the decathlon. Eaton ran the 400 meters in 45 seconds flat, a world decathlon record, to take the lead and also get in the hunt to break his own world record of 9,039 points.
"No way in hell did I think I'd run that fast," said Eaton, who has 4,703 points through five events.
While the decathlon goes 10 events, Merritt's race travels across 10 hurdles. It's an event that calls for taking things one step at a time, which is exactly what Merritt did when doctors told him his kidneys were operating at less than 15 percent and he'd need to retire.
"Pretty much, it mentally destroyed me," Merritt said.
But instead of quitting, he pushed on, even while the disease progressed and chipped away at his fitness and his physique. Racing at 164 pounds -- a full six pounds lighter than when he set the world record -- Merritt ran a near-perfect race Friday night, never touching a hurdle and falling by 0.01 second to Hansle Parchment of Jamaica for second. Sergei Shubenkov of Russia took gold.
Shubenkov learned about Merritt's condition when he was asked about it at the medalists' news conference.
"You're going to have a kidney transplant and you're here at world championships?" Shubenkov said, shaking his head in disbelief.
Watching at her brother's house in Arizona was Merritt's sister, LaToya Hubbard, who will join Merritt on the operating table Tuesday to donate her kidney.
"It could've been totally different," Hubbard told The Associated Press in a phone interview. "To see all he's gone through -- the pain, the hurt, barely able to get out of bed, barely able to walk. And now, a few months later, he has a medal."
Merritt's bronze brought the United States' total to 14, a number that figured to be higher heading into the final two days of the meet.
Two-time world champion Trey Hardee withdrew three events into the decathlon with a back injury.
The U.S. got shut out in the 200 meters, won by Dafne Schippers of the Netherlands.
Defending 110-meter hurdle champion David Oliver hit three of the first four barriers and finished seventh.
"A volatile event," he called it.
And a chance at multiple medals in women's hurdles ended instead in a shutout, punctuated by Dawn Harper-Nelson's spill after hooking her leg on the second hurdle in the semifinals. It was a fall of a different sort -- when Lolo Jones hit the ninth hurdle to spill out of the lead -- that allowed Harper to cross the line first and win Olympic gold at the Bird's Nest in 2008. She was as shocked then as she was Friday night.
"Tonight is going to be one of those nights when you get to your room and you're still in disbelief," Harper-Nelson said before Danielle Williams of Jamaica won the gold. "You cry yourself to sleep."
Merritt was all smiles but he knows there are big challenges ahead.
"The trip home is probably going to be depressing, because I know I'm going home to have surgery, not hang out with my friends," he said.
He said he'll take the rehab slow, and when he's cleared to run again, he'll pretend like he's starting over.
The Olympics are less than a year away.
"He's getting a brand new kidney with a new lease on life," his sister said. "He's going to break that record again. I expect to see him in Rio."