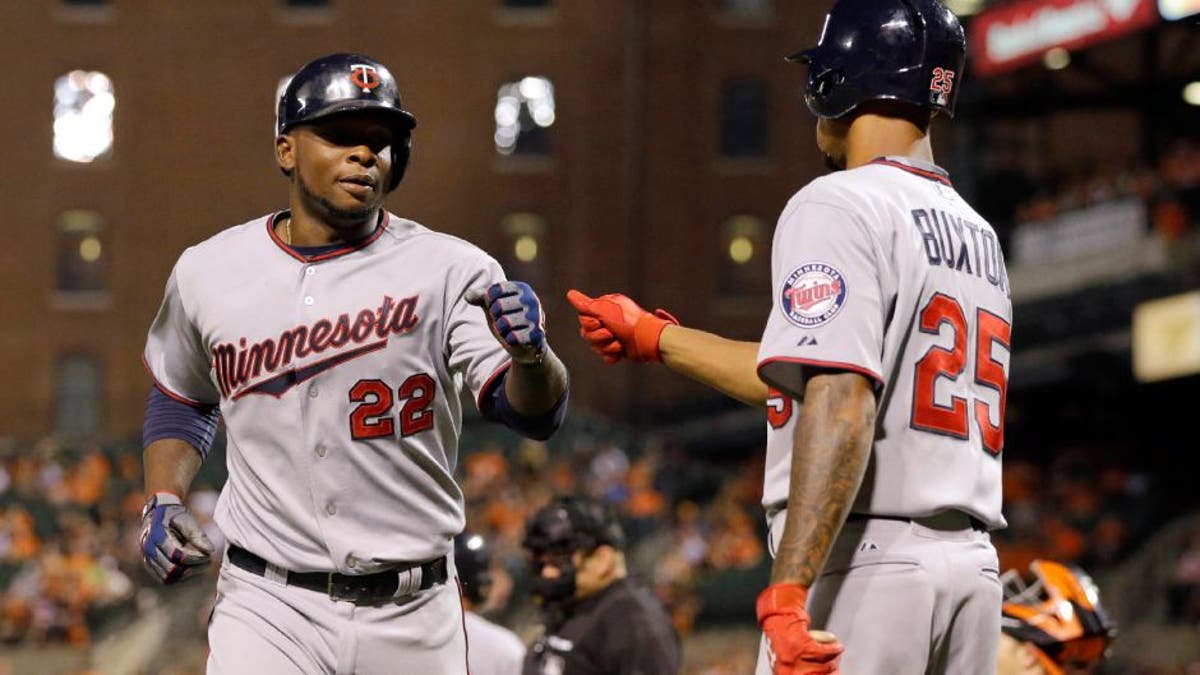 After four-straight years of finishing fourth, or worse, in the AL Central, the Twins won 83 games and only trailed Kansas City for the division title last year. For a team with plenty of young potential, Minnesota could produce back-to-back winning seasons and possibly make a Wild Card run in 2016.
ALSO SEE: TEAM PREVIEWS ARCHIVE
Key additions: Byung-ho Park (1B) and John Ryan Murphy (C)
Key losses: Torii Hunter (OF), Aaron Hicks (OF), and Mike Pelfrey (SP)
Projected lineup
1. Byron Buxton - CF
2. Brian Dozier - 2B
3. Joe Mauer - 1B
4. Miguel Sano - RF
5. Trevor Plouffe - 3B
6. Eddie Rosario - LF
7. Byung-ho Park - DH
8. John Ryan Murphy - C
9. Eduardo Escobar - SS
With Torii Hunter officially retired, Minnesota plans to make Miguel Sano the everyday right fielder. While he was listed as a DH for 69 games in 2015, Sano is known more as a third baseman. Last year, Sano swatted 18 total home runs and produced a .318 AVG at Target Field. Breaking down his matchups against particular pitchers, Sano carried a .407 AVG against power pitchers as opposed to a .231 AVG against finesse throwers...Byung-ho Park was drafted by the LG Twins (Korea Baseball Organization) in 2005. Now, he's a Minnesota Twin. Park parked over 50 home runs in back-to-back seasons in the KBO and won the Home Run title the past three seasons. The stats from the KBO don't exactly translate to the MLB. In 2014, Jung-ho Kang hit 40 home runs in the KBO and hit 15 homers the following season with the Pittsburgh Pirates. There was only a difference of three ABs, too.
Projected rotation
1. Ervin Santana
2. Phil Hughes
3. Kyle Gibson
4. Ricky Nolasco
5. Tommy Milone
Closer: Glen Perkins
A year removed from an 80-game suspension, Ervin Santana continues to be the ace for Minnesota. In 17 starts last season, Santana won seven games and produced a 4.00 ERA...Phil Hughes won double-digit games for the third time in the past four years. However, the ERA jumped from 3.52 in 2014 to 4.40. Hughes also surrendered 13 more home runs. Looking at his home/road splits, Hughes was a different pitcher depending on the location of the game. At home, Hughes was 9-3 and posted a respectable 3.87 ERA. However, he was 2-6 on the road with a rather high 5.10 ERA...Kyle Gibson was a bright spot on the 2015 starting rotation. He won at least 11 games for the second-straight season and Gibson lowered his ERA to 3.84 (4.47 ERA in 2014). It's that kind of production from a No. 3 pitcher that makes a difference between a winning season and a losing one.
Sleeper: I will never advise you to draft closers high, but don't forget about Glen Perkins. He has notched at least 32 saves in three-consecutive seasons and yet Perkins is currently the 21st relief pitchers selected in the NFBC average draft position list. As a team, Minnesota was fifth in save percentage (75 percent). They had 60 save opportunities and could not convert on 15 of them (Perkins only blew three of those chances).
Top prospects
Byron Buxton, OF - He's listed as a prospect, but expect Buxton to bat in the lead-off spot for Minnesota this year. Last year, in AAA Rochester, Buxton played only 13 games and collected 22 hits (.400 AVG). Plan on Buxton to patrol center field in Minnesota for a long time.
Jose Berrios, SP - While he won't land in Minnesota immediately, Berrios could see himself in the starting rotation by season's end. He started 27 games between AA Chattanooga and AAA Rochester last season. During that time, he tallied a 14-5 record and a 2.87 ERA. Berrios also struck out 175 batters in 166.1 innings of work.
Max Kepler, OF - Kepler may not make the big league roster until September, but you should still keep tabs on the young outfielder. In 2015, Kepler played 112 games in AA Chattanooga. He produced a .322 AVG and delivered 71 RBI. Kepler also walked 67 times and struck out in only 63 ABs.