2012 NFL Combine quarterback rankings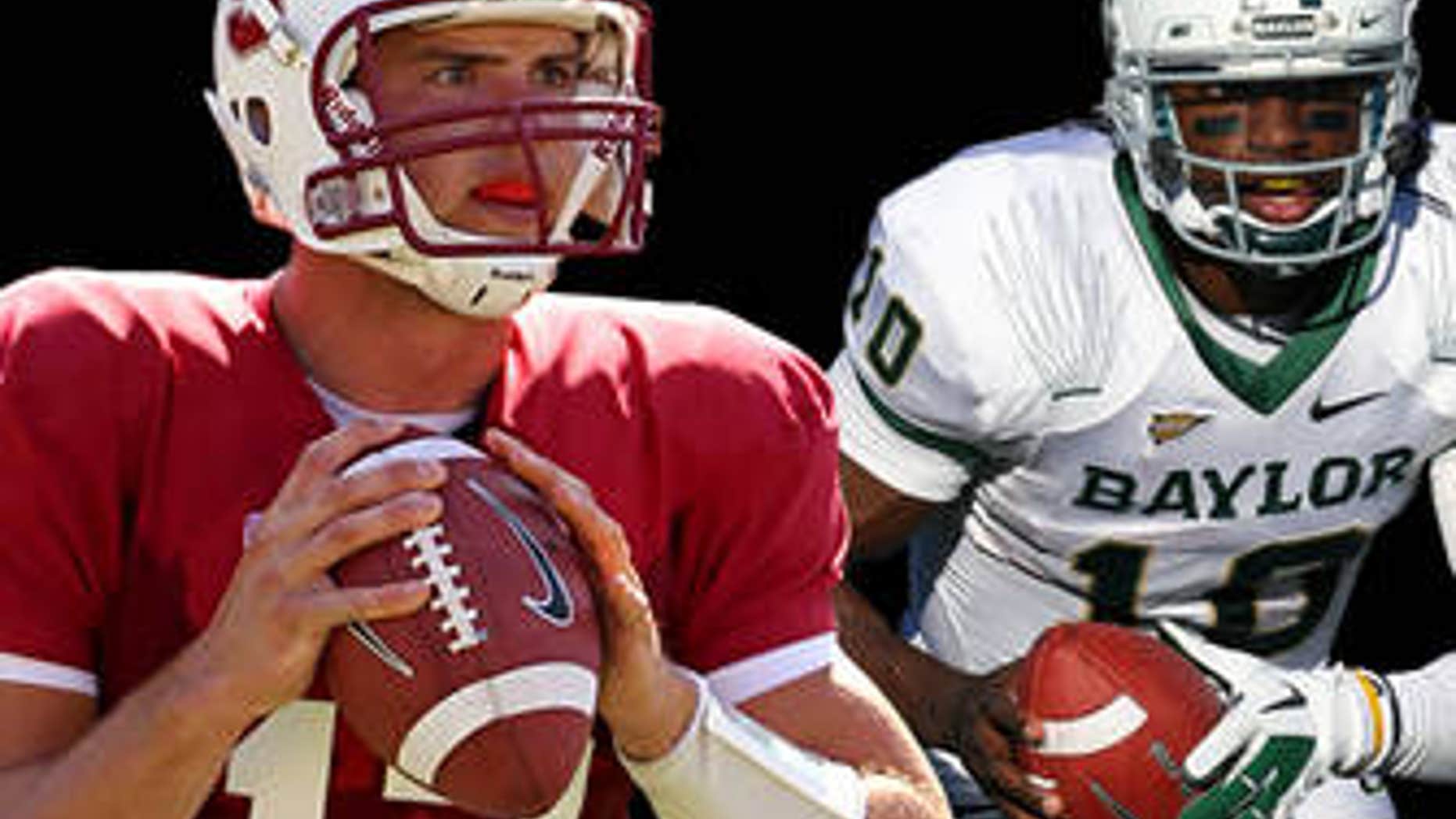 1. Andrew Luck, Stanford (Jr.) 6-foot-4, 235 pounds, Proj. 1
Positives: Considered the best quarterback prospect since John Elway with all the tools and enough talent to build a team around for the next 15 years. He's the prototype with size, athleticism, smarts, and drive. ... He wants to be a winner. He's a franchise player and has the attitude, in a good way. ... A tremendous leader. He says all the right things and is great at handling all the attention and all the scrutiny. ... He doesn't get rattled. He wants to work to be better, he's always improving, and he's seemingly able to find the right mix of taking things in stride and being fired up and motivated to do more. ... There's almost no work needed on his mechanics. He's smooth as silk with a quick release and the arm to make any throw needed. ... He'll know all the ins and outs of the offense in a Peyton Manning-like way. He'll be an offensive coordinator on the field. ... Put up tremendous numbers and always produced without any star wide receivers to work with. He made everyone around him better.
Negatives: There's no knock on his arm, but he doesn't have a Brett Favre-like gun. He's not necessarily a power pitcher. ... He threw a few too many picks -- 22 for his career, 10 last year with at least one in eight of his last nine games -- for a team that didn't need him to force the ball. ... Benefited from playing in an offense that was more physical and more centered around the running game than it might have seemed. He worked behind one of the best offensive lines in college football.
2. Robert Griffin III, Baylor (Jr.) 6-2, 220, Proj. 1
Positives: He'll possibly be the greatest pure athlete to ever play quarterback in the NFL. A world-class hurdler, he might be the fastest quarterback prospect ever. ... The perfect character. Smart, intelligent both on and off the field - he earned his degree last year. Fiery. Has a passion for the game and is a tremendous competitor with a never-say-die attitude. He's exactly who you'd like to be the leader and the star of your franchise. ... Excellent deep ball skills. He isn't afraid to push the ball down the field in any circumstances and he puts the ball in places for his receivers to do big things with it. ... Doesn't need much mechanical tweaking. He could use a quicker release, but there's nothing that's not easily adjustable. ... He's not just a runner. His mobility will buy him time, but he's a passer who can run, not a runner who happens to play quarterback.
Negatives: Is he accurate enough? He wasn't asked to fit the ball through a tire on a regular basis and was much better when he got the chance to bomb away down the field. ... He's not a prototype NFL passer in terms of coming up with the quick read and making the play happen. He's smart enough to figure out coverages and read the blitz, but he didn't have to hang in the pocket too often. ... He'll have to prove he can hold up. While he might be a few years removed from a torn ACL, he's not put together like a normal pro quarterback, built more like a wide receiver. He'll take too many big shots.
3. Brandon Weeden, Oklahoma State 6-3, 220, Proj. 2
Positives: Unflappable. He might be too old to build an offense around, turning 28 this football season, but he's cool, calm, and is great under adversity. ... Tremendous at getting the ball to his receivers on the move. Extremely accurate, when he gets time he can make all the throws. ... He's a professional in demeanor and manor. He'll always be prepared and he can be plugged into any situation. For good and bad, he's the ideal No. 2 quarterback who'd be perfect as a five-game fill-in. ... Terrific arm.
Negatives: There's a small window of opportunity for what he can do and it's closing in a big hurry. ... Not mobile enough to make a difference on the move. He's not awful in the pocket and he can read and recognize the blitzes, but he's not going to escape. ... For an old, mature player, he still needs some work on his throwing motion and working from under center. He's a pure spread passer who might have to work in a shotgun.
4. Nick Foles, Arizona 6-5, 245, Proj. 2
Positives: Tremendous size. He's a big, strong passer who looks the part of an NFL quarterback. ... Great release and NFL mechanics. Polished, and won't need any fine-tuning in his throwing motion. ... Terrific arm. He can put the ball all over the field. ... A great leader who kept on pushing in a bad situation. He didn't get much help and his team wasn't going anywhere, but he kept working. ... Wants to be better. He'll push himself and will do the work needed to improve and study. Doesn't need a fire lit under him.
Negatives: A stick in the mud. He hasn't worked from under center enough to be comfortable from the start and has to show he can move better in the pocket. ... He'll take big shots and will sit in the pocket when needed, but he doesn't keep his focus down the field well enough. He has to do a better job of finding the second and third receivers in a hurry. ... Has to prove he can throw to covered receivers. He spent most of his career throwing to open targets.
5. Kirk Cousins, Michigan State 6-2, 210, Proj. 4
Positives: He's the type of leader who teams rally around. He's vocal, isn't afraid to be self-critical and shift praise to his teammates, and he says and does all the right things. .... Has a good arm and can make all the throws. He might not be a power pitcher, but he can push the ball down the field without a problem and has a good drive on out patterns. ... Solid throwing motion that won't require much tweaking. He gets the ball out of his hands in a hurry.
Negatives: Could stand to be much quicker on his reads. He's decent at finding the second and third receivers, but he isn't as great in recognition as he needs to be for a player of his experience. ... Not exactly the prototype size. Not a liability, but he's not the ideal-sized prospect. ... Not deadly accurate. He doesn't miss the open receiver, but he's not Aaron Rodgers when it comes to putting the ball through a tire.
6. Ryan Lindley, San Diego State 6-4, 230, Proj. 3
Positives: Excellent size. He might not move all that well, but he looks the part size-wise and he's built to take shots. ... Experienced. He was the leader of the San Diego State attack for the last three years and was ultra-productive. ... Shows great touch on his downfield passes and can make throws at an elite NFL level. Tremendous arm strength. ... A baller. He's great when he gets into shootouts and is able to turn it loose. ... Ready to throw out of the box. His mechanics are solid.
Negatives: Not accurate. He's frustratingly inconsistent, able to make a throw few quarterbacks can try on one play, and putting it into the turf the next. ... It wasn't always his fault - he was great late in the bowl loss to Louisiana-Lafayette - but he didn't lead the way to too many key late wins. ... Not an athlete. He's a pure pocket passer with mediocre mobility.
7. Brock Osweiler, Arizona State (Jr.) 6-8, 240, Proj. 3
Positives: HUGE. Very tall pure passer with surprising mobility for his size. He can take off when needed and moves extremely well in the pocket. He's an athlete. ... His height makes up for mechanical issues. He might not have the prototypical release, but it doesn't matter. He never gets passes batted down, even though he doesn't come over the top in his delivery. ... Likeable. He's the type of quarterback teams tend to follow blindly. Always says the right things. ... Tough and fiery. Has the right mix of competitiveness and drive. ... Great arm. Can make all the throws.
Negatives: He needs to show he can work from under center. However, he has the athleticism and the potential to quickly adjust to any style. ...
8. Russell Wilson, Wisconsin 5-11, 200, Proj. 5
Positives: As accurate as they come. He was one of the most efficient and effective quarterbacks in college football history. ... Mobile. Terrific throwing on the move and great at making plays when things break down. ... A phenomenal leader. Showed up cold on the Wisconsin campus and instantly earned the respect of his team. ... Great arm. It's not an elite arm, but he can put the ball anywhere on the field. ... Smart and tough. Has no problems taking a lick and is great at reading and breaking down coverages.
Negatives: Too small. Way, way, way too small. Not close to being six feet tall. ... He has to work outside of the pocket. His release point is high, but it's still not enough. He can't throw over anyone. ... Can't hit the curve ball. ... He's not a full-time starting NFL quarterback to work an offense around and might be stuck in a backup role. He'll be a near-perfect No. 2 emergency fill-in, but that's about it because of his lack of height.
9. Ryan Tannehill, Texas A&M 6-4, 225, Proj. 2
Positives: Prototype size and athleticism. Was fast enough to be used as a wide receiver early in his career, and is big enough to look the part of an NFL quarterback. ... Did anything the team asked him to do without squawking. A leader who had the respect of his teammates. ... Still might be scratching the surface. He's not a fully-polished product, and that's a good thing. ... Not a great arm, but good enough to get by. He's not going to throw a pea through a 2x4, but he can drive the ball outside the hashmarks. ... Good guy. You want him on your team.
Negatives: Not good enough at playing football. The scouts want him to be good because he looks the part and has most of the tools. ... Throws way too many interceptions and isn't nearly accurate enough. He might never be consistent enough to be a winning NFL starting quarterback. He can be a starter, but he won't win a Super Bowl. ... While he bombed away and put up big stats, he was almost never clutch. It wasn't necessarily his fault that A&M collapsed in fourth quarter after fourth quarter, but he was the quarterback. The buck stopped there. ... Needs mechanical work. He has to change up his delivery a bit and go over the top.
10. B.J. Coleman, UT Chattanooga 6-3, 234, Proj. 4
Positives: Great size and excellent arm. ... Originally a Tennessee Volunteer. A tremendously talented player coming out of high school. ... Smart and good at reading and recognition. ... He'll bust his tail. He'll work himself into being a good player. ... Great arm. He can push the ball all over the field. ... A good leader.
Negatives: Not a great athlete. He can move a little bit, but he's not going to take off. ... Needs to be able to change speeds. Has a great fastball, but he's not quite as strong on his short-to-midrange passes. ... Got banged up. Missed part of last year hurt dinging up his shoulder.