20 biggest bargains from the 2016 NFL Draft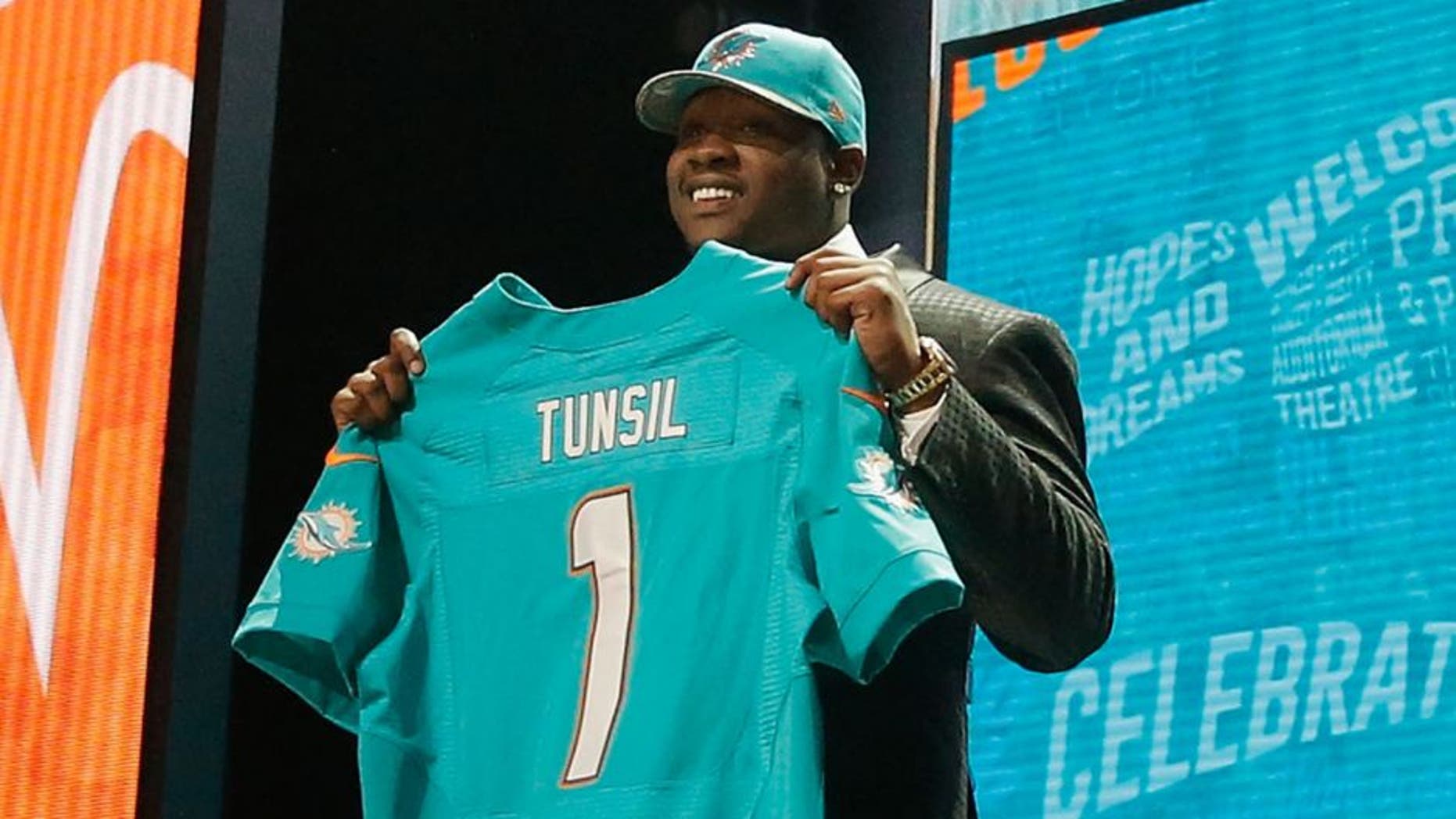 The NFL draft is always an interesting process to watch, especially as someone who has been around a lot of college players and coaches. I'm always curious to see what NFL personnel folks think of these guys and how they project. Obviously, character and medical history factor into their investments as well as how the players would fit into each franchise's depth chart. Here are my Top 20 bargains from the 2016 NFL draft:
There were a ton of good D-linemen in this draft. The 300-pounder from Temple will prove to be one of them. He's more athletic than I think a lot of people give him credit for and I could see him playing a decade in the NFL.
Keyshawn Johnson's nephew has pretty good size and decent speed, but it's his hands and his competitiveness that I think will make him a go-to guy for the Saints. A scout I know who's spent a lot of time around Ohio State raved about the edge Thomas brings to practice and how it raises people's levels. That juice will help him as a crunch-time wideout in the NFL.
He was a stud for UCLA the past few years. He doesn't have blazing speed, but he's shifty and tough and does have very good vision. He'll help a backfield that really could use it.
Really athletic kid from Southern Utah. Has great closing speed and just obliterates people. Never lifted weights in high school but certainly blossomed in college.
Another linebacker who can fly. He was a beast in the MAC for Akron. I think he's too sudden and explosive not to be a factor for San Diego.
He's athletic and instinctive. I've heard him called a poor man's Luke Kuechly. I'd buy that. I think he'll start for the Bears for a bunch of years.
He's not tall, but so what, a lot of terrific NFL running backs aren't. He has excellent feet and elusiveness and very soft hands. One Big 12 DC told me last year that Washington was the best RB in the conference, and his all-around game supports that.
Pittsburgh just got one of the fastest LBs in the draft who is also long and rangy. A former DB, he got a lot better last year and is continuing to blossom. He also will be a big help to their special teams.
There's a lot of mixed reaction in the NFL folks I spoke to about Prescott. Several people compare him to Tim Tebow, as an ultra productive college QB whose game they're skeptical will translate to becoming a legit NFL quarterback. I think in the fourth round Prescott is worth the roll of the dice. He's the best player in Miss. State history, and he did improve quite a bit over his career. He did have a DUI earlier this spring, but those around the MSU program swear by his character. Tony Romo likely has another two or three years so this is a good spot for Prescott to learn and develop.
Another Houston pick I really liked. Reader, a former Clemson baseball player, is a freaky athlete. He told me he once was clocked at throwing a pitch at 94 MPH in high school despite weighing 321. He also can do a split despite that massive size. He can overwhelm guys with his burst and leverage. Reader did have an up-and-down career at Clemson. A big part of that was his struggling to deal with the death of his father in 2014 and he left the team for awhile.
He's quick and fast, and I was surprised he lasted past the fifth round. The South Florida native lit up the MAC and showed how dangerous he was on the highest level of college football by giving Ohio State fits. The Buckeyes couldn't catch him. Braverman is pretty small though, at 5-10, 177, but has excellent hands and is slippery. He'll be a good slot receiver for Chicago and catch a lot of passes.
He's not long or tall, but the Notre Damer has uncanny ability to rush for a defensive tackle. If he's a guy who can give you seven or eight sacks a season, and I think he can, that's really good value for a fourth rounder.
I wasn't surprised that the former Arizona great didn't go in the first two days of the draft. I knew there were concerns about his athleticism and how well he can play in space. But when my pal Daniel Jeremiah from the NFL Network made the point of how Paul DePodesta and the new Browns regime were going with more of a "Moneyball" approach that leaned on production, I figured Cleveland was a very real possibility to grab Wright.
The guy doesn't have great measurables but he just makes a ton of plays. Nobody in college football made more. In 2014, he had 29 TFLs, 14 sacks and six forced fumbles. He's very instinctive and does have a lot more quickness than people give him credit for. The fact that were like 34 other linebackers take before him is ridiculous. I think a lot of NFL teams overthink things, and, once again, Scooby Wright is going to prove a lot of people wrong.
I loved the Giants snagging Odell Beckham two years ago and I think the former OU star is another gem they've brought in. His size isn't great at 5-10, 190, but like ODB, Shepard has terrific feet and is a wizard at making guys miss. He's also a slick route runner and fierce competitor.
Detroit needed help up front and the Lions did very well here. He could've gone 25 picks higher. He's a powerful 320-pounder who just turned 21 (even though he looks 40) and made some good strides in the past year according to folks inside the Alabama program. He also does have some pass-rushing potential and comes from a winning program.
I really love what Houston did in this draft and the former two-time Big Ten Player of the Year is a big part of that. Along with Notre Dame blazer Will Fuller and SJ State RB Tyler Ervin, the Texans provided a major jolt to their offense. Miller is dynamic. Bill O'Brien saw how dangerous the 6-1, 200-pounder was when he was coaching at Penn State in 2013 and Miller was wrecking the Big Ten. Houston assistant Mike Vrabel also was on that OSU staff when Miller was there. He knows what Miller can do. Prediction: Braxton Miller will show up a bunch of times on Sunday's game-break highlight cut-ins making big plays.
Anything past the top of the second round seemed like a bargain to me. This guy is a powerhouse. Several Big 12 coaches say he's the most dominant force they've seen in a D-lineman in years. He'll be a huge asset for Cincy in the run game.
Another stud who fell because of medical concerns. Will his knee hold up for him to still be playing at 30, or even at 26? That is the question. I think he's worth the gamble. Four years with Miles Jack could make a big impact on a franchise, especially when you're talking about second-round value. He covers better than some DBs. He flies from sideline to sideline. Jack should be in the mix for Rookie of the Year consideration. He's special.
The former Notre Dame star has legit injury concerns. He's expected to miss all of the 2016 season, but if he's back to where he was athletically before the Fiesta Bowl where he injured his knee, the Cowboys just got a top-five talent, who also has great character. If Smith can get back to 100 percent by 2017, I think Dallas got a guy who'll go to at least a half-dozen Pro Bowls. Remember these names: Aaron Williams, Coby Fleener, Justin Hunter, Demarcus Lawrence and Donovan Smith. Those were the guys taken at No. 34 in the previous five drafts. The upside of Smith is definitely worth it here.
Yes, I know Tunsil's Thursday night debacle was the most bizarre NFL Draft episode we've ever seen, but past all the social media fireworks, the Ole Miss left tackle is arguably the most gifted player in the entire draft. Several folks I've spoken with say he's much more talented than all the offensive linemen who've gone as top five picks in the past few drafts. Franchise left tackles are rare. This guy can be that. His feet are that good. Tunsil smoking out of bong while wearing a gas mask is a bad look, although I suspect at least half the guys who were taken in the first round Thursday night have probably smoked pot. Probably more.