13 years ago today, Steve Bartman added to the legend of the Cubs curse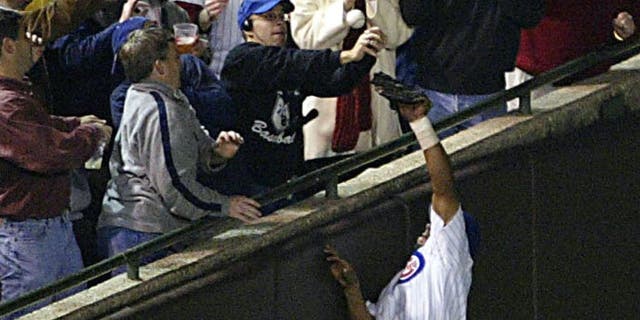 Perhaps you've heard over the course of these MLB playoffs that the Chicago Cubs are currently in the midst of a 108-year World Series drought, and if your heart is at all invested in the North Siders' century-long championship dry spell, then you're also no doubt familiar with the name Steve Bartman.
Prior to Oct. 14, 2003 -- 13 years ago Friday -- Bartman was an anonymous 26-year-old who worked a nondescript desk job at a garden-variety suburban consulting firm. And when he showed up to Wrigley Field that Tuesday night for Game 6 of the American League Championship Series and settled into Aisle 4, Row 8, Seat 113, he did so with no expectation that his life would be changed forever by the time he left.
If anything, Bartman, wearing a tattered Cubs hat and headphones that have since become infamous, wanted nothing more than to be part of a celebration. The Cubs, at that point 95 years removed from their last title, were up 3-2 on the Florida Marlins in the best-of-seven series and had Mark Prior, their second-year ace, on the mound looking to clinch the club's first pennant since 1945.
Earlier in the series, in Game 2, Prior had thrown seven solid innings during a 12-3 Chicago win, and through seven innings of Game 6, the 22-year-old had been even better, allowing just three inconsequential singles while striking out six as the Cubs built a 3-0 lead. Everything was going exactly according to plan.
However, after Prior coaxed a flyout out of pinch hitter Mike Mordecai to start the eighth, things began to unravel.
The rally started with a one-out double by leadoff man Juan Pierre, the Marlins' first extra-base hit of the game. Luis Castillo stepped in next, and after falling behind 1-2, the second baseman worked the count full, then fouled off two more pitches to stay alive. On Prior's 113th offering of the night, his eighth of the at-bat, the left-handed Castillo sprayed another ball foul down the left field line.
It was unclear initially whether Castillo's popup would reach the seats, but Cubs left fielder Moises Alou had a bead on it from the start. Alou sprinted over to the wall, a few yards past Kyle Farnsworth, who had just begun to warm up in the Cubs' exposed bullpen, and prepared to make the leaping catch that would put Chicago within four outs of the World Series.
But as Alou left his feet and reached into the stands to make the grab, his glove collided with the outstretched arms of Bartman, causing the ball to fall innocently into the first row.
Had the same play happened on a cool April night or a sweltering August afternoon, it would have been written off as little more than a frustrating, but not uncommon, case of unintentional fan interference rather than the moment the Cubs' so-called curse reared its ugly head again. And in a vacuum, this foul ball should have had no impact on this particular game, either.
Except rather than retreat back to his post in left field, Alou went berserk, slamming his glove into his leg as he shouted at a mortified Bartman, cowering in his seat. Then after Prior's next pitch got past catcher Paul Bako, putting runners on the corners with one out, the crowd began to turn on Bartman too, chanting expletives and tossing whatever they could find in his direction.
The next batter, catcher Ivan Rodriguez, hit a single to left to score Pierre, and after an uncharacteristic error by Alex Gonzalez at short, a Derrek Lee double tied the score at 3-3. Florida then added five more runs to push their lead to 8-3 before Castillo finally ended the inning with a pop-out to second that was nine batters overdue. Here are the highlights from the entire painful top of the eighth:
From there, the Cubs went down in order in the eighth and the ninth and it was on to Game 7, a 9-6 Marlins win at Wrigley that sent Chicago home yet again. And for 13 years since, exasperated Cubs fans have misguidedly blamed Bartman for the 2003 Cubs' collapse. But now there's hope again for Chicago and for Bartman, who has avoided the public eye since he was escorted away from his seat in shame at the end of the eighth inning.
The Cubs, the best on-paper team left in the postseason field, are coming off a 103-win season -- good for the franchise's best winning percentage since 1935 -- and will kick off the NLCS against the Los Angeles Dodgers on Saturday night. If there were ever a Cubs team that seemed destined to bring a World Series title back to Addison Street, it would be this one.
Of course, history shows there's no telling what could happen over the next two weeks, but with eight wins now separating the Cubs from a parade, there's at least reason for optimism. So hang tight, Steve. You're almost off the hook.
You can follow Sam Gardner on Twitter or email him at samgardnerfox@gmail.com.