Betsy DeVos' vacation home sparks uproar on Twitter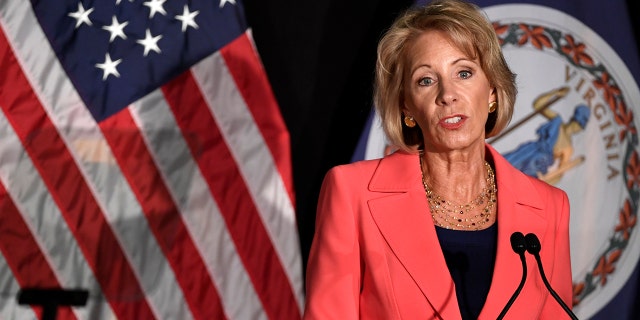 Twitter members went wild on Sept. 7 when photos surfaced of Secretary of Education Betsy DeVos' sprawling lakefront summer home in Holland, Michigan.
User @Davidcrespo ignited chaos with a post of the "cottage" that has that has since been retweeted nearly 5,300 times and liked over 19,000 times. However, it's not the first time DeVos' 22,000 square foot property has made headlines.
According to Grand Rapids News, the South Shore Drive has been something of a local attraction for years. DeVos and her husband, former Amway CEO Dick DeVos, purchased the estate from her father-in-law Richard in 2007 for $4.5 million.
HURRICANE IRMA SLAMS INTO PRESIDENT TRUMP'S $17-MILLION CARIBBEAN VACATION HOME
Citing city records, Grand Rapid News noted the couple then renovated what had already been a grand home into a massive stone-and-shingle mansion. It now has eight bedrooms, five full bathrooms, three garages and a large infinity pool.
"For months, cars have slowed along South Shore Drive as gawkers have followed the construction of the DeVos home, the biggest house in Holland, if not Ottawa County," the paper reported. "Their three-story vacation home sets a new standard for size and grandeur among the other million-dollar-plus mansions that line Lake Macatawa, a popular spot with access to Lake Michigan."
THE OBAMAS MAY INVEST IN PROPERTY ON MARTHA'S VINEYARD
"We are very excited with it," DeVos told the paper of her new summer residence.
With renovation on the desirably located property, real estate broker Andrea Crossman said the high-end lakefront home looks to be easily worth $10 million.
BILL AND HILLARY CLINTON'S OLD SUMMER GETAWAY SELLS FOR $29 MILLION
To the delight of gawkers both local and virtual, the Secretary of Education's real estate dream didn't come true exactly as planned. Grand Rapids News reported that Holland vetoed zoning requests to build a 10-foot-high stone fence around the perimeter of the property.
All the better for ogling, indeed!
FOLLOW US ON FACEBOOK FOR MORE FOX LIFESTYLE NEWS