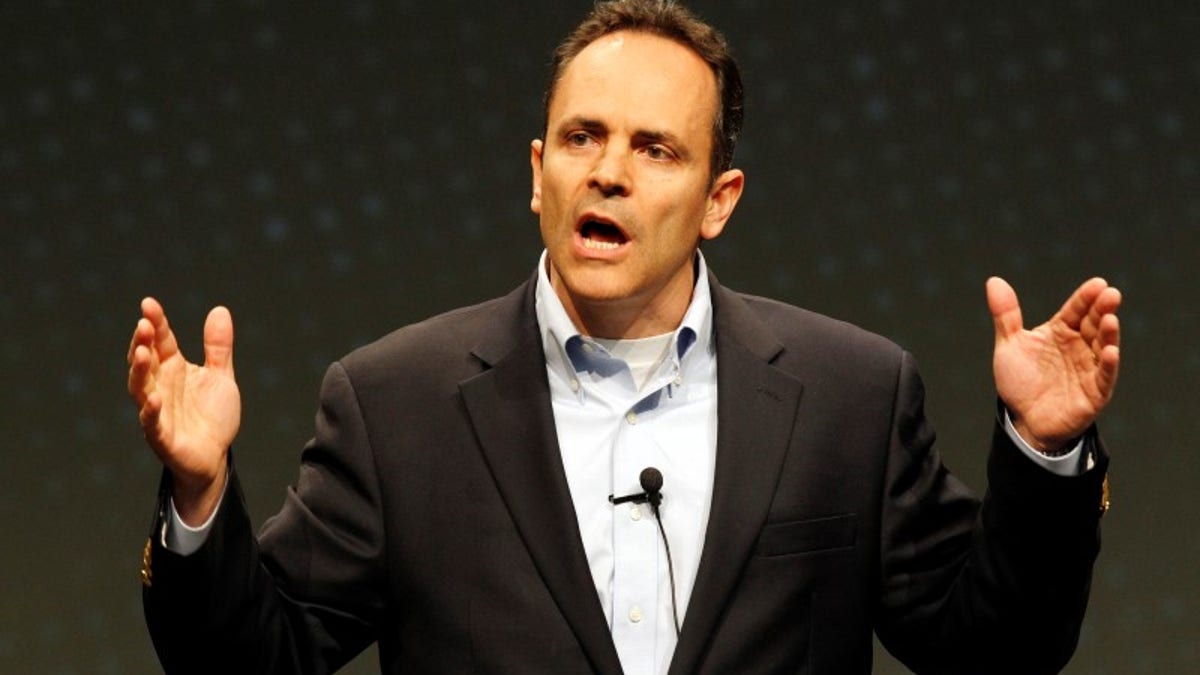 At least four Kentucky lawmakers, and the chief of staff of the state's House speaker, are linked to a confidential settlement of a sexual harassment case, according to a published report.
News of the settlement deal, reported last week by the Louisville Courier-Journal, prompted Kentucky Gov. Matt Bevin to hold a news conference Saturday, at which he called upon "every individual" in the Statehouse linked to a sexual harassment settlement to resign.
Bevin mentioned no names, but said the scandal involved "multiple events and multiple people."
"I am calling ... for the immediate resignation of every individual who has settled a sexual harassment case who is party to trying to hide this type of behavior," Bevin said.
"I am calling ... for the immediate resignation of every individual who has settled a sexual harassment case who is party to trying to hide this type of behavior."
The Republican stressed that the allegations have not been denied and that they "were not isolated to a single person or a single event but involve multiple events and multiple people."
The Courier-Journal initially reported that House Speaker Jeff Hoover, a Republican, had settled a sexual harassment claim outside of court with one of his staffers.
Then on Saturday, the newspaper reported that the settlement involved three other lawmakers as well as Hoover's chief of staff.
The newspaper identified the others as Reps. Jim DeCesare of Rockfield, Brian Linder of Dry Ridge and Michael Meredith of Brownsville, all Republicans, and chief of staff Ginger Wills, citing sources with knowledge of the deal.
As Bevin was leaving the news conference, a reporter asked if the governor wanted Hoover to resign.
"You heard me," Bevin said.
Hoover said Saturday that he has no plans to resign, and he accused the governor of "grandstanding," the Courier-Journal reported.
Hoover has refused to confirm or deny the settlement. But in a private meeting with House Republicans, Hoover said he was "legally" prohibited from talking about it and said he had asked for forgiveness from his family, according to Republican state Rep. Wesley Morgan who attended the meeting.
Saturday, House GOP leaders issued a news release saying they planned to hire a private law firm to investigate the allegations. The leaders said they had not consulted Hoover about the decision, but had told him about it. The release said the investigators would have the power to subpoena witnesses.
"Speaker Hoover, as of now, has the support of the Republican caucus to remain in his leadership position," according to a statement attributed to Speaker Pro Tem David Osborne, Majority Leader Jonathan Shell, Majority Whip Kevin Bratcher and Majority Caucus chairman David Meade. "And we reserve the right, based on the results of the investigation, to revisit the status of anyone involved, including Speaker Hoover."
But Hoover does not have the support of all Republican lawmakers. Morgan, the Republican state representative from Richmond, posted on his Twitter account that Hoover should resign immediately. He accused Hoover and other Republican leaders of conspiring to hide allegations of sexual harassment, including threatening whistleblowers "with loss of employment and physical intimidation."
Morgan told the Courier-Journal that he doesn't care if he gets run out of politics for speaking up.
"I'm not going to go along to get along," he told the newspaper Saturday. "And if people have been guilty – I'm saying IF people have been guilty of doing these things – they have no place in state politics."
The Associated Press contributed to this story.