Who will take California Sen. Boxer's seat in Washington? Ask the 1.35 M Latino voters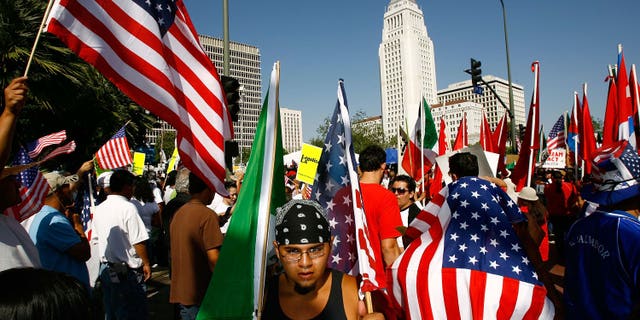 Los Angeles – Political leaders, analysts and pollsters agree: It's quite likely Latinos will decide who takes the seat Democrat Barbara Boxer is leaving vacant in the U.S. Senate to represent California.
More than 14.5 million Latinos live in California, the state with the largest Hispanic population in the nation. Latinos are also the fastest-growing segment of the electorate in the Golden State, and about 42 percent will be eligible to vote in November 8, 2016, the first open Senate seat contest in 24 years.
"As the community continues to grow, even without a large turnout it still allows for Latinos to have a significant impact [in the elections]," said Dan Schnur, Director of the Jesse M. Unruh Institute of Politics at University of Southern California's (USC) Dornsife College.
"It would be possible for a candidate to win without the Latino support," he added, "but very unlikely."
Latino voter registration has increased sharply over the last three decades in California. In 1980, the share of registered Hispanic voters was 7 percent. By 2012 it had jumped to 24 percent.
That number is expected to continue rising as a large amount of California's Hispanic population turns 18 and becomes eligible to vote.
It is estimated that by 2016 the Golden State will have 1.35 million new Latino voters, accounting for 82 percent of the state's growth in eligible voters.
But Latino turnout rate has been low during the last elections, with a rate of 31.2 percent in 2010 compared to 77 percent among non-Hispanic whites.
Nevertheless, experts agree that Latino voter participation in 2016 will be large enough to influence the outcome at the polls.
"They will turnout in great numbers, especially if some issues have not been dealt with by 2016, like immigration reform," said Carlos Munoz Jr., UC Berkeley professor emeritus and Latino politics expert.
"This election will matter more to Latinos than in the past," he added.
Munoz Jr. also notes that California voters will probably be more motivated to go to the polls in 2016 because of the presidential election going on the same day. "There's more going on in a presidential campaign," he said. "There's more media attention and issues get more coverage, so people get into it."
Hispanic politicians are taking note.
In the Democratic camp two have hinted their candidacies. If they decide to run, U.S. Representatives Loretta Sanchez from Orange County and Xavier Becerra from Los Angeles could pose a serious threat to apparent frontrunner California State Attorney Kamala Harris, also a Democrat.
In a USC Dornsife/La Times poll about the U. S. California Senate race conducted last February, 42 percent of Latinos favored the former mayor of Los Angeles Antonio Villaraigosa, who was then considered to be a possible candidate but later declined to run.
USC's Schnur, who was head of the survey, said those results show how much Hispanics would favor a Latino candidate.
"He had a 3-1 lead [against Harris] among Latino voters. That is an overwhelming majority," he added. "If either Sanchez or Becerra decide to enter the race, it would make Harris challenge much harder."
Adrian Pantoja, a senior analyst at Latino Decisions, said Latinos will continue to make significant gains in California in 2016.
"In a close race, Latinos are the deciding factor," he added. "It would be extremely hard for Harris to win the Senate race without Latino support."
Political observers of the California Senate race assume that the chances of challenging Harris are thinner for San Diego Republican candidate Rocky Chavez because of the Republican Party's position on immigration.
"Latinos are concerned about other issues, but they identify immigration as a Latino issue," he added.
A solid majority - 59 percent - of Latino likely voters are registered as Democrats, 18 percent are registered as Republicans and 17 percent as independent.
However, the Berkeley professor notes that the focus on the California race should not be limited to assuming that the Latino vote is either Democrat or Republican.
"Many Latinos are disappointed with the Democratic Party," he said. "Both of those parties have not done much that would result in meaningful changes to those affected by them."
"Latinos are more and more involved in third-party politics and realize that those two parties do not necessarily represent them," added Munoz Jr.