Who is H.R. McMaster? 3 things to know about Trump's national security adviser
Gen. Herbert Raymond "H.R." McMaster can now add former national security adviser to a long list of positions he's held over the years. President Trump confirmed in a March 22 tweet that McMaster will be replaced by former U.N. ambassador John Bolton.
Trump congratulated McMaster on an "outstanding job," adding that he will "always remain [a] friend."
Bolton will officially replace McMaster on April 9.
"There will be an official contact handover [at that time]," Trump added.
McMaster thanked the president for giving him the opportunity to hold the position and said he was "especially proud" to have served with National Security Council staff.
"I am grateful for the friendship and support of the members of the National Security Council who worked together to provide the President with the best options to protect and advance our national interests," McMaster said in a statement. "I know that these patriots will continue to serve our President and our nation with distinction."
McMaster was appointed national security adviser on February 20, 2017.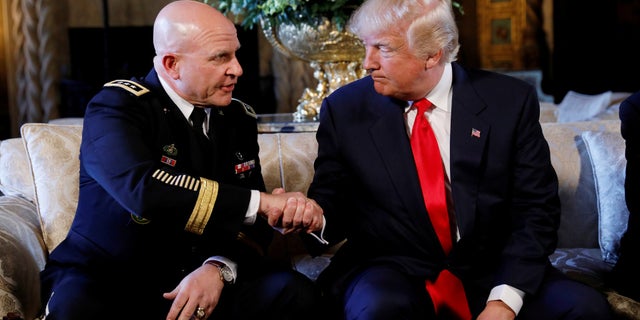 He replaced Michael Flynn, who resigned over revelations he misled the administration about his communications with a Russian official. Flynn is one of several individuals charged in Special Counsel Robert Mueller's Russia investigation.
"General McMaster has served with distinction in the United States Army for over three decades and will now bring that tremendous experience to his new post as my National Security Advisor," Trump said in a statement at the time. "My first duty as President is to keep the American people safe. General McMaster has the knowledge and foresight necessary to provide me with expert advice as we work to protect America's interests at home and abroad."
Earlier this month, reports swirled that Trump was going to remove McMaster from his post – a move the White House denied at the time.
"Just spoke to [Trump] and Gen. H.R. McMaster - contrary to reports they have a good working relationship and there are no changes at the NSC," White House Press Secretary Sarah Sanders tweeted on March 15.
Here are three things to know about McMaster.
McMaster is a highly decorated military officer
McMaster, 55, served in the U.S. Army for more than three decades, earning numerous medals and honors, including a Purple Heart and the Silver Star for his heroism during the Gulf War – particularly during the Battle of 73 Easting.
It was during that incident – a Desert Storm tank fight in 1991 – that then-Captain McMaster's group of only nine tanks took on – and destroyed – more than 80 Iraqi tanks and a variety of other vehicles, according to Time's profile of McMaster when he was named one of the magazine's 100 Most Influential People. His troop did not lose one tank.
In a 2016 essay about the battle, McMaster described the "furious action" that lasted 23 minutes. He said his troop "stopped when there was nothing left to shoot."
"Although future battles will likely be fought against more capable enemies and under more challenging and complex conditions, there are lessons from battlefield victories twenty-five years ago that remain relevant to combat readiness today and in the future," McMaster wrote. "Well-trained, confident platoons and companies provide the foundation for our Army's and Joint Force's ability to fight."
Aside from serving as captain in the Gulf War, McMaster also had pivotal roles in Operation Enduring Freedom and Operation Iraqi Freedom, the White House noted.
His college thesis was turned into a book
McMaster's "Dereliction of Duty," published in 1998, was based on research he used for his doctoral dissertation when he studied military history at the University of North Carolina, the Raleigh News & Observer reported.
The book "is a stunning analysis of how and why the United States became involved in an all-out and disastrous war in" Vietnam, publisher HarperCollins described. McMaster studied, in particular, the role the Joint Chiefs of Staff played in the war.
United Press International war correspondent Joseph Galloway told Politico Magazine McMaster had consulted him on turning the dissertation into a book. Galloway said he was concerned about the impact the book – along with its critiques of the leadership during the war – would have on McMaster's military career.
"So he writes the book while teaching a full load at West Point, staying up until 2 a.m. every night writing, and the book turned out perfect," Galloway said.
Known for his vehement outspokenness, it's McMaster's own penchant for candidness that could have thrown a wrench into his career.
McMaster was passed over for a promotion to a one-star brigadier general twice, according to Politico Magazine. He was finally promoted by a panel led by retired Gen. David Petraeus – someone who the Washington Post noted was one of his advocates.
He was the subject of a Tom Clancy book
McMaster's insight was included in Tom Clancy's non-fiction book, "The Armored Cav." The book gave "a penetrating look inside an armored cavalry regiment — the technology, the strategies, and the people," according to publisher Penguin Random House.
In his book, McMaster detailed to Clancy the Battle of 73 Easting. He also revealed that he met his wife, Kathleen Trotter McMaster, when he played for West Point's rugby team.