White House Says Girl With Campaign Ties Chosen at 'Random' to Speak at Obama Town Hall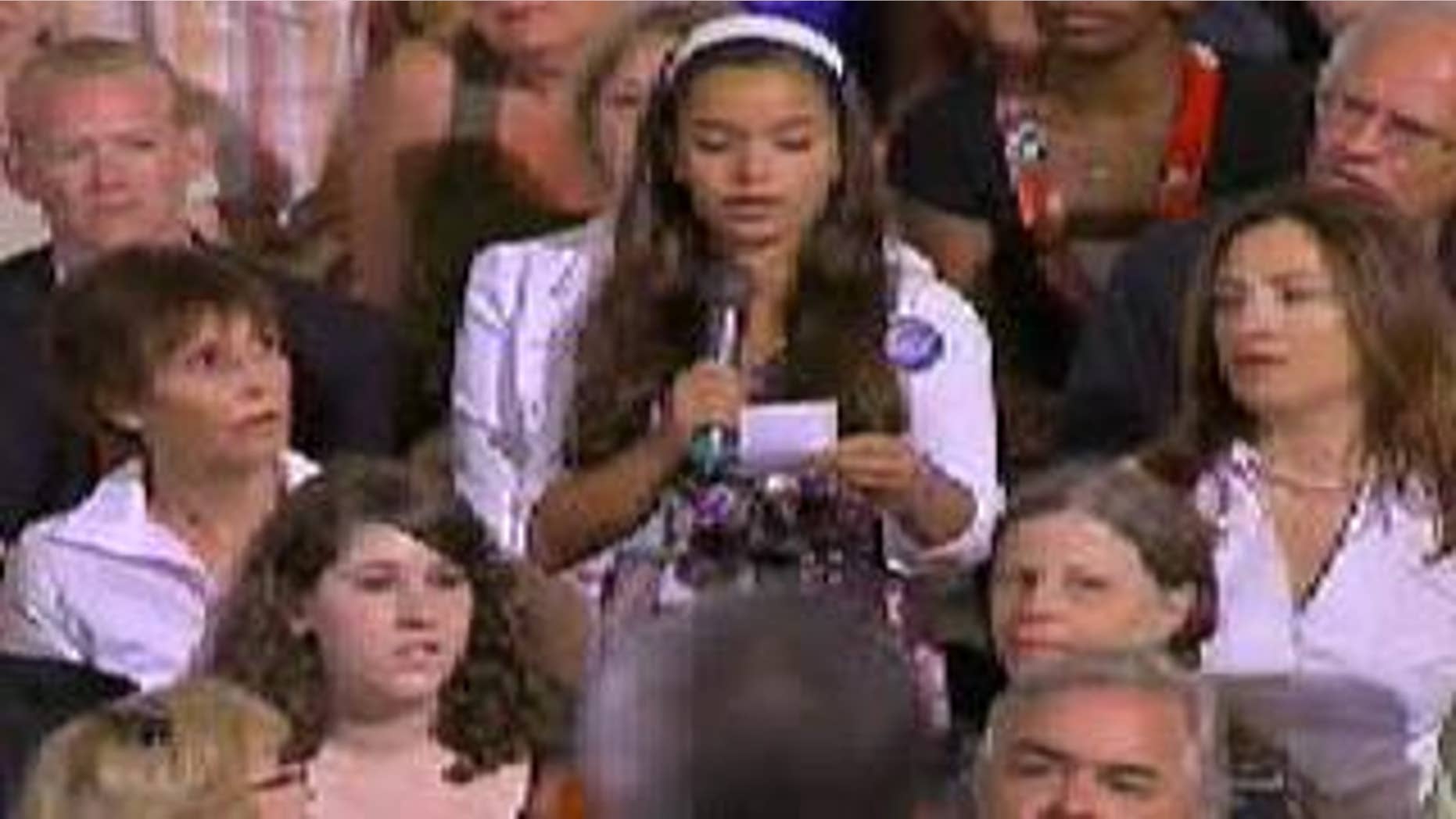 Facing a barrage of questions Wednesday over the friendliness of the audience at President Obama's New Hampshire town hall meeting, the White House insisted that all questions were selected at random -- including one from an 11-year-old girl whose mother worked as an Obama organizer.
Julia Hall of Malden, Mass., grabbed the microphone Tuesday during Obama's town hall meeting in Portsmouth, N.H., and told the president she saw signs "outside saying mean things about reforming health care" as she walked into the building.
"How do kids know what is true and why do people want a new system that can, that help more of us?" she asked Obama.
Kathleen Manning Hall, Julia Hall's mother and a coordinator of Massachusetts Women for Obama during the campaign, was seated next to the girl as she asked the question -- prompting some to question whether Obama recognized the girl or her mother.
But thousands of organizers worked for Obama during the campaign, White House spokesman Reid Cherlin said, dismissing suggestions that the president knew those who questioned him on Tuesday.
"The president selected questions at random, as he always does," Cherlin told FOXNews.com.
The friendliness of the audience at Obama's event was in stark contrast to the often rowdy and antagonistic crowds that attended similar events held around the country by members of Congress.
As an organizer and donor, Manning Hall had previously met first lady Michelle Obama, Obama daughters, Sasha and Malia, and Vice President Biden, according to a report published Wednesday in the Boston Globe. And her daughter also attended this year's White House East egg hunt, according to WCVB-TV, the ABC affiliate in Boston.
Manning Hall reportedly told the Boston Globe that she was "shocked" when her daughter said she wanted to ask the president a question -- and that the two wrote it down before the town hall meeting began.
Julia Hall's question at the town hall meeting prompted Obama to attempt to refute what he called the "underlying fear" among Americans "that people somehow won't get the care they need."
On Wednesday, White House Press Secretary Robert Gibbs acknowledged that many audience members were friendly to Obama's message, but he said the president chose questions at random. He reiterated the administration's earlier announcement that anyone could sign up for the free tickets through the White House Web site and said winners were picked "randomly by computer."
"The president asked people to raise their hands and he picks on them," Gibbs told reporters, adding, "I'm sensing your disappointment that he didn't get yelled at."