White House doubles down on John Kelly's 'empty barrel' slam: 'All hat, no cattle'
The White House on Friday stood by White House Chief of Staff John Kelly's criticism of Florida Democratic Rep. Frederica Wilson as an "empty barrel" even as the Democratic lawmaker says he misstated her past comments.
Sarah Sanders, the White House press secretary, said Kelly "absolutely" stands by his slam.
"As Gen. Kelly pointed out, if you're able to make a sacred act like honoring American heroes all about yourself, you're an empty barrel," Sanders said. "If you don't understand that reference, I will put it a little bit more simply as we say in the South, 'all hat, no cattle.'"
On Thursday, Kelly, during an emotional appearance in the White House press room, addressed the recent controversy involving President Trump's phone call to the family of an army soldier killed in Niger. Wilson has accused Trump of offending the family with his comments and Kelly said it was inappropriate for the lawmaker to listen in on the call.
During his remarks, Kelly also criticized Wilson by recalling her comments during the 2015 dedication of a FBI field office in Miramar, Florida.
He said Wilson "talked about how she was instrumental in getting the funding for that building, and how she took care of her constituents because she got the money, and she just called up President Obama, and on that phone call, he gave the money, the $20 million, to build the building, and she sat down."
Said Kelly: "And we were stunned, stunned that she'd done it. Even for someone that is that empty a barrel, we were stunned."
CLINTON PITBULL, MEDIA ATTACK KELLY AFTER HE DEFENDS TRUMP CONDOLENCE CALL
Wilson responded to Kelly's remarks by calling it a "lie."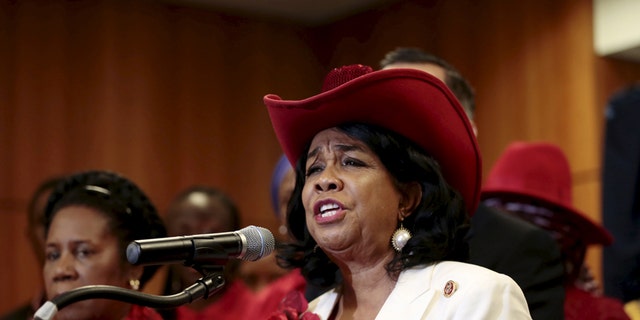 The Democrat said she wasn't in the House when the funding was secured, though she was in Congress during the 2015 dedication.
Video of that event released Friday by a Florida newspaper shows Wilson did not talk about the building's funding, but did talk up her own efforts getting legislation passed naming the building after the fallen agents.
Further, Wilson claimed that one of Kelly's terms for her – an empty barrel – was "racist," even though she also said she hadn't heard of an empty barrel before.
Pressed on the matter during Friday's press briefing, Sanders said Kelly was "stunned that Rep. Wilson made comments at a building dedication honoring slain FBI agents about her own actions in Congress, including lobbying former President Obama on legislation."
Speaking to a reporter, she said, "If you want to go after Gen. Kelly, that's up to you, but I think if you want to get into a debate with a four-star Marine general, I think that's something highly inappropriate."