When Good News is Bad: Unemployment Rate Drops as Workers Bolt Labor Force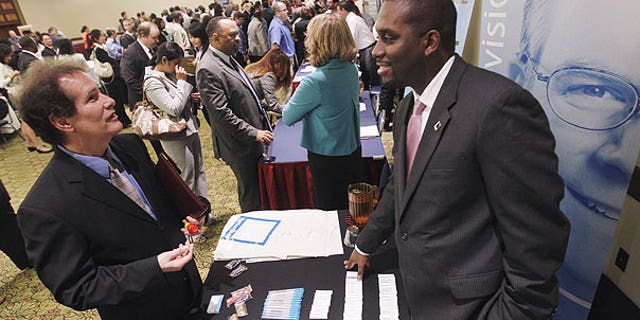 NEWYou can now listen to Fox News articles!
The Obama administration is touting 154,000 new private sector jobs in July, a number that provided some solace to official Washington. But Friday's Labor Department report gave analysts few positive indicators that the economy is on the rebound.
With the unemployment rate hovering at 9.1. percent, down one-tenth of a percent from June, the report showed 13.9 million unemployed people, 6.2 million who have been out of work for more than six months.
Also telling is the 63.9 percent of the civilian labor force -- or 153.2 million people -- that is working. That's the lowest ratio of employed-to-unemployed civilians since January 1984. The employment-to-population ratio hit 58.1 percent, the lowest percentage since July 1983.
"The participation rate going down makes the unemployment rate look better than it is, but it doesn't really say anything for the recovery," said Peter Morici, a professor at the Smith School of Business at the University of Maryland School.
According to the Bureau of Labor Statistics, 2.8 million people are "marginally attached" to the labor force, meaning they want to work and are able to work, but had stopped looking for a job four weeks ago or earlier. Of those, 1.1 million were "discouraged" workers, meaning they've just given up and didn't quit because they made personal decisions about school or family matters.
"It seems that once again the decline in the unemployment rate was driven by people leaving the workforce, rather than the creation of new jobs," Matt McDonald, a partner at Hamilton Place Strategies, a bipartisan policy and communications consulting firm in Washington, said in a statement.
McDonald noted that the the labor force dropped by 193,000 people and the number of people seeking employment dipped by 156,000.
"Today's jobs report bought time for policymakers in Washington and may marginally decrease concerns for a potential double-dip, but the unemployment situation across the country remains a slow-motion crisis that shows no signs of abating," McDonald said.
The White House says Friday's report offered plenty of good news. Private sector job growth adjusted upward in May and June, and growth had spanned a variety of sectors, including professional and business services, health care, retail trade, manufacturing, leisure and hospitality and construction.
"Manufacturing has added 289,000 jobs since the beginning of 2010, the best period of manufacturing job growth in over a decade. Meanwhile, state and local governments lost 39,000 jobs in July and have shed more than 400,000 jobs since the start of 2010," Council of Economic Advisers Chairman Austan Goolsbee wrote in a blog Friday, his last day with the administration.
But even Goolsbee said it's not enough.
"This report may be better than expected, but it's still a call to action," Goolsbee told Fox News.
Speaking at the Navy Yard in Washington about government assistance to veterans transitioning to jobs at home, President Obama said July marks the 17th month in a row of job growth in the private sector. But he too acknowledged the distance the job market needs to travel.
"We have to create more jobs than that each month to make up for the more than 8 million jobs that the recession claimed. We need to create a self-sustaining cycle where people are spending and companies are hiring and our economy is growing. We know that will take some time," he said.
Morici said based on his calculations, in order to bring the unemployment rate down to 6 percent over the next 36 months, 13.9 million new jobs will need to be created. He noted the irony that adding 13.9 million jobs -- the number of currently unemployed -- won't bring the unemployment rate to zero.
"Two things happen as you go through the 36 months, you get more people and the participation rate will go up again," he told FoxNews.com.
McDonald said his firm has been calculating that it would take 255,000 jobs per month, including Friday's report, to get to an 8 percent unemployment rate by Election Day 2012.
Since that goal didn't happen, the number has risen to 272,000 jobs.
"Given the difficulty of reaching that number on a consistent basis going forward, HPS is also beginning this month to track progress toward a more modest 8.5 percent unemployment by Election Day 2012. This would require the creation of 220,000 jobs on a monthly basis going forward," he said.
Morici said the decline in the labor force rate may be attributable to several factors, including expired benefits or households living off single incomes of a higher earning spouse. As with any prolonged "hidden unemployment," that results in additional pressures on other benefits provided by government, he added.
"People that are not employed put more of a drain on other resources," Morici said, describing the hidden unemployed as "people who have just dropped out, who have some resources to pull on, but can still access government resources."