Employers Add 117K Jobs in July, But Economic Tensions Remain High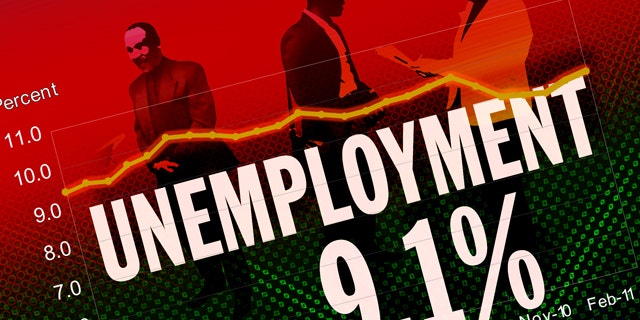 NEWYou can now listen to Fox News articles!
WASHINGTON – Employers added a net 117,000 jobs to the economy in July, but that did little to quell anxiety over a worsening economic outlook fueled by a roller-coaster day of trading Friday following a massive Wall Street sell-off a day earlier.
The jobs report on Friday actually turned out better than analysts predicted, though payroll coordinator ADP had projected 114,000 private-sector jobs. After opening with a brief rally, the market slid back into negative territory within a half hour. By midday, Wall Street gains wildly fluctuated, with the Dow falling by more than 100 points before recovering its losses.
President Obama sought to put a positive spin on the report, noting that the private sector has added jobs for 17 consecutive months, creating nearly 2.5 million jobs. But he acknowledged it wasn't enough.
"We have to create more jobs than that each month to make up for the more than 8 million jobs that the recession claimed," he said in a speech to Washington's Navy Yard."We need to create a self-sustaining cycle where people are spending and companies are hiring and our economy is growing. And we know that will take some time."
In actuality, businesses added 154,000 jobs across the board, but governments cut 37,000 jobs last month. However, 23,000 of those losses were almost entirely because of the temporary shutdown of Minnesota's state government.
Still, while the unemployment rate dropped one-tenth of a percentage to 9.1 percent, that was attributed to people stopping their hunt for work, effectively removing them from labor rolls. Likewise, the economy needs twice as many net jobs per month to rapidly reduce unemployment. The rate has topped 9 percent in every month except two since the recession officially ended in June 2009.
Immediately, political spheres of influence headed to their typical corners.
"As another month of dismal job growth passes and worldwide market panic intensifies, politicians in Washington continue to act as spectators to our great nation's economic freefall. We can and must do better," said SEIU International President Mary Kay Henry. "Instead of killing jobs with more cuts, we need politicians to end the tax giveaways and loopholes for CEOs and big corporations -- and use that money to invest in jobs that allow our families to realize our own, new American Dream."
"Fears of another recession in the U.S., a jittery stock market, and a worsening debt crisis in other countries are adding to the uncertainty that many small businesses face. It is imperative that we work together to help the private sector grow and lead us to economic strength," said House Small Business Committee Chairman Sam Graves, R-Mo.
The report follows a string of gloomy data that shows the economy has weakened.
The economy expanded at a meager 0.8 percent annual rate in the first six months of this year, the slowest pace since the recession officially ended. Manufacturers are barely growing. Service companies are growing at the weakest pace in a year and a half. Consumers cut spending in June for the first time in 20 months, and they saved more.
High gas prices and scant wage increases have squeezed U.S. consumers this year. And consumer spending accounts for 70 percent of economic activity.
Businesses have responded by cutting hiring after a strong start in which they added an average of 215,000 jobs a month from February through April.
But the government revised the previous two months' totals to show hiring wasn't as weak as first estimated. The economy added 53,000 in May, up from an earlier estimate of 25,000, and 46,000 in June, up from 18,000. June's total was still the weakest in nine months.
"The economy is still very weak, but it appears that some of the headwinds we were bucking earlier this year are dissipating," said U.S. Chamber of Commerce Economist Martin Regalia. "
These numbers suggest that while we are not out of the woods, we are not already in a recession."
Hiring in July was broad-based. Manufacturers added 24,000 jobs in July, as auto companies laid off fewer workers in July than usual. Retailers hired a net total of 26,000 employees. Employment in health care grew 31,000. Hotels and restaurants added 17,000.
The Associated Press contributed to this report.