What the cease-fire means to Israel and Hamas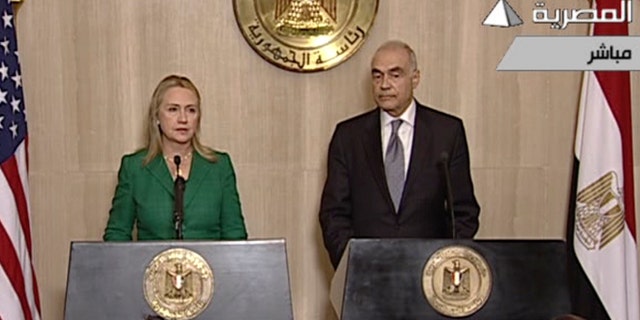 The White House was quick to credit President Obama for brokering the cease-fire deal between Israel, Egypt and in turn, Hamas. In the official statement released by the White House Wednesday, it said "The President commended the Prime Minister [of Israel] for agreeing to the Egyptian cease-fire proposal -- which the President recommended the Prime Minister do."
Obama sent Secretary of State Hillary Clinton at the last minute to broker the deal as 30,000 Israeli troops sat poised to enter the Gaza Strip, even though State Department officials said Tuesday that Clinton was not carrying any proposals. Clinton spent 24 hours shuttling between Jerusalem, Ramallah and Cairo putting the final touches on a deal that Hamas had agreed to with Egypt 24 hours before.
In fact, Hamas spokesmen had leaked to the press that the cease-fire would begin at 9 p.m. local time on Tuesday, but that was before Clinton had landed in Jerusalem. It would take another 24 hours for the deal to be finalized. In the meantime, just hours before the cease-fire was formally announced, a Palestinian placed a bomb on a Tel Aviv bus, injuring more than 24 Israelis. It was the first terror attack in Tel Aviv since 2006. Hamas praised the bombing, but did not take responsibility. Israel did not respond, a break from its usual belief that a strong response to terrorism provides deterrence.
Israel's Prime Minister Benjamin Netanyahu addressed skeptics Wednesday, many of whom wondered whether Israel had completed its goal of degrading Hamas' Iranian supplied rockets and why Israel did not respond to the first terror attack in Tel Aviv since 2006.
Netanyahu hinted that a ground invasion wasn't off the table if the cease-fire didn't hold. Five rockets were fired from Gaza in the first 3 hours after the truce began. "No country can tolerate a wanton attack on its civilians," Netanyahu said today in reference to the verbal agreement with the United States. There was no written agreement.
"Now, if there is a possibility of achieving a long-term solution to this problem through diplomatic means, we prefer that," Netanyahu added. "But if not, I am sure you understand that Israel will have to take whatever action is necessary to defend its people."
The next 24 hours is a cooling off period. But the difficult work remains: the implementation of a "durable solution," as Secretary of State Hillary Clinton herself indicated. The durable solution is ending the smuggling of Iranian weaponry and long and medium range rockets through Egypt's Sinai desert and through the handmade tunnels into Gaza. There was no talk of disarming Hamas or preventing the re-arming of Hamas following Israel's 1,500 airstrikes on the Palestinian armaments, weapons factories and tunnels.
The deal elevates Iranian proxy groups such as Islamic Jihad and Popular Resistance Committees who can serve as spoilers and decide to fire more rockets into Israel. It gives these spoilers a great deal of power.
The U.S. goal, however, appears to have been met: to make Egypt responsible for the actions of Hamas. "The goal must be a durable outcome that promotes regional stability and advances the security and legitimate aspirations of Israelis and Palestinians alike," Clinton said in Cairo. "We appreciate President Morsi's personal leadership and Egypt's efforts thus far.
Egypt's president, a member of the Muslim Brotherhood, now will be held accountable if Hamas or anyone else fires rockets from Gaza into Israel. On the line is $1.5 billion dollars in U.S. aid to Egypt.
Hamas leader Khaled Meshaal in a press conference late Wednesday said that as part of the deal Israel has agreed to ease control of all Gaza's border crossings, including its sea routes. But diplomatic sources tell Fox News that Israel has not agreed to end its maritime blockade of Gaza and it will continue to search ships as they approach Gaza's coast. In other words, all ships that want to approach the Gaza coast are still subject to search and seizure. And security at the border crossings into Israel will not be eased, according to sources familiar with the talks. Dual use items such as aluminum tubes won't be allowed in and there is no agreement allowing Palestinians from Gaza to enter Israel.
The timing of this truce really elevates Hamas as a power player as opposed to an underground terror movement. In fact, its spokesman Osama Hamdan lived in Tehran in 1994 when Hamas carried out its first bombing of a Tel Aviv bus on Dizengoff Street, killing 22 Israelis. I remember because I interviewed him there. He was a guest of Tehran. Now Hamas and Hamdan 18 years later is the point of contact when Israel and the U.S. want a cease-fire.
It's interesting to note that Israel is not removing the Iron Dome anti-missile batteries just yet. As a sweetener, President Obama offered to provide more U.S. aid to Israel for its Iron Dome missile defense.
"The President said that he was committed to seeking additional funding for Iron Dome and other U.S.-Israel missile defense programs," according to Prime Minister Netanyahu.
Finally, when she shuttled to Ramallah, Clinton did not receive assurances from President Mahmoud Abbas that the Palestinians would no longer go to the U.N. General Assembly and request observer status on November 29 -- one way that the Palestinians would get their aspiration to statehood recognized. After all, this issue of Palestinian recognition is the issue that serves as the backdrop to the current escalation of violence.
Jennifer Griffin has lived in Jerusalem and has covered the conflict for Fox News from 1999-2007. Along with her husband, Greg Myre, she is the co-author of "This Burning Land: Lessons from the Frontlines of the Transformed Israeli-Palestinian Conflict."