Watch it, Marty: Team Hillary said to put O'Malley on notice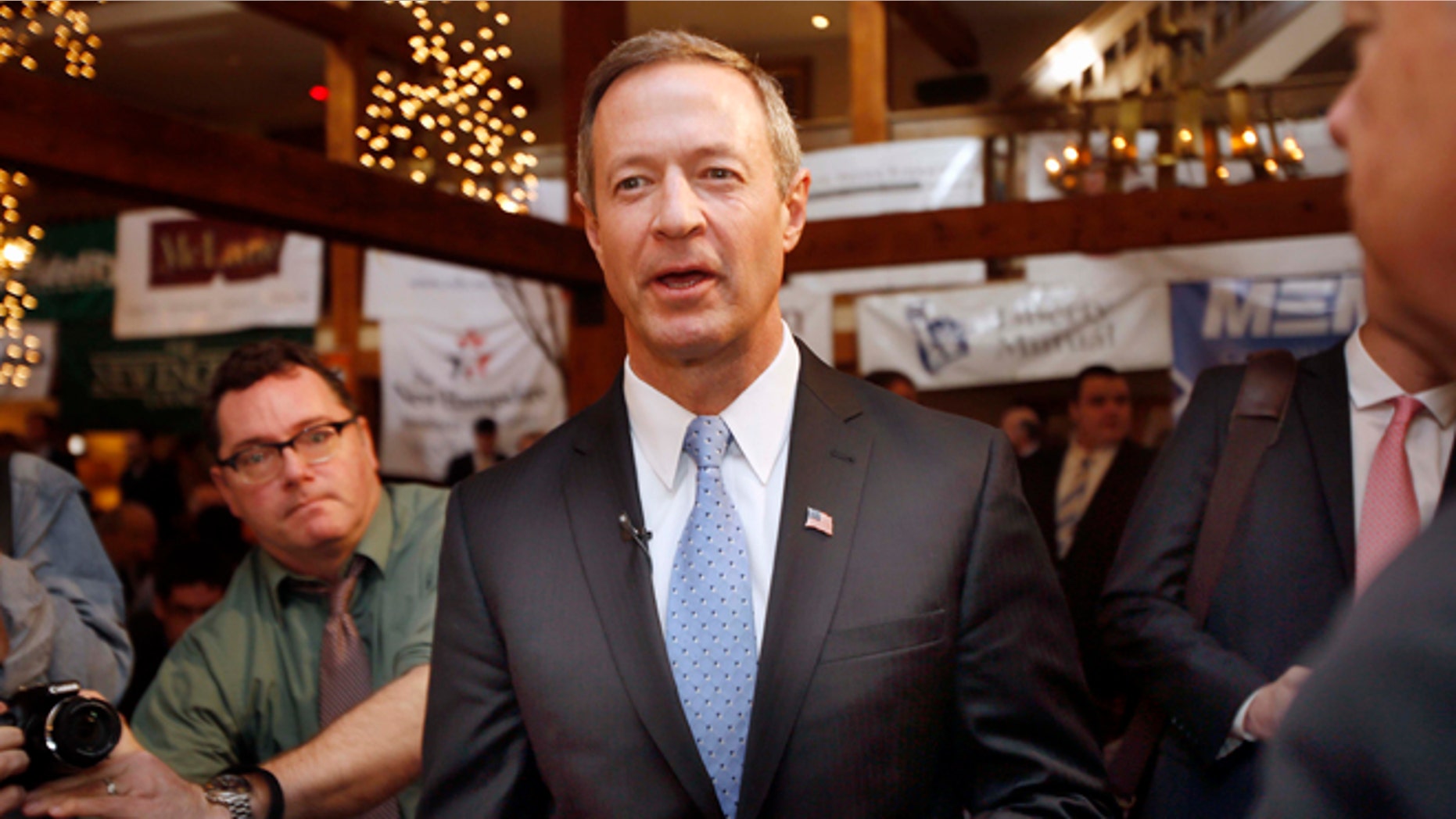 **Want FOX News First in your inbox every day? Sign up here.**
Buzz Cut:
• Watch it, Marty: Team Hillary said to put O'Malley on notice
• Power Play: Sixteeners struggle with Faith, Freedom
• McCain backs Graham bid, balks at Bush
• Iran deal gets wary response
• So you're not here for the ham Croissan'wich, then?
WATCH IT, MARTY: TEAM HILLARY SAID TO PUT O'MALLEY ON NOTICE
Byron York reports that the Clinton campaign has put long-shot Democratic presidential hopeful Martin O'Malley on notice: "Recently, a representative from the Hillary Clinton camp delivered a message to Martin O'Malley, the former Maryland governor preparing to challenge Clinton for the 2016 Democratic nomination. I have some good news and some bad news, the messenger said…The good news is we're taking you seriously, the messenger answered. And the bad news is…we're taking you seriously. The undertone of threat was unmistakable, but anyone who takes on Clintonworld has to expect that…'They are the most petty, vengeful people out there,' says one Democrat of the Clinton organization. 'They hold a grudge for decades. I don't think he [O'Malley] expected them to welcome him with a fruit basket.'"

Partisan divide on email scandal - Fox News polling maestra Dana Blanton writes: "Voters have mixed views over whether Clinton did something wrong by using a personal email account and server instead of the government's email system. Nearly half think she broke the law (28 percent) or did something unethical (19 percent). The other half feel Clinton just used bad judgment (32 percent) or didn't do anything wrong (19 percent). … Overall, only 11 percent of voters think Clinton should be the one to decide which emails should be turned over to the government. Most people say an independent mediator should decide (34 percent) or she should be required to turn over all the emails (51 percent)."

Do they have servers? - Team Clinton is inching closer to launching an official campaign as staffers for the sanctioned super PAC, Ready for Hillary, are ready to move on to campaign positions and all remaining merchandise from the organization is being heavily discounted.

POWER PLAY: SIXTEENERS STRUGGLE WITH FAITH, FREEDOM
Amid recent controversy over an Indiana religious freedom law, The Weekly Standard's Michael Warren and Washington Free Beacon eminence Matthew Continetti join Chris Stirewalt to discuss how religious liberty and other social issues will shape the Republican 2016 presidential field. WATCH HERE.

[In the latest Fox News poll, Gov. Scott Walker, R-Wis., leads among Republican voters with 15 percent while former Gov. Jeb Bush sits in second at 12 percent. Knotted close behind are Ben Carson, Ted Cruz, Mike Huckabee, Rand Paul and Marco Rubio.]

Walker: 'I just think this is people who are chronically looking for ways to be upset about things' -  Milwaukee Journal-Sentinel: "Wisconsin Gov. Scott Walker told a conservative crowd this week that people around the country protesting Indiana's religious freedom law are 'looking for ways to be upset about things.'…Walker, who is ramping up a run for the presidency, dismissed the controversy Wednesday night as part of 'Insight 2015,' a live taping of Charlie Sykes' WTMJ-AM (620) program. 'I just think this is people who are chronically looking for ways to be upset about things instead of really looking at what it is,' Walker said. Blaming the national media for creating 'hype and hysteria' over the Indiana law, Walker noted Wisconsin's constitution has long included a provision for religious freedom. Indiana's law is similar to a federal statute and ones approved by other states, Walker said."

Cruz ads target faithful on Easter - AP: "Republican Ted Cruz's presidential campaign is buying television advertising time on Easter Sunday in several early voting states, a Democrat who tracks television spending said Thursday. Cruz has reserved ad time during NBC's 'A.D.: The Bible Continues' that will reach most voters in Iowa and South Carolina, as well as Nevada's most populous media market. The advertising plan skips New Hampshire, the most secular state among the first four states that weigh in on presidential nominees…The ad buy is the latest clear signal that Cruz plans a strong courtship for Christian voters, who have great sway in picking Republicans' presidential nominee. Two Cruz spokespeople declined to comment about the advertising…It was not immediately clear whether that was the message Cruz would promote in his Easter Sunday ads."

[Cruz hits South Carolina for a two day swing beginning today.]

Huck-a-PAC - Fox News: "Mike Huckabee supporters have launched a super PAC, which could boost the former Republican Arkansas governor should he decide to run for president a second time. The PAC, called Pursuing America's Greatness, would be able to raise uncapped funds to support the 2008 Iowa caucuses winner as he tests the presidential waters, including by paying for some of his travel and PAC staff… Pursuing America's Greatness PAC will be run by Iowan Nick Ryan, a GOP operative who is based in Iowa and who previously supported former Pennsylvania Sen. Rick Santorum in 2012.

Calling them to the pond - Gov. Bobby Jindal, R-La., is speaking at the Good Friday Prayer Breakfast in Cedar Rapids, Iowa today along with Willie Robertson of "Duck Dynasty."

#mediabuzz - Host Howard Kurtz and his guests, including investigative reporter Sharyl Attkisson, explore the media maelstrom around Indiana's religious freedom law. Watch "#mediabuzz" Sunday at 11 a.m. ET, with a second airing at 5 p.m.

MCCAIN BACKS GRAHAM PRESIDENTIAL BID, BALKS AT BUSH
Sen. John McCain, R-Ariz., said he would "absolutely" back his friend Sen. Lindsey Graham, R-S.C., if Graham opts to make his White House run official. The answer could be a boon to Graham not only in his home state's 2016 primary but also in New Hampshire. McCain heaped praise on his traveling buddy and fellow national security hawk during a forum on counterterrorism and national security in Denver that was moderated by Fox News' Chief White House Correspondent Ed Henry. McCain, who fought a brief duel with George W. Bush in the 2000 election, expressed concern about another president named Bush, "I am not sure whether the Republicans who are voting in the primary want another Bush…the onus will be on [Jeb Bush] that he has to convince people to have another Bush."

[Graham has added two South Carolina campaign veterans to his Security through Strength PAC, Shell Suber as state political director and Caroline O'Neal as state finance director.]

WITH YOUR SECOND CUP OF COFFEE...
For most of the world's 2.2 billion Christians, Judas Iscariot is having his annual moment in the spotlight – and it's not exactly a star turn. Judas, the apostle whom Christians believe betrayed Jesus to religious elders out of a mixture of greed and resentment, is one of the arch villains of human history. Even after two millennia, the name Judas is synonymous with treachery, as is the kiss he sought to give Jesus to identify him to the arresting authorities. Even the traitor's price, '30 pieces of silver' (a sum roughly equal to four month's wages for a skilled worker) is widely recalled. But a new book from Peter Stanford asks Christians and non-believers alike to look anew at Judas. It chronicles the hatreds, often anti-Semitic in nature, that were cultivated around Judas and contrasts the subsequent mythology with the historical and Biblical record. When it was uncomfortable for Christians to think of their God going willingly, even meekly, to death, Judas made a convenient scapegoat.

While Stanford finds much fault in Christendom, he settles on the cornerstone of the faith: Forgiveness. Stanford writes: 'In Matthew, straight after the Judas kiss, Jesus tells his betrayer: 'My friend, do what you are here for' (26:50). And in John's account of the Last Supper, once Jesus has identified Judas as the one who will betray him, he tells him: 'What you are going to do, do quickly'(13:28).  Contrary to two millennia of remorseless official vilification and scapegoating, these two brief remarks surely indicate that Jesus knew all too well that Judas was playing his anointed role in God's plan. It was not a task to win him fans, or a halo, but equally is hardly sufficient to tar him ever after as 'the most hated name in human history'."

Got a TIP from the RIGHT or LEFT? Email FoxNewsFirst@FOXNEWS.COM

POLL CHECK
Real Clear Politics Averages
Obama Job Approval: Approve – 45.6 percent//Disapprove – 49.9 percent
Direction of Country: Right Direction – 30.5 percent//Wrong Track – 60.8 percent

IRAN DEAL GETS WARY RESPONSE
Team Obama's excitement over a deal to make a deal on Iran's nuclear program met copious response from allies and critics alike. As the president now embarks on a hard sell to lawmakers and anxious allies, members of his own party expressed wariness of a bargain the Washington Post says falls "Far Short" of Obama's own goals. Guarded support came from key Senate Democrats like Minority Leader Harry Reid and Maryland's Ben Cardin, top Democrat on a Senate panel pushing for Congressional approval of an agreement on Iran nukes. Presumptive Democratic nominee Hillary Clinton wrapped her praise of the deal as "an important step" in a politically protective "devil is always in the details" blanket. Most Republicans weren't as circumspect, blasting the framework agreement and renewing demands for Congress to have its say.

SIXTEENERS RESPOND
Jeb Bush - "Nothing in the deal described by the administration [Thursday] would justify lifting U.S. and international sanctions, which were the product of many years of bipartisan effort. I cannot stand behind such a flawed agreement."
Scott Walker - Walker's Our American Revival PAC posted a statement saying the president is walking away from his own red lines. "By leaving Iran as a nuclear threshold state, President Obama's deal with the Supreme Leader risks provoking a nuclear arms race in the most volatile region of the world, one that threatens the survival of our closest regional ally Israel and our key Arab partners."

Ted Cruz - Speaking to a crowd in Des Moines Thursday, Cruz called it a bad deal with a regime that can't be trusted. "Everything that's been released so far suggests that this deal will dramatically undermine the national security of the United States"

Marco Rubio - In a statement, the defense hawk called the deal failed diplomacy: "I fear it will have devastating consequences for nuclear non-proliferation, the security of our allies and partners, and for U.S. interests in the region"

Carly Fiorina - In an op-ed for Fox News Opinion written with retired Lt. Gen. Michael Flynn, former head of the Defense Intelligence Agency, Fiorina says the deal poses a grave threat to American security at home and abroad.

Rick Perry – Perry responded via Twitter: "Americans and our allies are right to be wary of a nuclear deal w/ Iran that is riddled with concessions by the Obama Administration."

Mike Huckabee - In a statement to Breitbart: "We should be tightening our grip with the current sanctions not abdicating to the Ayatollah's interests."

Rick Santorum - From an interview with radio host Hugh Hewitt "[Y]ou scratch your head and you wonder what the President is thinking when he believes someone who has never kept a deal, who has always had secret facilities that have not, the world has not known about, that somehow or another they're going to transform itself because Barack Obama is the one negotiating across the table from them."

Ben Carson - In a statement to Bloomberg: "Over the past few months of negotiations, it is the Iranian side which has achieved the most after all of the talks. Only a framework for a future potential deal has been achieved, while the Iranians have simultaneously increased their capability to enrich uranium."

No word - At publication time, there are no reports of reaction to the Iran deal from Rand Paul, Chris Christie or John Kasich.

["Fox News Sunday with Chris Wallace" welcomes Senate Foreign Relations Committee Chairman Bob Corker, R-Tenn., to discuss the latest developments with the Iran nuclear deal. 2 p.m. and 6 p.m. ET on the Fox News Channel. Check local listings for air times in your area.]

Slow surrender - Calling the Iran deal framework "a slow-motion surrender to a ruthless dictatorship," the Republican conservative group American Legacy PAC is releasing an ad today that visually compares President Obama's negotiating tact to that of Neville Chamberlain. "In a dangerous world it's time for leadership, not surrender" the ad says.

POWER PLAY: A FULL PLATE FOR CONGRESS
Budget and debt ceiling deadlines. ISIS and Iran. There's a lot on the table for Congress when they return. Chris Stirewalt sits down with Michael Warren of The Weekly Standard and The Washington Free Beacon's Matthew Continetti to discuss whether lawmakers can do what needs to be done without splitting their seams. WATCH HERE.

EASTER SUNDAY WITH MR. SUNDAY
Cardinal Donald Wuerl, the Roman Catholic archbishop of Washington, joins Chris Wallace this Easter Sunday to talk about the state of faith. Plus, nearly three and a half years after the earthquake rocked Washington area, the first phase of repairs has wrapped at the National Cathedral. Head stonemason Joe Alonso gives a behind-the-scenes tour of the completed work and what's still to come. "Fox News Sunday with Chris Wallace" airs at 2 p.m. and 6 p.m. ET on Fox News. Check local listings for air times in your area.

SO YOU'RE NOT HERE FOR THE HAM CROISSAN'WICH, THEN?
WTAE reports that police in Somerset County near Pittsburgh had their hands full with an unwelcome patron at the Burger King on Route 30 near Boswell. JJ Nichols, a Burger King employee, said, "I came around the corner around 5 a.m. behind us. I saw a black pig just sitting behind our door. I wasn't sure what it was. I was kind of scared." The menacing pig wandered over from a nearby farm, "We definitely do [see animals]. But I've never seen a pig," Nichols said. The pig left his mark with snout prints left behind on the glass door to the restaurant. The pig was eventually reunited with his owner but not before biting a female customer who refused treatment.

AND NOW, A WORLD FROM CHARLES…
"Iran is promised a total lifting of sanctions. That's UN, EU, United States, everywhere…they get their economy back and that's all they really wanted, but the second, the most astonishing thing is that in return they are not closing a single nuclear facility. Their entire nuclear infrastructure is intact." —Charles Krauthammer on "Special Report with Bret Baier" Watch here.

Chris Stirewalt is digital politics editor for Fox News.  Want FOX News First in your inbox every day? Sign up here.