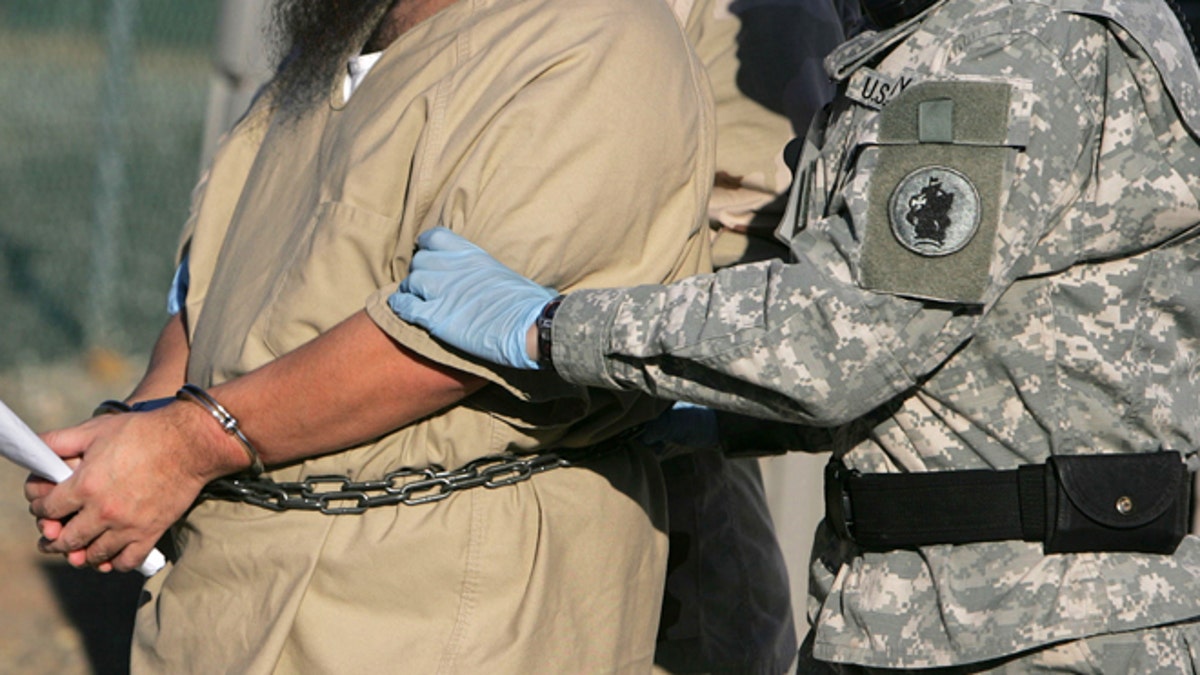 A detainee at the U.S. prison in Guantanamo Bay, Cuba, is being returned to his home in Saudi Arabia where he will take part in a program to rehabilitate militants, according to the Pentagon.
Muhammad al-Zahrani was released Saturday, based on the conclusion of a U.S. government board that has been re-evaluating the need to continue holding the roughly 142 men held at the facility.
The facility was created in the aftermath of the 9/11 terror attacks to get people with strong evidence of ties to terror groups off battlefields.
The release of al-Zahrani follows the release Wednesday of five other prisoners, as part of the Obama administration's renewed effort to close the detention center at the U.S. Navy base in Cuba.
It also follows the controversial release in May of five Taliban detainees in exchange for Army Sgt. Bowe Bergdahl. One of the primary criticisms of the deal is that the detainees -- after being sent to Qatar where they will stay for a year -- is they will likely return to terror-related groups.
Al-Zahrani, who is about 45, had been held at Guantanamo since August 2002, according to military records. A report by the Periodic Review Board said he traveled to Afghanistan in 1999 and "almost certainly" joined al Qaeda, trained in military tactics and fought the Northern Alliance.
His lawyers, in a statement to the board, described him as a "middle-aged, ailing man who desperately wants to return to Saudi Arabia."
They said his father died while he was in U.S. custody and "his only wish is to see his ailing mother before she passes away."
The board cleared him for release in October, citing a number of factors including his willingness to participate in the Saudi rehabilitation program. He left Guantanamo on Friday.
Al-Zahrani is the 13th prisoner to leave Guantanamo Bay this year and the seventh in just the past two weeks. Officials have said more prisoners will be released in the coming weeks as part of a renewed effort to close the site. Seventy three are already cleared for release.
Of the five prisoners releases earlier this week, three were sent to Georgia and two to Slovakia for resettlement.
The prisoners -- four Yemenis and a Tunisian -- also were among dozens of low-level prisoners at Guantanamo that an administration task force in 2009 deemed to no longer pose a threat. There are now about 100 fewer detainees at the facility, compared to when President Obama took office roughly six years ago.
Obama's vow to close Guantanamo was thwarted by Congress, which prohibited sending any prisoner to the U.S. and imposed restrictions that brought releases to a halt.
Congress eased the transfer restrictions last December, and releases have resumed. State Department envoy Clifford Sloan has been trying to persuade countries to accept prisoners, and he praised Georgia and Slovakia.
"We are very grateful to our partners for these generous humanitarian gestures," Sloan said. "We appreciate the strong support we are receiving from our friends and allies around the globe."
Georgia took three prisoners from Guantanamo in 2010. Slovakia has taken a total of eight men from Guantanamo.
The release of the three Yemeni prisoners, the first of that nationality to be resettled since 2010, was unusual because the U.S. has been reluctant to send them to their unstable homeland and has struggled to find alternatives. They make up the majority awaiting transfer.
California GOP Rep. Howard "Buck" McKeon, chairman of the House Armed Services Committee, called for a halt to the transfers because of the potential that some former prisoners could pose a threat.
"What the Obama administration is doing is dangerous and, frankly, reckless," he said.
Of the 74 prisoners cleared and awaiting resettlement, 36 have been designated for detention without charge. There are also 23 slated for prosecution and 10 either facing trial by military commission or who have been convicted or sentenced.
The Associated Press contributed to this report.