Uncovered Portions of Blacked-Out Subpoena Suggest Obama Advised Blagojevich on Senate Replacement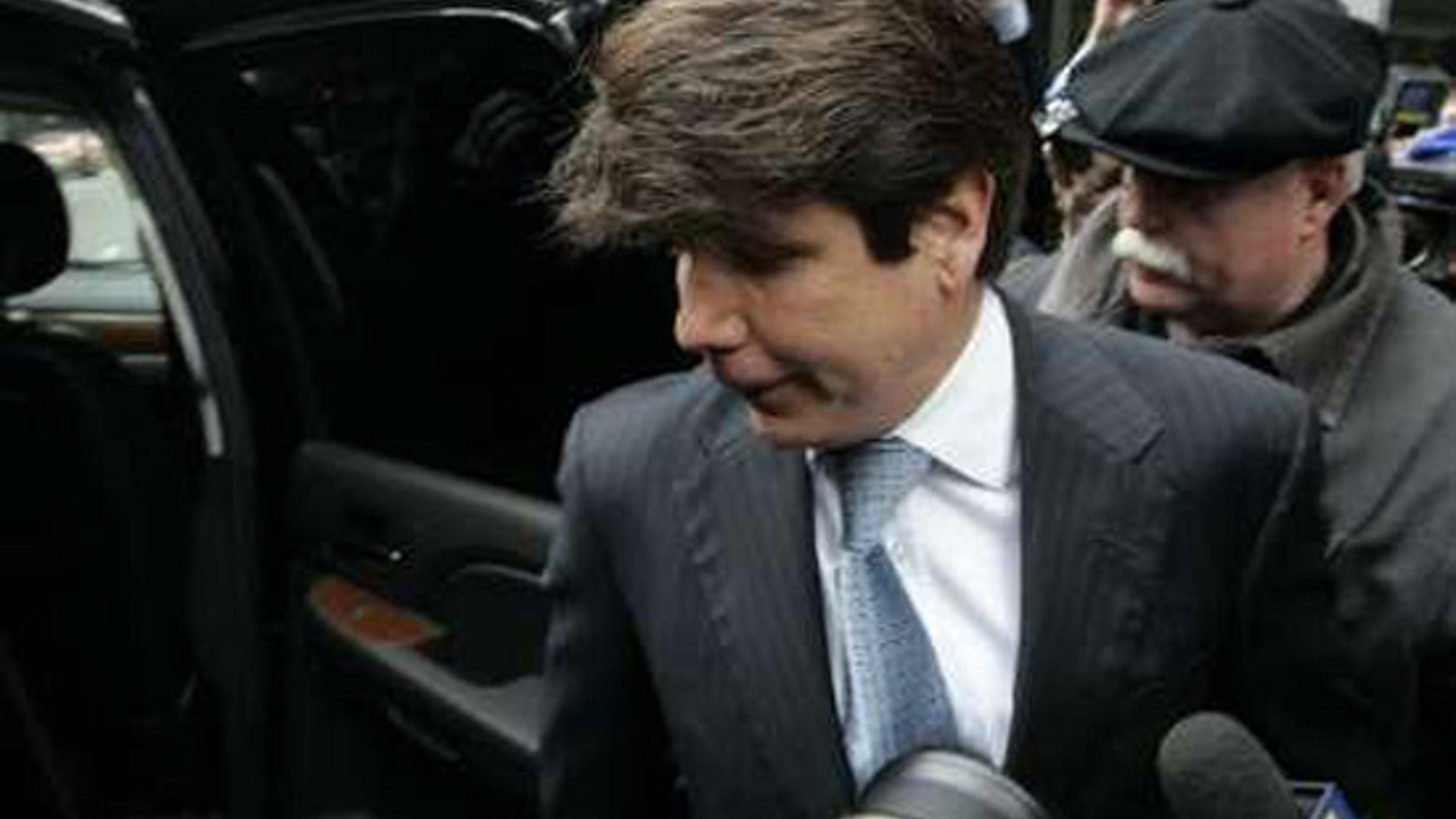 CHICAGO -- The blacked-out portions of a subpoena request filed by lawyers for former Illinois Gov. Rod Blagojevich -- which were revealed through a simple computer trick -- suggest President Obama may have played a role in finding his own Senate replacement.
On Thursday, Blagojevich's lawyers asked a federal judge to subpoena the president to testify about questions surrounding the government's allegation that Blagojevich was selling or trading Obama's Senate seat after his election to the White House in November 2008.
"President Barack Obama has direct knowledge of the Senate seat allegation," reads Blagojevich's 11-page motion, filed with U.S. District Judge James B. Zagel.
The court erred when it posted the motion in a pdf file with redactions that could be revealed simply by copying and pasting the blacked-out portions to a plain text file.
Blagojevich attorney Sheldon Sorosky brushed off the error, telling Fox News that he didn't know how the redacted file became viewable, and blaming it on a "low tech guy."
Some news outlets captured the file, which was later removed from the court's website.
Click here to read the motion.
Among the blacked-out portions are paragraphs about what the attorneys say was Obama's role in suggesting two candidates for the seat he vacated when he was elected president. The uncovered portion states that even though Obama said in December 2008 that no representative of his had any part in any deals, Blagojevich met with a labor union official who said he was in contact with Obama on Nov. 3, 2008, and had suggested his adviser Valerie Jarrett be appointed to the Senate seat.
That unnamed official told the FBI and the United States attorneys that "Obama expressed his belief that [Senate Candidate B] would be a good senator for the people of Illinois and would be a candidate who could win re-election," the subpoena reads. Jarrett is known to be Senate Candidate B.
The subpoena contends that Senate Candidate B spoke with the labor union official about the Senate seat, and the labor union official told Obama the official "was going to meet with Blagojevich and said he was going to push Blagojevich hard on this."
Blagojevich said that the labor union official was "very explicit" about his conversation with Obama.
Meanwhile, "a supporter of Presidential Candidate Obama" suggested she talked to Blagojevich's wife about Jarrett and "mentioned in a phone call on November 3, 2008, having offered 'fundraising' in exchange for Senate Candidate B for senator."
The redacted portions of the subpoena also say that Obama Chief of Staff Rahm Emanuel spoke with Blagojevich aide John Harris on Nov. 12, 2008, and Harris took notes from that conversation that Obama approved of Senate Candidate A.
"President's chief of staff told the FBI that 'he could not say where but somewhere it was communicated to him that' Senate Candidate A was a suggested candidate viewed as one of the four 'right' candidates 'by the Obama transition team.'" That message was conveyed to Blagojevich on the same day.
The blacked-out portion adds that Emanuel called Harris again on Dec. 8 and later told the FBI that Obama said on Dec. 7 that he was concerned about Senate Candidate D being appointed.
News reports list Senate Candidate D as a deputy governor to Blagojevich.
Emanuel then is said to have "suggested they might need an expanded list to possibly include names of African Americans that came out of the business world. [President's Chief of Staff] thought he suggested Senate Candidate E who was the head of the Urban League and with President's Chief of Staff's suggestion."
Blagojevich's attorneys argued that Obama "has direct knowledge to allegations made in the indictment. In addition, President Obama's public statements contradict other witness statements, specifically those made by labor union official and Senate Candidate B.
"There are two conflicting stories and the defense has the right to admit evidence that contradicts the government's claims. Only President Obama can do this," the subpoena request reads, noting that Obama and Blagojevich spoke on Dec. 1 at an event in Philadelphia.
On Friday, the White House Press Secretary Robert Gibbs would not entertain question about possible Obama actions and would not identify anyone in the White House or an outside attorney who would handle the matter.
The attorneys write in the subpoena request that they acknowledge that portions are sealed to comply with a protective order issued on April 14, 2009, but repeated that "it is the defense's position that all tapes and sealed information be made public. ... The defense, however, urges this court unseal the entire motion."
It would be extraordinary if a sitting president were subpoenaed to take the witness stand in a Chicago political corruption trial or any criminal trial. Judge Zagel has not indicated how he might respond to the unusual request.
After the redacted portions of the document were revealed, federal prosecutors immediately had the document pulled from the publicly available portion of the court's docket, and Zagel called an emergency meeting with prosecutors and Blagojevich attorney Sorosky in his chambers.
Sorosky told Fox News that the meeting had "nothing to do" with the subpoena, but he would not disclose the purpose of the meeting.
"Not a big deal , it was just a meeting," he said.
Defense attorney Michael E. Ettinger, who represents the former governor's brother and co-defendant, businessman Robert Blagojevich, said he was not surprised by the unusual motion filed by Blagojevich attorney Sam Adam, a fixture among Chicago defense attorneys known for his flamboyant rhetoric.
"This is what he does," Ettinger said. "I've been working with him for 40 years, and he's sharp as a tack."
Zagel has scheduled the trial to get under way June 3.
Lawyers for Blagojevich also subpoenaed Sen. Dick Durbin. A spokesman for the Illinois Democrat mocked the subpoena.
"Given the former governor's previous antics regarding this case, it's no surprise he is casting a wide net -- apparently from the president down to dogcatcher," Durbin spokesman Joe Shoemaker said in a written statement.