U.S. mayors form coalition, plan summit to roll out executive action on immigration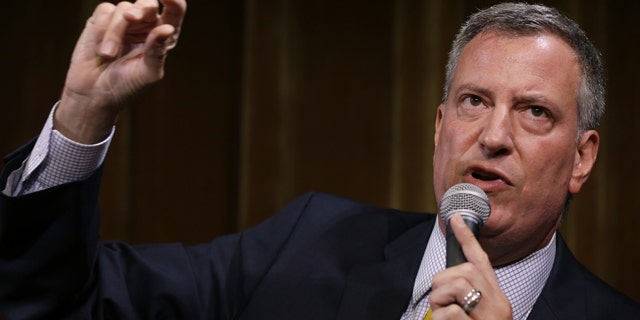 NEWYou can now listen to Fox News articles!
About two dozen U.S. mayors will be meeting next week to lay the groundwork for putting in place President Obama's executive action on immigration.
The mayors of Detroit, Los Angeles, San Francisco, Atlanta, Baltimore and Philadelphia, among others, have formed a coalition entitled "Cities United for Immigration Action," and will hold a summit in New York City on Sunday and Monday.
Last month, the president issued an executive order sparing potentially up to 5 million undocumented immigrants from deportation, and prioritizing the removal of criminals and people who recently have crossed into the United States illegally.
Those eligible for a reprieve from deportation are people who have lived here for at least five years, and have children who are U.S. citizens or legal permanent residents.
"Our cities recognize and celebrate the contributions of immigrants to our nation, and we welcome immigrants in our communities," the mayors coalition said in a statement. "The president's action on immigration will strengthen our cities. It will keep families together, grow our economies and foster additional community trust in law enforcement and government."
"We are ready — and together we're rolling up our sleeves to turn this policy into a better reality for millions of hardworking people in the communities we serve," the statement continued. "While we continue to urge Congress to enact comprehensive and long-lasting reform, the president's action will help many immigrants gain the opportunities, skills and status to reach their fullest potential, which will help America's cities prosper."
States will have to manage applications for driver's licenses, for one thing, arising from newly eligible people who will be benefiting from the president's executive action.
The mayors also vow to continue pressing Congress to pass a comprehensive immigration reform bill that would tighten enforcement as well as provide a path to legal status for undocumented immigrants who meet certain criteria.
In a statement announcing the meeting, New York City Mayor Bill de Blasio, who is hosting it, said on the city's official website: "The President's soon-to-be-announced reforms will initiate an economic, political and social transformation of our cities and our country."
"In New York City, I have directed a series of comprehensive initiatives to provide stability to all our immigrants—newly-arrived and those that have lived here for generations—that have already been promoting safer and stronger communities all across the city."
The president's executive action established a new program called Deferred Action for Parental Accountability, or DAPA, slated to launch by next spring. DAPA builds upon a 2012 program called Deferred Action for Childhood Arrivals, or DACA, which gave a renewable two-year reprieve from deportation to undocumented immigrants who came to the United States before the age of 16 and met other criteria.
Steven Choi, executive director of the New York Immigration Coalition, told the New York Times that the president's new executive action could generate more than 250,000 applications from New Yorkers.
He said the city could face "a massive human services challenge."
"We're talking about a tidal wave that could potentially swamp organizations if we don't have the right preparations in place," Mr. Choi said.
The mayors coalition, meanwhile, said that a key objective is "to come out with an unbeatable master plan that truly prepares our localities for swift implementation of changes and also advocates for further reforms from the municipal level all the way up to Washington."
The coalition's announcement listed among its goals the drafting of an outreach plan that would include immigrant communities, local authorities, among others, to inform foreign-born residents about the details of the president's executive action, eligibility requirements and how to apply.
The mayors also plan to brainstorm ideas on how best to put in place the executive action in their cities.
The mayors say they also want to create a consensus on finding an enduring solution to the nation's flawed immigration system.
But some mayors who are not part of the coalition have their misgivings about the president's executive action, and about extending breaks to undocumented immigrants.
Scott Getzschman, mayor of Fremont, Nebraska, which has an ordinance that requires renters to obtain a local license proving their citizenship, told a National Public Radio reporter in Massachusetts: "I truly feel that before you would do a blanket amnesty, you must, to go any further you have to seal the borders."
Executive action, he said "is a band-aid approach to immigration reform."
"And truly I don't feel it's a solution to the problem," he said.
Follow us on twitter.com/foxnewslatino
Like us at facebook.com/foxnewslatino