U.S. Changes Military Commanders in Iraq Amid Debate Over Afghan Withdrawal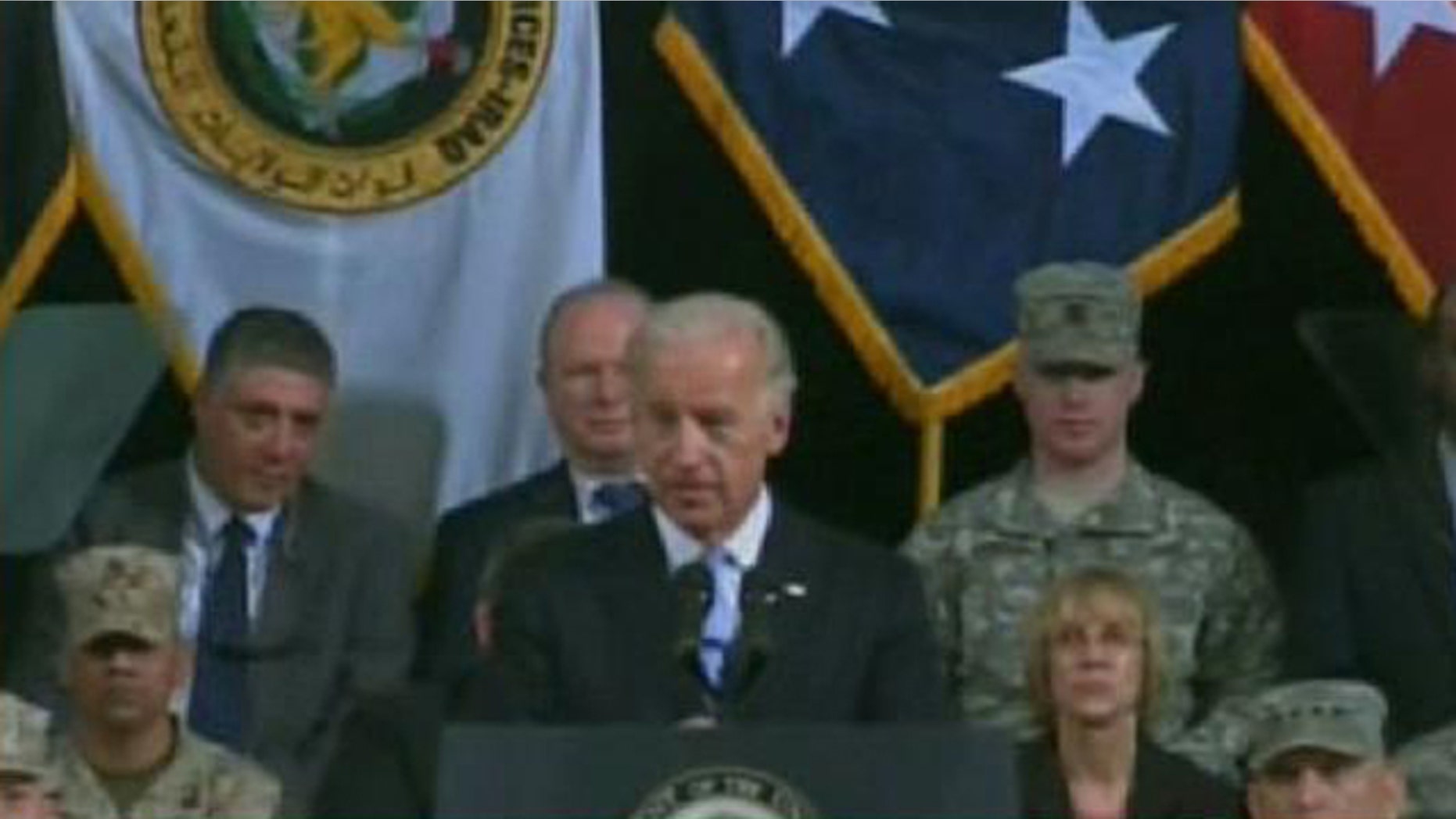 Vice President Joe Biden presided over a change-of-command ceremony in Iraq Wednesday marking the final phase of U.S. military involvement -- the hand-off comes amid fresh criticism of President Barack Obama's pledge to replicate such a transition in Afghanistan a year from now.
With the passing of a flag, newly promoted Army Gen. Lloyd Austin took over for Gen. Ray Odierno in Iraq. The handover marks the start of the so-called "Operation New Dawn." Combat operations have ended, and Defense Secretary Robert Gates said Wednesday that the United States is no longer at war in Iraq.
Biden told assembled dignitaries and troops that the transfer of authority symbolizes a "different chapter in the relationship with Iraq."
The ceremony comes after Obama delivered an Oval Office address in which he declared it was time to "turn the page" on America's involvement in Iraq. In doing so, he pivoted to Afghanistan, where his administration is banking on a troop surge to lay the groundwork for an orderly withdrawal starting in July 2011.
But as with Iraq, the pledge to withdraw has sparked debate in Washington over whether deadlines -- even soft deadlines -- undermine U.S. efforts by encouraging insurgents to wait out the fight until foreign forces leave.
Sen. John McCain, R-Ariz., Obama's 2008 presidential rival, told Fox News Wednesday that Obama is not showing the same flexibility as military leaders like Gen. David Petraeus, the new commander in Afghanistan.
"(Petraeus) has never said, 'yes it's a good idea for us to leave in the middle of next year no matter what the conditions are' -- and that's basically what the president's saying," McCain said. "That's not helpful. It encourages our enemies and it dispirits our friends."
McCain was referring to Obama's remarks Tuesday.
Obama said the drawdown will depend on "conditions on the ground," but he added: "Make no mistake: this transition will begin -- because open-ended war serves neither our interests nor the Afghan people's."
Obama also said the Iraq drawdown increases the chances for U.S. success in Afghanistan and repeated the stated mission to "disrupt, dismantle and defeat Al Qaeda."
"Because of our drawdown in Iraq, we are now able to apply the resources necessary to go on offense," Obama said. "As with the surge in Iraq, these forces will be in place for a limited time to provide space for the Afghans to build their capacity and secure their own future. But, as was the case in Iraq, we cannot do for Afghans what they must ultimately do for themselves. That's why we are training Afghan Security Forces and supporting a political resolution to Afghanistan's problems. And, next July, we will begin a transition to Afghan responsibility."
Biden, in an interview Wednesday with ABC News, said the Afghanistan withdrawal policy has been agreed to "by the military as well as the civilians in this government."
KT McFarland, a former Pentagon official, said that timetable will "come back to bite" the president.
The Associated Press contributed to this report.